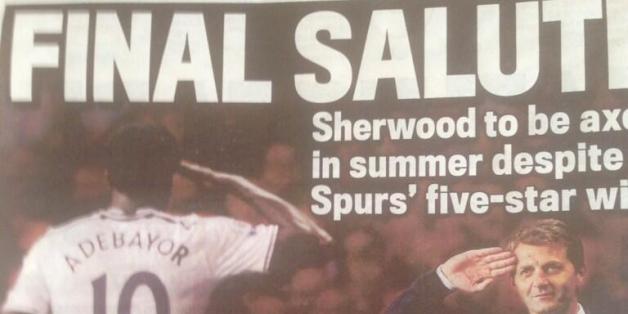 The Daily Mail is admitting it made a "mistake" editing a photo that recently appeared on its back cover.
The original photo, distributed by the Associated Press, showed soccer player Emmanuel Adebayor saluting his coach Tim Sherwood and first-team coach Chris Ramsey. The Daily Mail, however, had photoshopped Ramsey, who was standing next to Sherwood, out of the photo. The Guardian's Roy Greenslade pointed out the Daily Mail's edit — below, on the right — on Tuesday.
Daily Mail gets rid of Chris Ramsey! pic.twitter.com/rInpo8avvr

— Mick Dennis (@MickDennisReal) April 8, 2014
The Daily Mail responded in a statement to the Press Gazette, saying that the edit was a "mistake" and did not comply with the newspaper's editorial policies. An internal investigation is underway, a spokesperson for the newspaper said. Visit the Press Gazette for its full report.