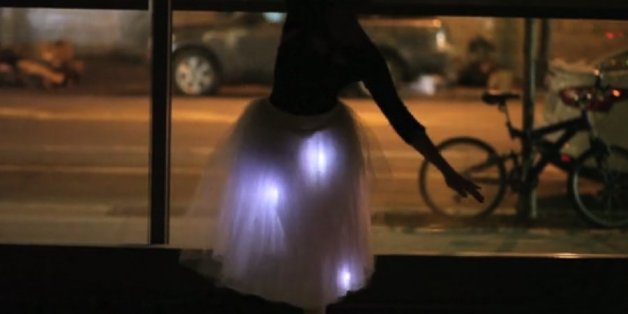 Have you ever wondered what would happen if a group of tech-savvy hackers took over the ballet? We may have the answer to that strange hypothetical, courtesy of the Brooklyn Ballet and the hacker collective, NYCResistor.
The unlikely collaborators are introducing what they call a "techno tutu," a high-tech garment equipped with motion sensors and LED lights that project varying levels of brightness according to a dancer's movement. The unique skirts made their debut at the Brooklyn Ballet's 2014 preview production, "Vectors, Mary and Snow," in which dancers modeled the wearable innovation in a fusion of modern, street and African dance styles. The result was a multicultural and multigenerational take on the relationship between performance and technology, amounting to a visually and structurally impressive display.
But that was only the beginning. The techno tutu team -- comprised of Brooklyn Ballet's founding Artistic Director & Choreographer Lynn Parkerson, costume designer Avram Finkelstein (of YMX by Yellowman), popping artist Mike "Supreme" Fields and NYCResistor members Nick and Sayak Vermeer, William Ward and Olivia Barr -- has another hack in mind. It's planning on transforming the beloved ballet "The Nutcracker" into an interactive performance piece, bringing motion sensor technology to two iconic dances: the "Snow" scene and "Drosselmeyer 1.0."
Not only will the ambitious project bring motion sensor skirts (that mimic the pattern of falling snow with LED lights) to the stage, it will welcome street dancer Fields to the production, donning his own motion sensor costume. Dancing in the role of Drosselmeyer, his signature pop-and-lock moves will be accompanied by a "Pexel" shirt designed to respond to the movements of his pectoral muscles and arms.
"As far as the technology goes, the LEDs that line the dance dresses are run on custom microcontrollers, motion sensors, and an accelerometer attached to the dancers' skirts," The Creator's Project explains. "When the ballerinas perform arabesques, pliés, and the French words for "leaps" and "twirls," glowing "snowflakes" embedded in their dresses react and blink down their clothing. Each pixel can be individually addressed for color, brightness, and activation, at this point making it literally the only snow we'll tolerate in April."
Similarly, Fields' Pexel shirt is "activated by individual accelerometer sensors placed over his muscles that illuminate the LEDs through a Flora microcontroller."
The Brooklyn Ballet has started a Kickstarter to raise funds for the exciting endeavor, hoping to collect $10,000 for the project by April 9, 2014 at 11:59pm. The team has plans to premiere six LED snowfall tutus for the ballerinas, one Pexel shirt for Fields and six sparkling LED hair accessories in the updated "Nutcracker" imagining.
Stay tuned for more updates on the Brooklyn Ballet production, planned for later this year. Watch the video below for more information and let us know your thoughts on the art-meets-science initiative in the comments.