Natural and man-made disasters often challenge our understanding of the world and our place in it. But every so often, stories of courage and endurance emerge from the rubble.
Whether lost at sea, alone in the jungle or trapped inside a volcano, here are 10 spectacular stories of people who have survived against incredible odds.
1. Juliane Koepcke, the sole survivor of a plane crash in the Peruvian Amazon, wandered a crocodile-infested jungle for nine days before being rescued.
Koepcke fell 2 miles from the sky -- still strapped in by her seatbelt -- when her plane crashed into the Amazonian mountains in 1971. Remarkably, the German 17-year-old sustained only moderate injuries.
She spent 10 days looking for help in the jungle, where the waters teemed with crocodiles and piranhas, until she was discovered by a group of Peruvian lumberjacks. Juliane Koepcke, right, after her rescue in Lima, Peru, on March 19, 1972. (AP Photo)
2. Jose Salvador Alvarenga said he floated 13 months adrift in the Pacific Ocean before washing ashore on a deserted island.
Coconut farmers stumbled upon Alvarenga on the deserted Ebon Atoll shore, part of the remote Marshall Islands, in January 2014. The Salvadoran fisherman said he had been drifting in the Pacific Ocean for 13 months in a 7-meter boat, having been blown off course during a fishing trip in Mexico. He said he had made it through the 5,000-mile voyage by eating fish, birds and turtles, and drinking urine, rainwater and bird blood.
Some cast doubt on his incredible story, but Alvarenga would not have been the first to survive long stretches at sea. In 1982, Steve Callahan was stranded for 76 days on a life raft in the Atlantic Ocean before he was rescued by fishermen.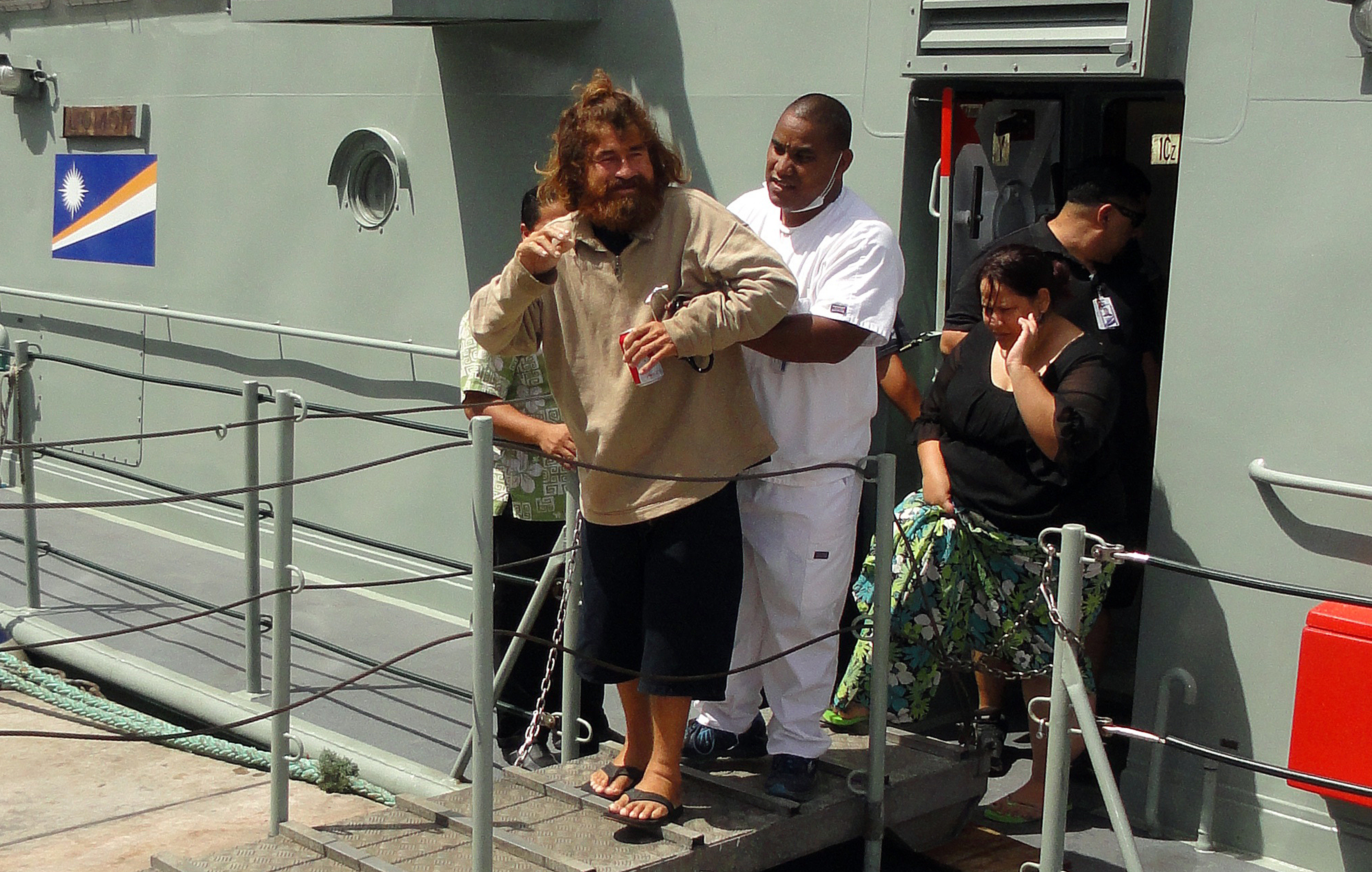 Jose Salvador Alvarenga after he was found on Ebon Atoll, Feb. 3, 2014. (GIFF JOHNSON/AFP/Getty Images)
3. Michael Benson spent two days inside a live volcano crater.
In 1992, Benson and his colleague Chris Duddy were shooting aerial footage of Hawaii for a movie when their helicopter crashed over Kilauea, the world's most active volcano. The cameramen and pilot Craig Hosking plunged inside the volcano crater, narrowly missing the boiling lava pool.
While Hosking and Duddy were able to reach safety over the next day, rescuers struggled to locate Benson amid the noxious fume clouds. Benson spent two sleepless nights inside the crater listening to the sound of the lava bubbling below, before he was able to reach a rescue net that had been dropped through the thick fog.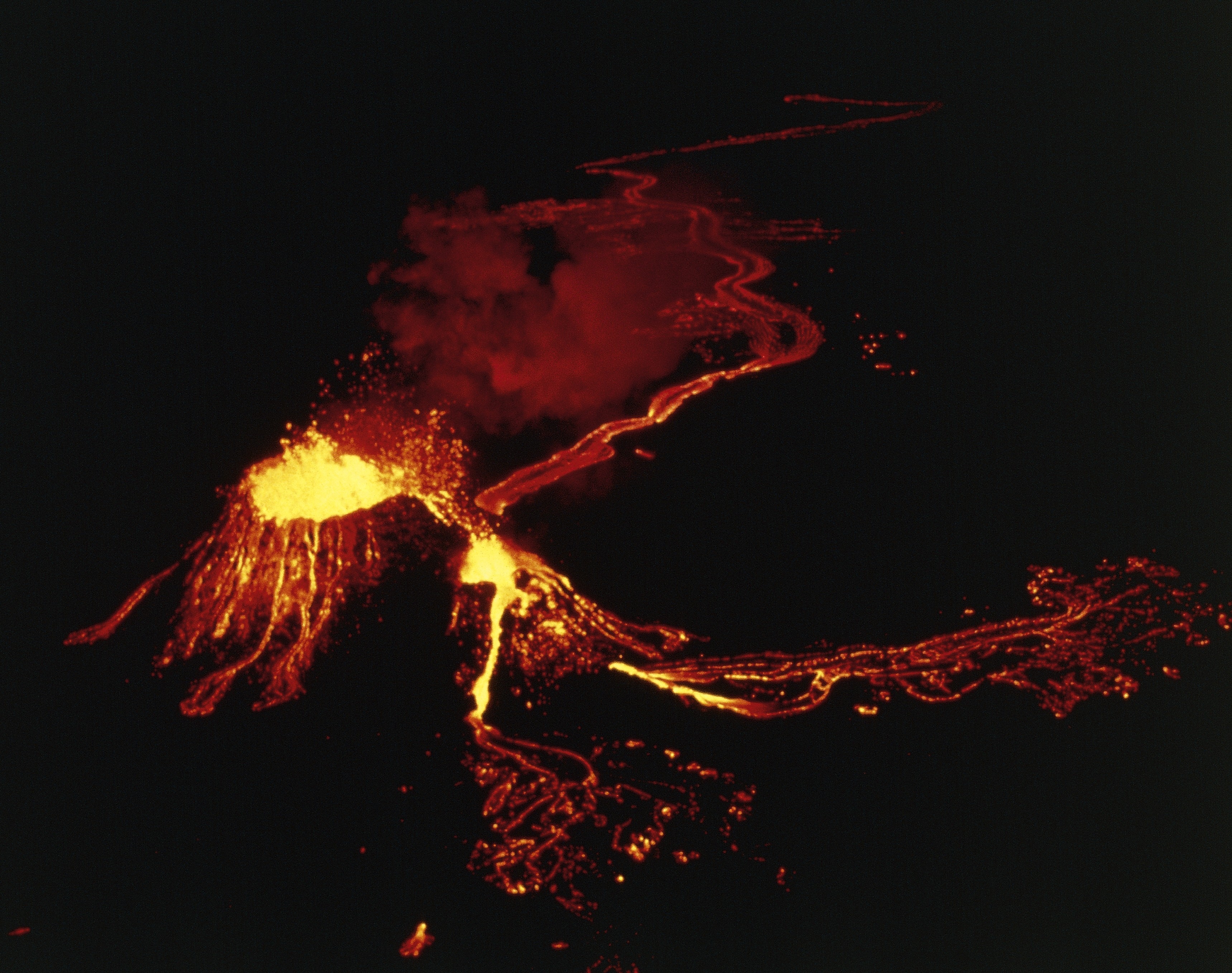 The Kilauea Volcano erupts, circa 2003.(DeAgostini/Getty Images)
4. Aron Ralston was stuck for six days in a Utah canyon before he freed himself by amputating his arm.
Ralston was climbing Utah's Blue John Canyon in 2003 when a boulder dislodged and pinned his hand to the canyon wall. He spent six days struggling to free himself and avoid dehydration and hypothermia. Finally, he took his "multi-tool" knife and amputated his own forearm so that he could crawl out of the canyon to safety.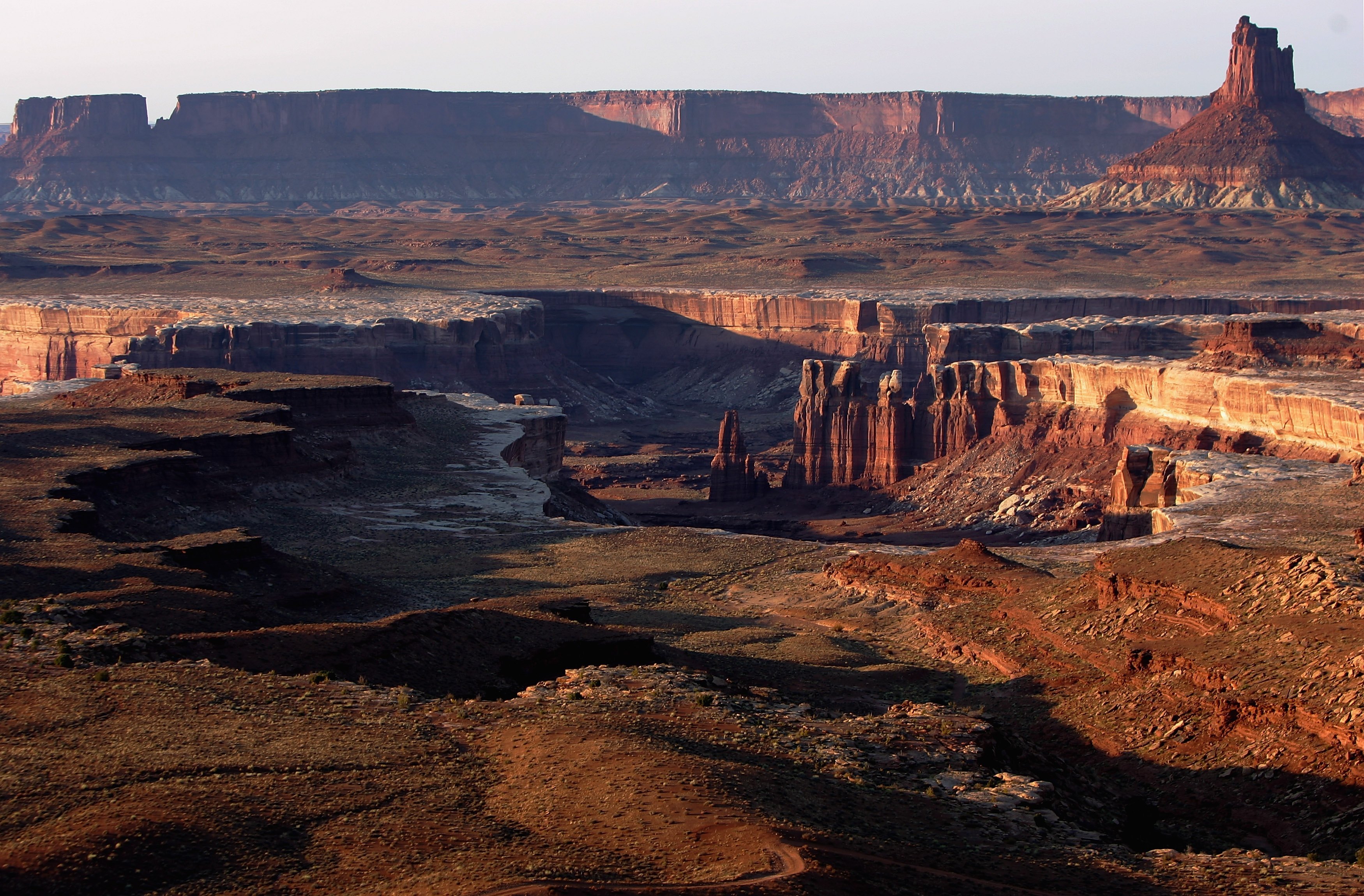 Canyonlands National Park, Utah, Oct. 26, 2007.(Doug Pensinger/Getty Images)
5. Harrison Okene survived in an air bubble underwater for nearly three days after his boat capsized off Nigeria's coast.
Okene was in the bathroom when his tugboat capsized and rapidly sunk off Nigeria's coast in 2013. Trapped underwater, the Nigerian chef remarkably survived for three days by crouching in a pocket of air.
When rescue divers arrived to pull bodies from the boat wreckage, they were terrified when a hand reached out, a moment captured on video by the diver's head camera. The hand belonged to Okene, who had survived the freezing temperatures and dwindling oxygen supply, stacking up mattresses to escape the rising waters. Harrison Okene is discovered by a rescue diver in an underwater air pocket. (AP Photo/DCN Diving, File)
6. Peter Skyllberg said he was trapped inside a car buried in a snowdrift for a full 60 days.
When two snowmobilers found an apparently-abandoned car in Sweden's icy northeast in February 2012, they dug through a meter of snow to get to the vehicle and were blown away to find a man lying on the backseat.
Skyllberg said he had spent 60 days trapped inside the car, living off snow alone. While rescuers later cast doubt on his account, scientists said that it is possible that Skyllberg survived the ordeal by his body going into hibernation, and an "igloo effect" creating insulation in the car.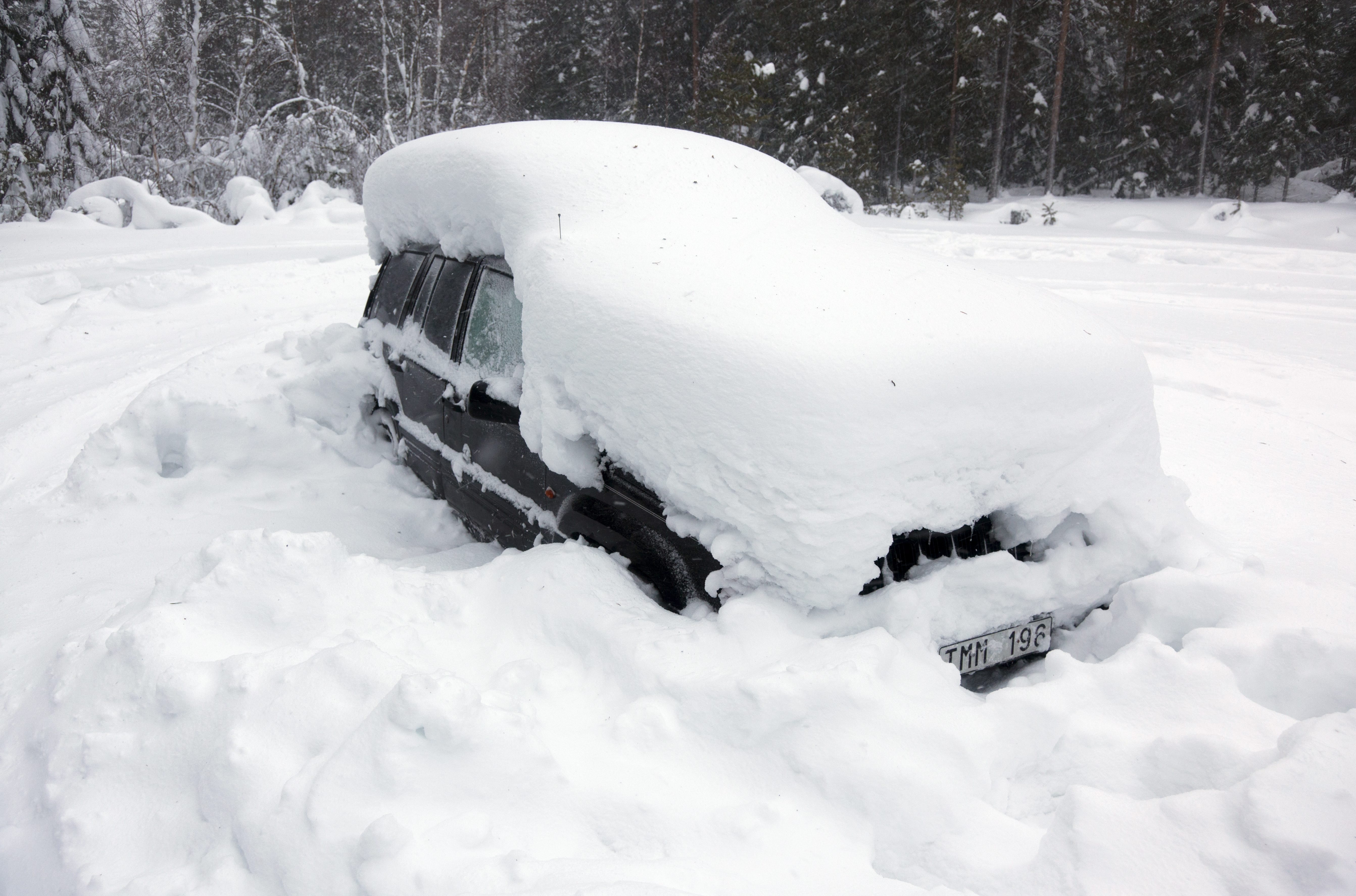 A snow-covered car in the woods near Umea, Northern Sweden, Feb. 18, 2012. (Rolf Hojer/AFP/Getty Images)
7. Howard Ulrich and his son conquered Alaska's mega-tsunami in their fishing boat by riding the highest wave ever recorded.
Ulrich and his 8-year-old son were fishing in Lituya Bay one evening in 1958, when they heard a distant rumbling and a wall of water came crashing towards them. An 8.0-Richter-scale earthquake had dislodged a rock face above the bay, creating the largest wave ever recorded at 1,720-feet.
Ulrich tried to pull up the anchor, but the boat was quickly swept up as the wave raced through the bay at 100 miles per hour. Incredibly, their fishing vessel was lifted atop the wave, carrying them up above the trees before depositing them back into the bay.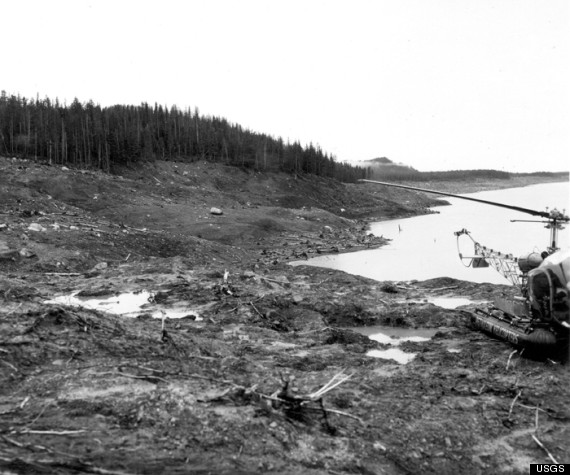 Damage from the tsunami on the south shore of Lituya Bay, August 1958. (D.J. Miller/ U.S. Geological Survey)
8. For nine weeks, Matthew Allen wandered in the Australian Outback during a record-breaking heatwave.
After Allen disappeared from his home near Sydney in December 2012, search teams could find no trace of the 18 year old. Nine weeks later, the apparent runaway was found by hikers in the harsh Australian Outback, disorientated and unable to stand.
He had been drinking creek water and had lost half his body weight. His wilderness odyssey also happened to coincide with a record-breaking heatwave, making the teenager's survival in the bush even more remarkable. The Outback landscape of the Sturt Highway near Wentworth, Australia, May 25, 2013. (AP Photo/Rob Griffith)
9. Lincoln Hall was mistakenly left for dead on Mount Everest, but made it through the night on the mountain.
After reaching the summit of Mount Everest in 2006, Hall was struck down with severe altitude sickness on the descent and eventually stopped showing signs of life. After trying to resuscitate him for two hours, Hall's guides were forced to abandon him, planning to retrieve his body the next day.
Some 12 hours later, a group of ascending climbers was astounded to find Hall sitting on the ridge cross-legged, very much alive. Frostbitten and weak, the Australian mountaineer had remarkably survived a night stranded alone on the Earth's highest mountain.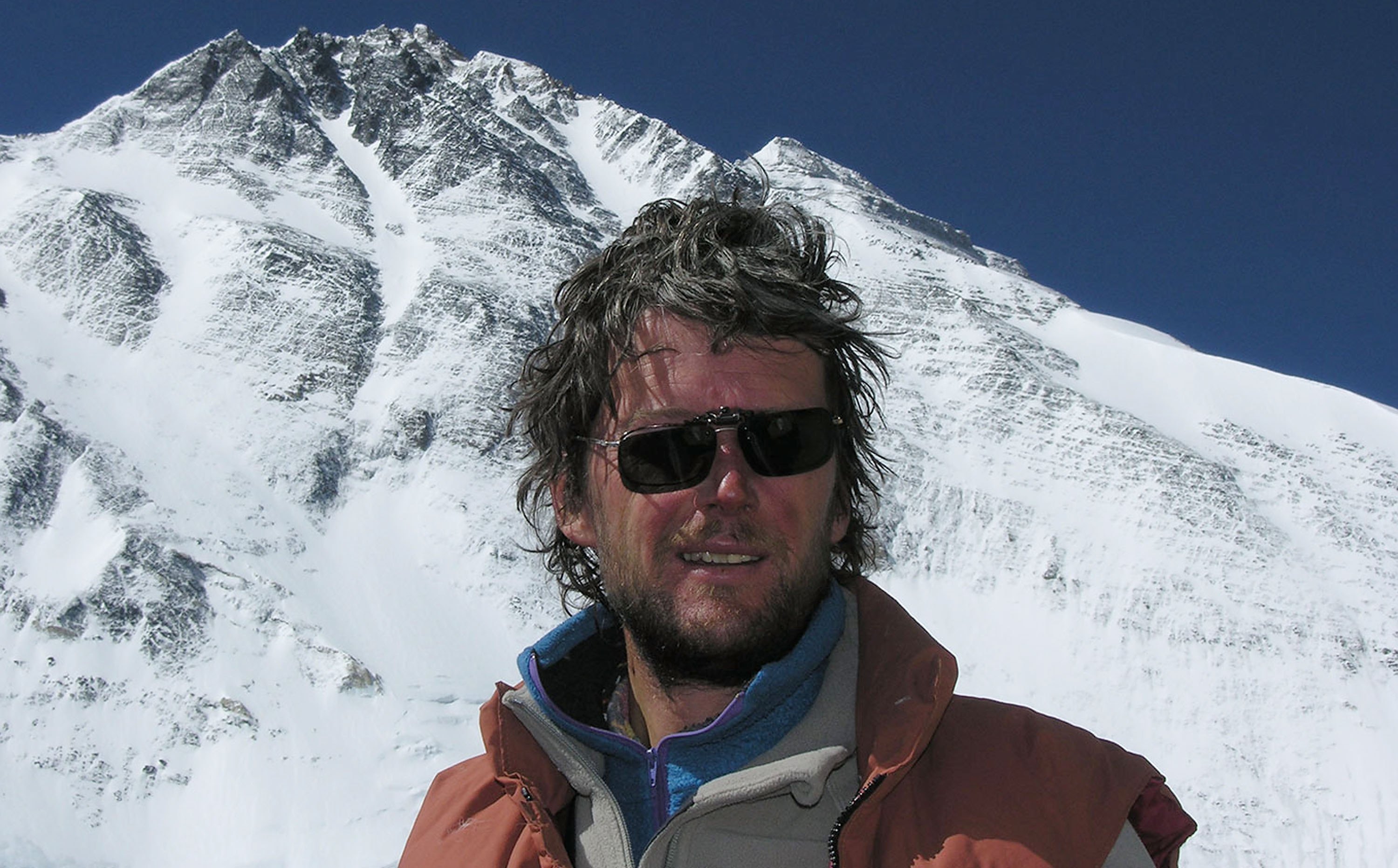 Lincoln Hall at the Advance Base Camp on Mount Everest, May 28, 2006. (Jamie McGuinness/Project-Himalaya.com via Getty Images )
10. Reshma Begum was pulled alive from the rubble of a garment factory in Bangladesh 17 days after it collapsed.
Begum, 19, was working as a seamstress in the Rana Plaza building near Dhaka when the factory collapsed in April 2013, leaving more than 1,100 workers dead. After the heartbreaking search for survivors had almost drawn to a close, rescuers heard a banging sound from amid the ruins, and found Begum alive after 17 days underground.
Begum had found some dried food and a limited supply of water to keep her going during the long days trapped under the wreckage. The young mother was pulled to safety, and reunited with her awestruck family.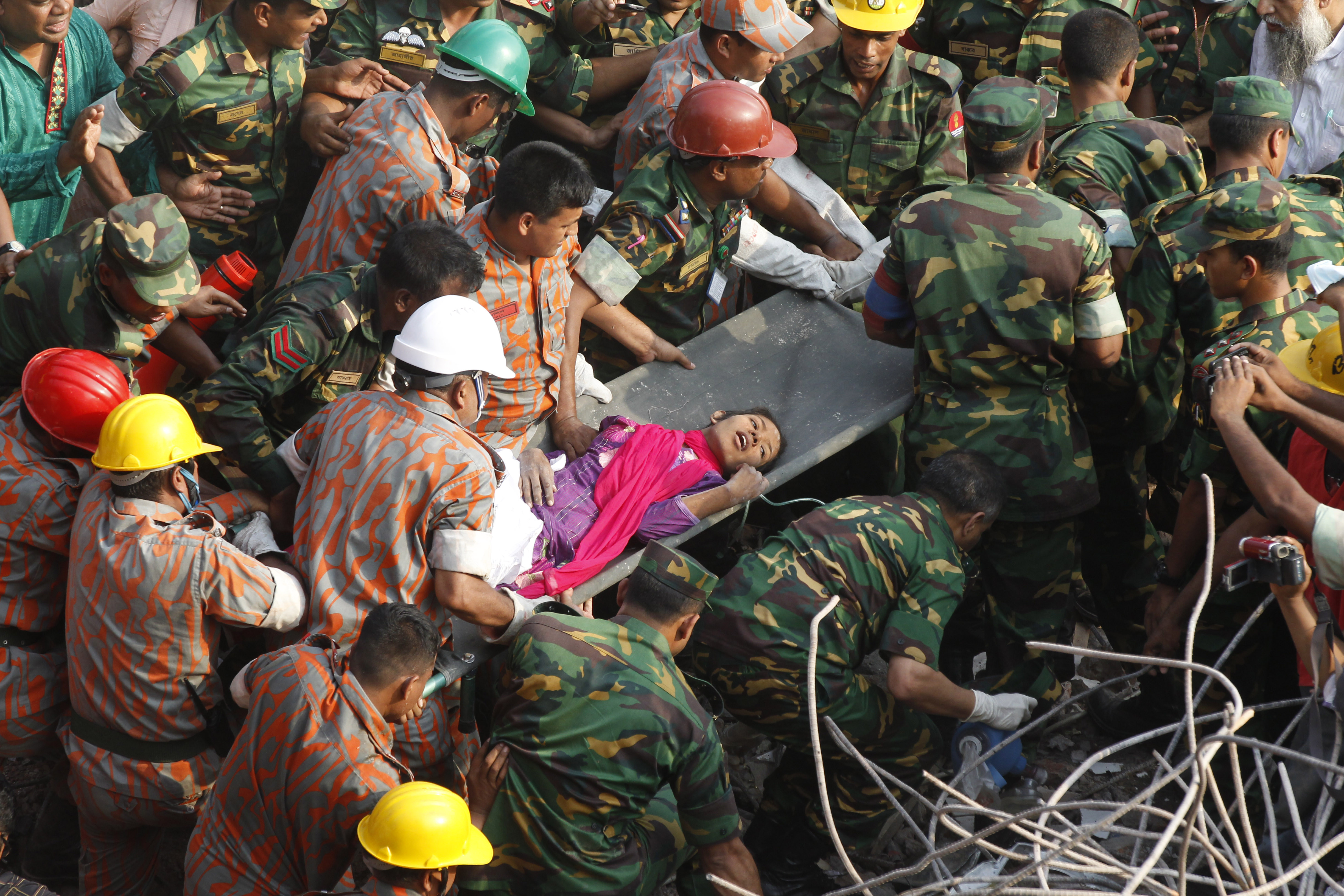 Bangladeshi rescuers retrieve Reshma Begum from the Rana Plaza rubble, May 10, 2013. (STRDEL/AFP/Getty Images)
BEFORE YOU GO
PHOTO GALLERY
Nepal Avalanche Survivors