 Need more proof that women are underrepresented in the media?
A mere 28 percent of guests on weekday evening programs during segments on the economy from April 2013 to March 2014 were women, according to a Media Matters study released Tuesday. Only 9.6 percent of the economists featured on CNN, Fox News and MSNBC were female.
Here's what that looks like, via Media Matters: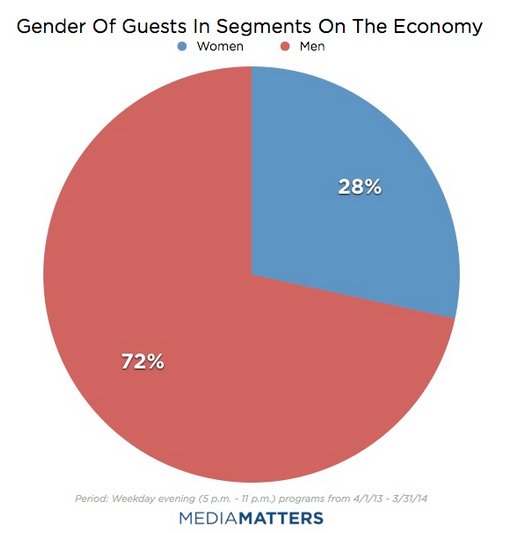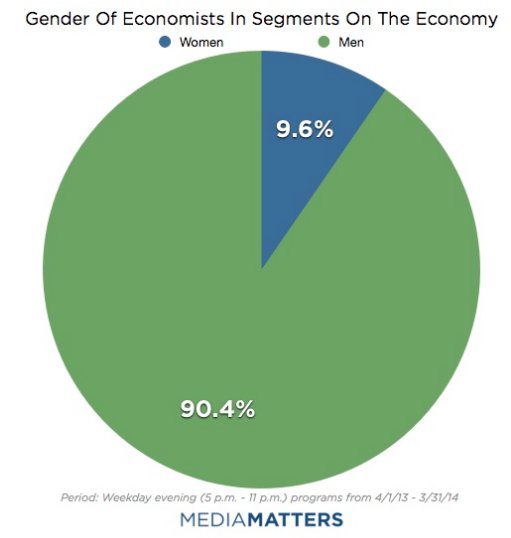 The lead perpetrator was Fox News, which only featured a female guest during segments on the economy 26 percent of the time.
Media Matters' study scanned evening programs including "The Situation Room," "The Kelly File," "Anderson Cooper 360," "Rachel Maddow Show" and "O'Reilly Factor." CNN would seem to have the most optimistic statistics of the three networks, but that still meant only featuring a female guest 32 percent of the time.
The media's major gender problem was spotlighted earlier this month by a new Women's Media Center report, which showed that newscasts are anchored by men 60 percent of the time. The study found a close to 2-1 difference in content contributed to news organizations by men than by women. The dismal position of women in the news business has remained largely unchanged since 1999, with only 36 percent of newsroom staffs made up of women.