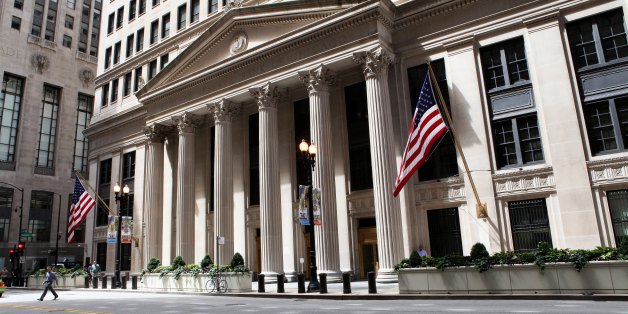 NEW YORK -- The nation's leading provider of campus debit cards, Higher One Holdings, faces an investigation by the Federal Reserve Bank of Chicago in connection with the practices of a former bank partner involving college students' accounts.
The new probe follows an investigation of Higher One by the Federal Deposit Insurance Corporation, which accused the company of violating college students' consumer rights. That inquiry ended in 2012 with an $11 million settlement.
Higher One, once a Wall Street darling, is dealing with a growing list of regulatory headaches as it battles accusations that its practices siphon away hefty portions of students' federal loans.
The Chicago Fed investigation was disclosed last month by Higher One in its annual report filed with the Securities and Exchange Commission. The filing referred to a former bank partner that falls under the regulatory purview of the Chicago Fed, but the bank was not identified. According to Higher One, the former partner may be accused of "unfair or deceptive practices," a violation of the Federal Trade Commission Act, over marketing and disclosure efforts related to Higher One's campus debit card accounts.
Of all the bank partners Higher One has disclosed in its securities filings, Cole Taylor Bank is the only one that is also regulated by the Chicago Fed. Moreover, in its own annual report, also filed with the SEC in March, Cole Taylor's parent company, Taylor Capital Group, similarly referred to an investigation by bank regulators in relation to a former partner, described as "an organization that provides electronic financial disbursements and payment services to the higher education industry."
Cole Taylor served as a depository financial institution for a portion of Higher One's customer accounts. A spokesman for the Kineo Group, which represents the bank, declined to comment.
The Chicago Fed's investigation could lead to civil monetary penalties and restitution, as well as changes to certain business practices of Higher One. Such an inquiry "could have a material adverse effect on our business, financial condition and results of operations," Higher One wrote. Taylor Capital Group told investors that it could be forced to give refunds to allegedly harmed customers, though it added that Higher One would pick up the tab.
The disclosure of this latest investigation comes just as Higher One is negotiating with the U.S. Department of Education over new regulations on campus debit cards that threaten to curb the company's revenues. Other negotiators convened by the Education Department have already been critical of Higher One. A new probe of allegations the company cheated college students could undermine Higher One's arguments with Education Department rule writers.
Campus debit cards have drawn increasing scrutiny from members of Congress, the Consumer Financial Protection Bureau (CFPB), the Government Accountability Office (GAO), the Education Department's Office of Inspector General (OIG) and college students themselves. The criticism is largely directed toward marketing that consumer advocates, like the U.S. Public Interest Research Group, argue appears to show endorsement of such cards by universities, effectively steering students to expensive bank accounts.
These debit cards typically carry fees that students could easily avoid. Existing Education Department regulations prohibit charging fees to access federal financial aid, but not to access accounts where government student loan money is placed, like a Higher One debit account. In short, servicers like Higher One make money off charging fees to students for accounts that hold their federal student aid money.
"It's too early to assess the outcome as the review is ongoing," said Higher One spokeswoman Shoba Lemoine in an email Wednesday about the Chicago Fed investigation. "But keep in mind Higher One has made dramatic consumer-friendly changes to our account offerings including improved consumer safeguards and fee structures (dropped more than half a dozen fees, for example). These changes have been recognized by the GAO and OIG reports on campus debit cards."
Nonetheless, Higher One's share price has fallen more than 35 percent since the start of the year. It opened Thursday at $6.36, down more than 70 percent since its all-time high of $21.97, reached in December 2010.
Officials at colleges distributing financial aid money to students through Higher One debit cards told the Education Department's inspector general that outsourcing the process saves them money. According to disclosures to both the media and other federal offices, schools also stand to make hundreds of thousands of dollars in the arrangements.
The OIG report found that schools did not "prevent their servicers from using marketing and other strategies to persuade students to select their debit card over other available options." According to the CFPB, campus debit cards often are not the best deal for students as consumers, compared to other options. The CFPB has pushed financial institutions offering campus cards, like Higher One, for greater disclosure on how much money they pay colleges to provide their services.
Advocates for students argue that companies that have violated related federal laws, or settled cases over such violations, should be restricted from handling accounts of financial aid money for a period of time. Higher One, for example, settled the FDIC investigation in 2012 and agreed in 2013 to pay $15 million to settle a class action lawsuit alleging unfair and deceptive practices in collecting fees from students.
"If the department seeks to reduce fraud and harm to students, then it is completely inappropriate to permit Title IV funds to be handled by companies that have violated money laundering, consumer protection, or privacy laws," wrote Maxwell John Love, vice president of the United States Student Association, in a letter to the Education Department's rulemaking negotiators that was obtained by The Huffington Post. "Any company that has been found by a court of law to be negligent, or entered into a settlement related to violation of these laws in the last six years, should be banned from handling Title IV funds."
Lemoine, the Higher One spokeswoman, declined to respond to Love's proposal, noting that negotiators "have been encouraged not to provide editorial or commentary to the media regarding views expressed by other members on the committee."
Shahien Nasiripour contributed reporting.