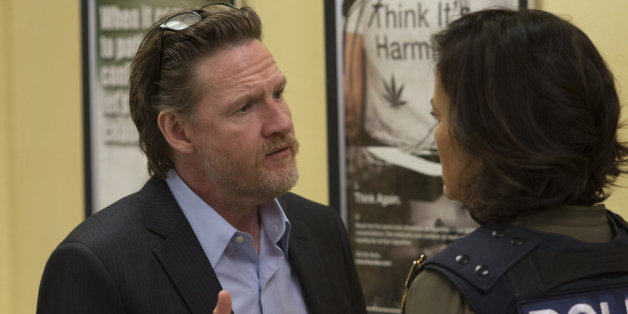 A lot of crazy stuff went down on Wednesday night's (April 10) "Law & Order: SVU" when Pablo Schreiber made his fourth cameo as psycho rapist William Lewis.
(Spoiler alert if you haven't seen Season 15, Episode 20 "Beast's Obsession.")
In the episode, Lewis escaped from prison and kidnapped a young girl to lure Sgt. Benson, whom he previously attacked and tortured. The traumatizing and intense episode culminated in Lewis nearly raping Benson and forcing her through two rounds of Russian roulette, before committing suicide to frame her for murder.
Since Benson was in danger, Donal Logue's Lt. Declan Murphy stepped in to serve as the temporary commanding officer of the squad. Murphy first appeared this season in "Gambler's Fallacy" as an undercover cop who saved Det. Rollins when they took down an illegal gambling club. According to The Hollywood Reporter, Logue has been promoted to a series regular for the remainder of the season on "SVU" and will continue to lead the squad.
This of course means that Benson is stepping down from her commanding position, which she assumed after Captain Cragen retired earlier this season. Even worse, she's on the brink of losing her badge now that she's confessed to lying to the jury about her attack on Lewis and has been framed for his death. Things are only going to get more stressful for poor Benson as IAB investigates Lewis' suicide.
"SVU" is taking a short break for the next couple weeks, leaving fans anxiously worried for Benson's future. Will she lose her job? Is this Mariska Hargitay's last season? We'll have to wait till "SVU" returns on April 30 to find out. Till then, #PrayForBenson.
"Law & Order: SVU" returns on Wednesday, April 30, on NBC at 9 p.m. EDT.
BEFORE YOU GO
PHOTO GALLERY
'Law and Order: SVU'