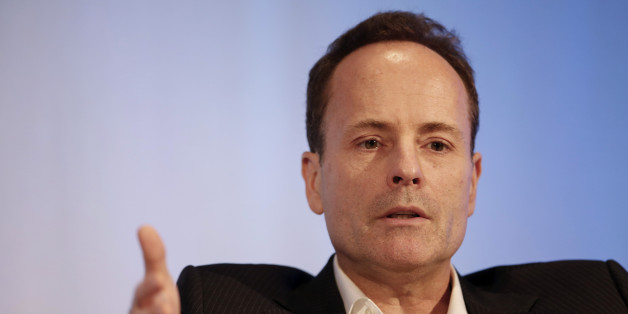 FX Networks CEO John Landgraf had a lot to say about the current state of the TV business when he took both HBO and Netflix to task for what he called "unfair" practices.
The complaints flew during a lengthy interview Wednesday at FX's upfront event for advertisers which was held at 21st Century Fox's Manhattan headquarters. Landgraf took a moment during the chat to share his frustration with Netflix over its practice of distancing itself from networks by removing graphics that would remind subscribers where a show came from.
Variety posted a recap of his thoughts about Netflix:
"We do a fair amount of business with Netflix. One of the things that bothers me about Netflix is they make darn sure when they make an original series like 'Orange is the New Black' or 'House of Cards'" that is identified with the phrase "A Netflix Original Series." Yet, he added, "they are equally staunch about totally stripping 'AMC' off of 'Mad Men' or 'FX' off of 'Sons of Anarchy.'"
Landgraf's criticism didn't stop there. At the same event, he went after HBO for its decision to submit "True Detective" in the category of drama for Emmy considerations. He argued it's "unfair" that the series is able to bait A-list actors like Matthew McConaughey and Woody Harrelson by engaging them only for a limited series run, giving the show extra star power for award consideration.
"It's unfair for HBO to get actors that you can't normally get to do a series who would do a close-ended show and pack the (drama actor) category. That is patently unfair to people like (The Americans') Matthew Rhys, who signed for seven years," he said, according to Deadline.
HBO's programming president told the publication last week that the network stands by its decision to run "True Detective" as a drama, arguing that the only reasons to run it as a miniseries were "cynical" and "didn't feel like the right thing to do."
"I don't look at it that way," Landgraf countered at the upfront event, per Deadline. "The definition should be a miniseries has a story that ends, a series has a story that continues on."
FX chooses to categorize its popular show "American Horror Story" as a miniseries for Emmy considerations. By Landgraf's definition, the show fits that category because the characters and story change each season.