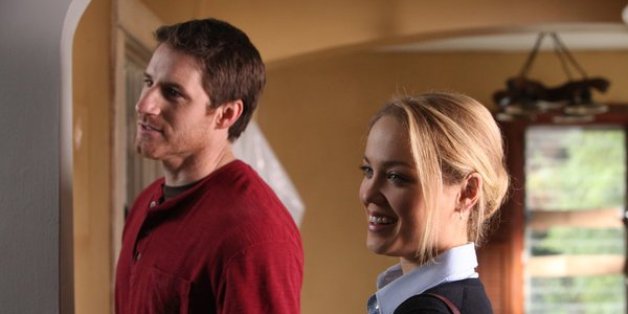 It's no secret that Joel (Sam Jaeger) hasn't exactly been acting like himself on this season of "Parenthood." After being the dependable guy who could do no wrong for four seasons, he left his wife Julia (Erika Christensen) with little explanation.
So what in the world is going on? HuffPost TV chatted with Jaeger via phone to get some insight into what's up with Joel.
HuffPost TV: Let me start by saying that I do understand where Joel's coming from to a certain extent. But don't you think he's been acting in a pretty extreme way?
Sam Jaeger: Yeah, I do. I kind of realized that midway through the season. I'm so close to the character Joel that I kind of reached the point where I thought, well, Joel's not the kind of guy who's going to move out. But just because I wouldn't [do that] doesn't mean Joel wouldn't, and I think Jason Katims and I came up with a pretty good way of revealing why he would.
There's a small mention of the fact that his father had an affair with his mother, and that felt like a really honest take on Joel's past. I think it explains why he was so reactive. I knew this storyline was building up to this story last night [Thursday, April 3] where she goes and sleep with this guy that she meets. And with that in the back of my mind in the beginning of the seasons I thought, "Well, I don't know if our fans are ever going to forgive Julia for doing that."
So I really wanted to make the animosity between Joel and Julia as big as possible leading up to that moment. In many ways we went beyond to the point where there were a couple of moments that I didn't necessarily think were in line with the Joel we'd come to know. But that said, people change. Certain circumstances bring out the worst in people. In my own life, my dad quit his job one day and came home and told my mom that he he had quit a very successful law firm to basically take over his dad's hardware store without any discussion with his wife. Those are very big decisions you're making on your own, and I think in a lot of ways Joel felt that same way -- that Julia wanted to call all the shots and that she not only left her job but took over his job of being the homemaker. I think that's the reason for Joel's anger.
Right. And it almost felt impossible to hate Joel in the past because he was perfect, and I feel like now we're getting to a point where we're almost there. At this point Julia has hooked up with Mr. Knight. After how angry he got over Julia's kiss with Ed Brooks, do you think Joel will ever be able to forgive her?
I don't know. I hope so. But I think one thing we've become accustomed to on "Parenthood" is that at the end of the season there's a sense of relief or comfort. And this is an issue that's been going on so much this season that I don't know if we're necessarily going to get that same warm fuzzy feeling, especially after what happened last night. I just feel like we've created this storyline and built this up too much to make it a "water under the bridge" moment.
In terms of the kids, I feel like Joel and Julia's separation has been hardest on Sydney. And even though she blamed Victor for it at one point, do you think it's been comforting for her to have someone to go through such a hard time with?
I think so. Divorce is clear, and when parents divorce kids almost understand that more. But separation feels like some kind of vague purgatory, especially for a 9-year-old. I think she's really torn, and she's not sure who to blame.
Are you personally rooting for Joel and Julia?
Oh, absolutely. Not only because it's my job, but because it's the relationship I admired most on "Parenthood." Erika [Christensen] and I have both put in a lot of hard work. There's a great quote, "life is an adventure in forgiveness." Hopefully one of the greatest contributions of our show is about learning to forgive each other.
Are you sad on Joel's behalf that he hasn't been able to hang out with Bravermans as much this season?
Yeah, I do miss the clan! But those days are so crazy anyway, and I decided a long time ago that Joel's a guy who sits back at the party and sort of watches the Bravermans.
On the note of a completely different storyline, do you think Sarah and Hank will get back together? I'm a little obsessed with Hank.
Yeah? Well, what's not to like about him? I'm rooting for him. As much as I love Jason Ritter, I always thought there was a timeline on that love story and that it would turn out the way it did. I hope [Hank and Sarah] work out.
"Parenthood" airs Thursday at 10 p.m. EDT on NBC.
BEFORE YOU GO