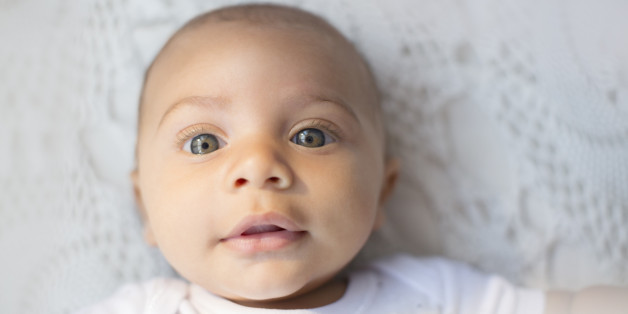 Baby boy names that end in the letter "n" -- Brandon, Justin, Aiden, Jayden, Roman, etc. -- are favorites among parents. It's a trend that has become more and more popular since the '70s, and this fascinating chart shows how wildly the letter "n" now dominates every other letter in that spot.
David Taylor, a blogger from Proofreader, recorded the percentages of how frequently consonants appeared at the end of popular boys' names between 1880 and 2012. He created an animated GIF of a bar graph to show the how quickly boy names ending with "n" rose to popularity -- also showing how other letters have increased and decreased over the years.
Here are stills for comparison:
Back in the 1880s, the letter "s" was most popular.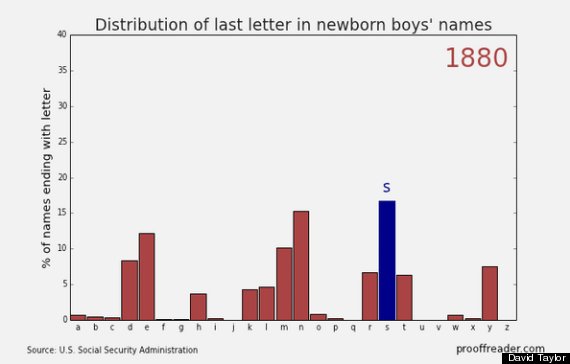 By the 1940s, "d" took the lead.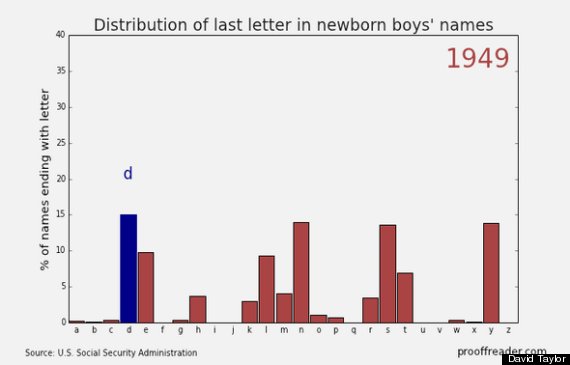 Finally, "n" started to gain momentum and still ranked the highest as of 2012.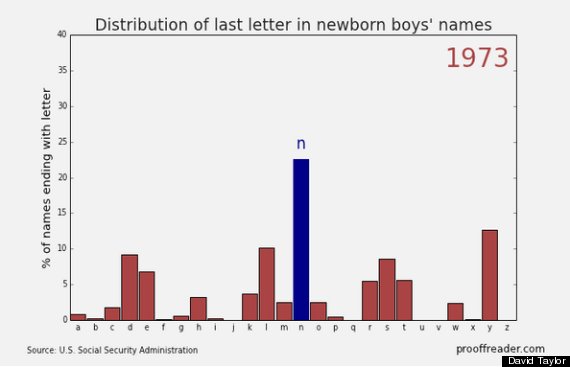 Taylor points out that there are many letter/name trends to explore. "Of course one could always do the same analysis to the last letters of girls' names (let me guess: lots of 'a's), the first letters of either sex, and even middle letters or multi-letter patterns," he wrote.
But if you're more interested in the future than the past, these name predictions could help (Spoiler: They don't all end with "n").
BEFORE YOU GO
PHOTO GALLERY
Unusual Baby Names That Are About To Become Trendy