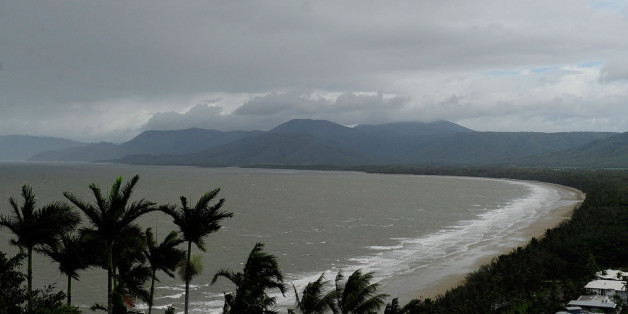 More than a thousand residents of Australia's northeastern Queensland state sought refuge as the most powerful storm in three years hit the island continent on Friday. The Australian reports that Cyclone Ita made landfall near Cooktown just after 9 p.m. local time, hitting wind speeds of 140 mph.
Initially predicted as a Category 5 cyclone, the storm was downgraded to a Category 4 earlier on Friday and eventually weakened into a Category 3 when it hit the coast, the BBC notes. However, Australia's Bureau of Meteorology warned that Ita was still powerful and was carrying "very destructive winds."
According to ABC reporter Joe O'Brien, residents of Cooktown described extremely windy conditions, but said that damage appeared limited so far. "We're hearing that there are trees uprooted and there is some structural damage to buildings in Cooktown," O'Brien said. "But those people weren't saying that that appeared significant at this stage."
Hundreds of Queensland residents sought refuge in cyclone shelters and community storm centers after the state's emergency minister warned that Ita could turn deadly. "This is an extreme event and it has the possibility to take lives and the potential to severely damage property in north Queensland,'' Queensland's Emergency Minister Jack Dempsey warned, according to the Sydney Morning Herald. ''I'm asking all Queenslanders to work together, to look after their mates and to ensure that the most vulnerable citizens in our community are looked after.''
It's been only three years since Cyclone Yasi, a Category Five storm, hit parts of Australia's Queensland state, causing billions of dollars worth of damage.
Australia's Bureau of Meteorology said that Cyclone Ita is expected to proceed in a south-southwest direction overnight.
CORRECTION: An earlier version of this article identified Queensland in one instance as a province instead of a state. This has been corrected.