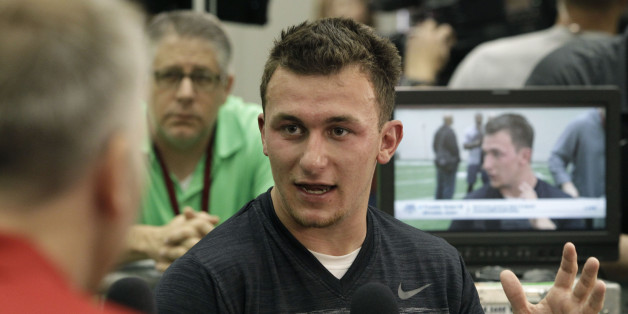 Johnny Manziel doesn't do understated.
The 2012 Heisman Trophy winner earned the nickname "Johnny Football" by delivering dramatic performances in big moments. The 21-year-old from Tyler, Texas doesn't seem to have any plan to change his style ahead of the 2014 NFL Draft. When dozens of representatives from nearly every NFL team came to College Station to watch him throw, Manziel delivered a larger-than-life performance that put his talent and his showmanship on display.
"I wanted to put on a good show for them," Manziel told Lindsey H. Jones of USA TODAY Sports after the March 27 workout.
Manziel succeeded in putting on a show with an unusual Pro Day. Perhaps more importantly, that show drew rave from reviews. From the unusual gear on Manziel to his star-studded audience, here are more than a dozen of the things that made Manziel's Pro Day one to remember:
Manziel Broke With Tradition To Wear A Helmet And Shoulder Pads Manziel Was Also Rocking Camouflage Shorts
Johnny Manziel makes his "Camo" appearance at Pro Day. Can't wait until the action figure. pic.twitter.com/XSAiERG6ak

— SN's Vinnie Iyer (@vinnieiyer) March 27, 2014
Nike Was Selling His Gear, Immediately
The future starts today. Don't get left behind. The @JManziel2 Pro Day Collection http://t.co/B6TDicu0db pic.twitter.com/GFp2raByoV

— Nike.com (@nikestore) March 27, 2014
75 officials from 30 NFL teams Came To WatchAccording To ESPN President George H.W. Bush And His Wife Were Also There
(GIF via @AshleyCodianni)
Everyone There Was Listening To Johnny's Rap Playlist Blaring
Manziel Was Throwing To Texas A&M Teammate Mike Evans
(GIF via @ChrisBurke_SI)
And He Was Going DEEEEEEEEP
(GIF via @Steelersdepot)
The Videobombing Of ESPN's Interview Was Spectacular
(GIF via @CorkGaines)
Aaron Rodgers Was Watching And Mocking ESPN Analysts
2 of the 3 guys commenting on this workout right now have opinions that shouldn't be taken very seriously.

— Aaron Rodgers (@AaronRodgers12) March 27, 2014
LeBron James Was Watching And Cheering Johnny
Just finished watching my bro @JManziel2 pro day!! Don't take him if u want 2. He's a flat out STAR! Accuracy on point! #StriveForGreatness

— LeBron James (@KingJames) March 27, 2014
The Pro Day Included A Broom It Ended With A BOOOOOM!
Manziel finishes 61 of 64 at his pro day. Johnny ended with a "Boom!" after a 60-yd bomb to Evans.

— Battalion Sports (@battsports) March 27, 2014
BEFORE YOU GO