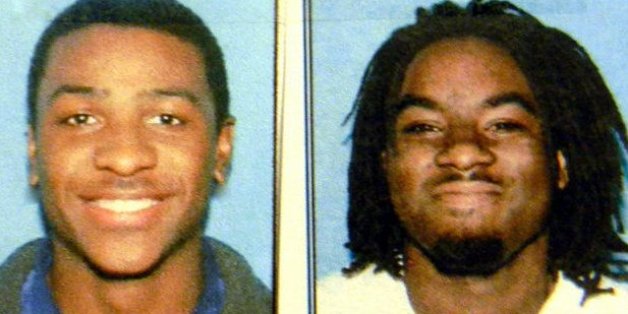 A Louisiana dog owner was arrested after video surfaced of him allegedly brutally beating his pit bull, Tiger, after the dog made a mess of the trash.
The video, released by the St. Bernard Sheriff's Office, was taken in 2012 and allegedly shows 21-year-old Asani Woods strangling, beating, and slamming the dog multiple times while 21-year-old Johnny Dominick films with his cellphone, The Times-Picayune reported.
The dog eventually fell unconscious, Sheriff Jimmy Pohlmann told the Picayune on Monday. Both men are facing charges of aggravated cruelty to a dog.
WARNING: This video is extremely graphic and may disturb some viewers.
"You gonna kill that bitch, son," the man identified as Dominick can be heard saying. The man identified as Woods picks up Tiger and appears to put her in a chokehold.
The dog can be heard gasping for air as the man police say is Woods drags her over to the mess on the floor. He then proceed to shove her face into the trash.
Wearing a boxing glove on his left hand, the man continually punches Tiger, delivering at least 10 massive blows to the injured dog as she cries out and yelps in pain.
Woods then picks the dog up by her neck and throws her across the room, where she slams into the wall. He picks her up one more time, slamming the dog on her back as the yelping continues.
"That bitch dead, son," a voice identified as Dominick's can be heard saying.
"You hear often times about pit bulls attacking individuals, you know, well, this is probably one case where you would like to see the pit bull defend [herself], with such a brutal attack," Pohlmann said.
Authorities said that when Woods was arrested last month over the December 2012 beating, he expressed confusion over the reason why, saying that he was simply disciplining his dog.
"Yeah that was me," Woods allegedly told the arresting officer. "What, you going to arrest me because I beat my dog because it shit and pissed all over my house?"
Dominick was initially arrested on drug-related charges, but later charged with being an accessory to aggravated cruelty of a dog once police found the video on his phone, according to The Blaze.
After investigating, authorities learned that Tiger survived the December attack, and was brought to an animal shelter in January by Woods after he said the dog was too aggressive. Tiger was euthanized a short time later.
Woods was out of jail Monday on a $135,000 bond.
Like Us On Facebook |

Follow Us On Twitter |

Contact The Author
BEFORE YOU GO
PHOTO GALLERY
10 Worst States For Animal Abuse Laws