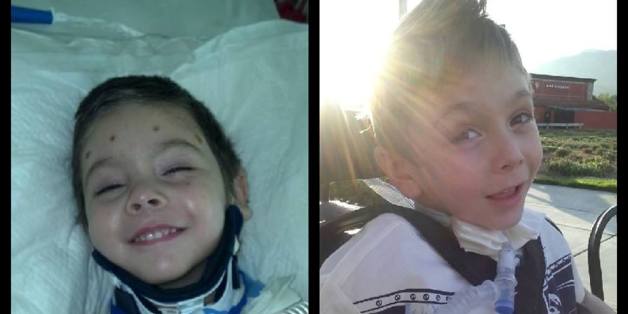 When Arlaeeh Galindo passed a car accident on her way to work in February 2012, she had no idea the incident involved her then-3-year-old son, Zakkary.
Galindo's brother was driving a vehicle that was struck by an elderly man, according to ABCNews.com. Zakkary, who had been strapped in his car seat behind Galindo's brother, suffered from internal decapitation -- his skull separated from his spine, the outlet reported.
Galindo arrived at the hospital to find her son in a coma. Doctors were not optimistic about Zakkary's outlook, telling her that he would likely not improve beyond a vegetative state, Babble.com reported. But, despite doctors' predictions, Zakkary regained consciousness several days later and has made considerable progress. While he's paralyzed from the neck down and depends on a ventilator to breathe, Zakkary's personality, intellect and smile are in tact.
"Though he has been through many hardships," Galindo wrote on Facebook. "This child is a perfect example of perseverance in the face of adversity."
From the Zakk's Wheels Facebook page.
While Zakkary enjoys many things children his age love -- such as superheroes like Iron Man -- finding the resources to live a normal life has been a struggle. The wheelchair-accessible van Galindo had been using to transport her son broke down, and she's had to rely on the kindness of others to get Zakkary to kindergarten.
But a contest sponsored by the National Mobility Equipment Dealers Association might be the answer to Galindo's prayers.
Supporters can vote for Zakkary to win a new wheelchair-accessible van, so that the now-5-year-old can venture places like the Griffith Observatory in Hollywood -- a place he would love to revisit, according to Babble. Galindo said Zakkary "knew his planets, knew what order they went in, [and] what size they were," at just 3 years old.
From the Zakk's Wheels Facebook page.

"Through all the hardships Zakkary has been presented with, he is always in the best spirits with a big smile on his face," Galindo wrote on the contest's page. "Even though Zakk's life will no longer be the same as that of a 'normal' 5-year-old, his spirit and enthusiasm for life no one can deny."
To vote for Zakkary, visit the National Mobility Equipment Dealers Association contest website.
BEFORE YOU GO
PHOTO GALLERY
Woman In Wheelchair Uses Underwater Art To Inspire Others