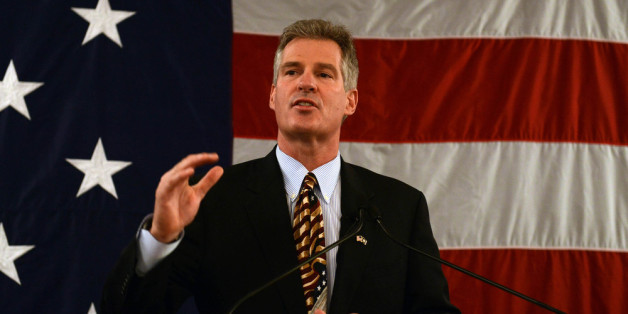 Another new poll in New Hampshire finds Scott Brown still trailing Jeanne Shaheen. Gallup finds most attitudes on ACA unchanged, but fewer who expect long-term negative consequences for their families. And Pew Research looks at how America's demographics are changing shape -- literally. This is HuffPollster for Friday, April 11, 2014.
NH: SHAHEEN LEADS BROWN IN YET ANOTHER POLL - UNH/WMUR Granite State poll: "Senator Jeanne Shaheen continues to lead all Republican challengers, but her favorability ratings have slipped in recent months. Former Massachusetts Senator Scott Brown is the strongest challenger, but is viewed unfavorably by Granite Staters….If the election were held today and Shaheen and Brown were the candidates, 45% of likely voters say they would vote for Shaheen, 39% would vote for Brown, 2% support someone else, and 14% are undecided. One interesting thing to note about this matchup is that Brown leads in residents who have moved to the state from Massachusetts (50%-37%), while Shaheen has a slight edge in lifelong New Hampshire residents (44-42%) and a big lead among those who have moved here from other states (50%-31%)....Shaheen's net favorability rating, the percentage who have a favorable opinion of her minus the percentage who have an unfavorable opinion, is +14%. This is a slight drop from her +16% net favorability in January and is her lowest rating in three years, but it is typical for candidates as they enter a re-election period." [UNH]
Comparable to other polls - Shaheen's 6-point lead in the poll is down from a 10-point advantage in January, but marks the eighth poll in a row to find her with an advantage of 5 points or more, including a PPP(D)/League of Conservation voters survey released just this week. HuffPost Pollster's tracking model gives Shaheen an average 8.6 point lead, with little to suggest that the race has become more competitive since Brown's entrance into the race. [HuffPollster]
FEWER EXPECT PERSONAL NEGATIVE REPERCUSSIONS FROM ACA - Jeffrey M. Jones: "With the open enrollment period for obtaining health insurance through a federal government exchange now over, Americans' views on the broader healthcare law remain more negative than positive. Currently, 43% approve and 54% disapprove of the law, commonly known as 'Obamacare.'…The plurality, 42%, now expect the healthcare law will not make much difference to their healthcare situation either way. That is up from prior surveys and suggests that as more of the law has taken effect, Americans are more likely to see that it is not affecting them -- and has not made their situation worse. These changes are a result of a shift in Republicans' views. Republicans are now more likely than in the prior survey to predict the law's long-term impact on their family will be negligible and less likely to believe it will be harmful. Perhaps with more of the law's provisions now in effect, and little evidence it has actually hurt their healthcare situation, Republicans' views may be more informed by their experience rather than their negative opinions about the law more generally." [Gallup]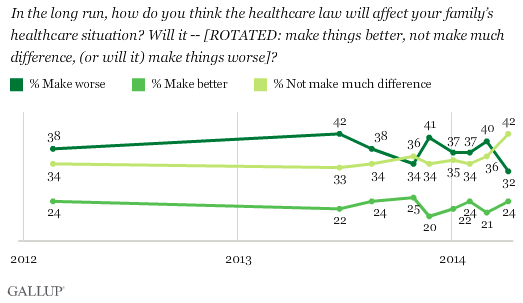 PEW'S 'INTERACTIVE ESSAY' MAPS GENERATIONAL SHIFTS - Pew Research had previously posted results from a massive new report on the Millennial generation and a book, The Next America, on how demographics will reshape the United States in coming decades. On Thursday, they published a new "interactive essay" summarizing some of the same data. The new essay is "a creative way to share our recent findings about America's two big demographic trends," according to Sara Goo, Pew Research Center's senior digital editor. "It's the result of putting researchers, graphic designers and web developers together to see how we can tell data stories in a more compelling way."
A graph of age cohorts usually forms a pyramid - One example from the new report: "Let's start with what demographers call an "age pyramid." Each bar represents a five year age cohort; with those ages 0-4 on the bottom and those ages 85 and older on the top. In every society since the start of history, whenever you broke down any population this way, you'd always get a pyramid. But from 1960 to 2060, our pyramid will turn into a rectangle. We'll have almost as many Americans over age 85 as under age 5." [Pew Research]
HUFFPOLLSTER VIA EMAIL! - You can receive this daily update every weekday via email! Just click here, enter your email address, and and click "sign up." That's all there is to it (and you can unsubscribe anytime).
FRIDAY'S 'OUTLIERS' - Links to the best of news at the intersection of polling, politics and political data:
-Slightly more parents have a positive than a negative impression of the Common Core education standards, but 37 percent don't know enough to say. [Gallup]
-Nate Silver thinks Jeb Bush's support for the common core may not be that controversial. [538]
-An internal poll conducted by a SuperPAC backing Thom Tillis for Senate in North Carolina finds him leading the Republican primary field. [WaPost]
-Kathy Frankovic conducts a public opinion "reputation audit" of Rand Paul. [YouGov]
-David Rothschild examines the results of a study that found less accuracy on non-probability samples. [WashPost]
-Charlie Cook reviews the latest survey from Democracy Corps (D) and Resurgent Republic (R). [National Journal]
-NPR reports on why people exaggerate religious behavior in surveys around the world. [NPR, via @JoshdelaRosa1]
-Jamelle Bouie wonders if the racial polarization of the Deep South could spread. [Slate]
-Abby Rapoport anticipates the ability to compare states' election performance across the years. [American Prospect]
-USA Today database editor Paul Overberg explains how to get the most out of the American Community Survey. [Source via Flowing Data]