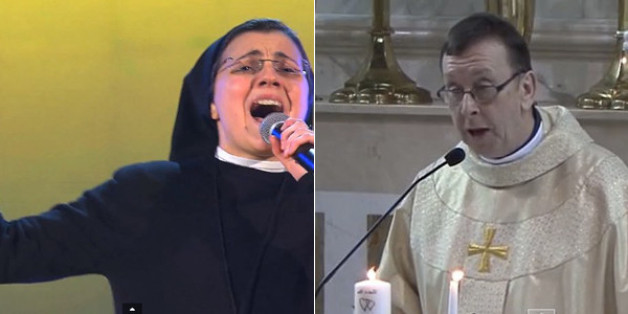 This week, the internet was flooded with praise for Father Ray Kelly, a priest from Westmeath, Ireland, who unexpectedly burst into a soulful rendition of "Halleluljah" during the wedding of Chris and Leah O'Kane.
The video of his song has racked up over 10 million hits since it was posted on April 7, a frenzy we haven't seen since the phenomenal singing nun, Sr. Cristina Scuccia, went viral.
But which one is better?
HuffPost Religion presents...
SINGING PRIEST VS. SINGING NUN: THE ULTIMATE CATHOLIC SMACKDOWN
Vote for your favorite, and check back to see which one dominated, and which one had to submit to a higher authority.
BEFORE YOU GO