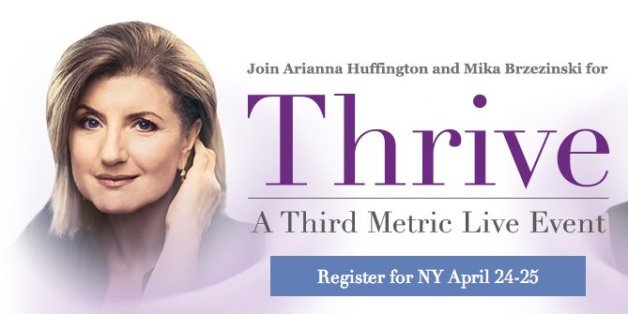 We're delighted to announce that we have made a limited number of complimentary tickets available for college students to attend Arianna Huffington and Mika Brzezinski's upcoming conference THRIVE: A Third Metric Live event.
The event will be held on Thursday April 24 from 7-9 p.m. and Friday April 25 from 9 a.m.-5 p.m. at The New York City Center (131 West 55th Street between 6th and 7th Avenues).
The THRIVE conference will be hosted by Arianna Huffington and Mika Brzezinski of MSNBC's "Morning Joe." They will be joined by dozens of inspiring speakers, including Julianne Moore, Katie Couric, Aetna CEO Mark Bertolini, Panache Desai, Jon Kabat-Zinn and more.
At THRIVE, we'll share 4 keys to unlocking a life of:
Well-being: Discover practical daily choices to help you reduce stress and live better.
Wisdom: Receive tools and insights to enrich your mind and spirit.
Wonder: Learn creative exercises to unleash your imagination and revolutionize your personal and professional life.
Giving: Explore powerful ways to ignite the joy of being a part of something larger than yourself.
For more information, visit thirdmetriclive.com.
If you're interested in attending the event, please e-mail thriveoncampus@huffingtonpost.com with your name and university affiliation by Friday, April 19. Tickets will be distributed on a first come, first served basis.