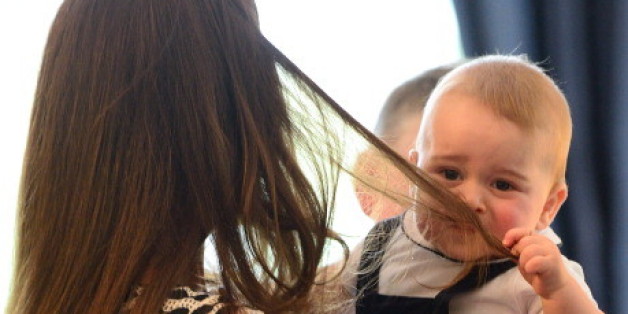 Kate Middleton has impeccable taste and composure. We cannot argue with her choice of men, her Jenny Packham dresses, or even her pregnancy cravings. She looks more poised and put-together disembarking a plane with the wind whipping at her hair and hemline than we do after a five minute walk to the corner store. Did we mention she was on said transport for 27 hours with her teething nearly-nine-month-old? Kate, you never cease to amaze.
And yet, despite her apparent perfection--her self-professed "perfect" childbirth, her impossibly svelte post-baby figure, and that hair--we can't help but love the down-to-earth Duchess. Just like us, Kate enjoys nothing more than playing with her little prince, even letting him nibble upon those long, painstakingly primped locks.
All this talk of hunger, sweetness, and things Kate enjoys brings us to another point on which the Duchess and us laypeople totally relate. Prince William may be partial to banana flan (another recipe for another time), but we're more partial to toffee. This moist and spongy dessert recipe is a favorite of the Duchess', and like a good Gina Foster pillbox hat, its merit is indisputable.

Read more on ElizabethStreet.com