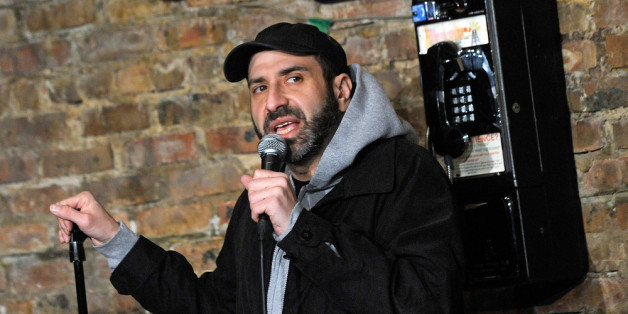 Dave Attell isn't the booze-soaked party chaser he was back when "Insomniac" was on TV in the early 2000s, but his raunchy, uncensored humor is alive and well in his new Comedy Central special, "Road Work."
"It's going to be a filthy, dirty mess of a show," Attell jokes in his first one-hour special since HBO's "Captain Miserable" almost seven years ago. "Road Work" is unique in that it was pieced together from five of Attell's shows at clubs all over the country and features camerawork by members of the audience. When Attell says, "We're doing this thing on a budget," he means it, but with this guerrilla style he aims to capture the spirit of a gritty, underground comedy club show.
Fans of his 2003 album, "Skanks For The Memories," will enjoy similar material on sex, masturbation, drinking, marijuana, weirdos and one of his favorite subjects, midgets. Is it PC? Of course not, but Attell manages to acknowledge that without curbing his humor, just as he does when he's joking about a girl with a lazy eye being "really good at finding parking" or saying his genitalia looks like "A tent nobody knows how to fold up." When he tells his audience, "Stay with me," they usually do.
On "Comedy Underground," his uncensored stand-up series which also premiering on Comedy Central this weekend, Attell has his fellow comedians speak just as freely. Filmed at The Village Underground in NYC using the same low-fi tactics as he uses in "Road Work," it features appearances by Joe DeRosa, Jermaine Fowler, Ari Shaffir, Brad Williams, Amy Schumer, 20-year-old Pete Davidson and more. Each show starts off with a dirty joke and promises, "Good, old fashioned, filthy humor."
Based on both his new material and the young comedic company he's keeping, Attell, who is now sober and approaching 50, has only gotten more in touch with his off-color comedy roots since the "Insomniac" days. He admits that he doesn't like self-promotion and laments how much comedians have to sell themselves online these days. "Promoting two things at once is hard for me. I'm not Ryan Seacrest!" he joked. However, he did take the time to speak with The Huffington Post on the phone about his latest work and current life as a comic working small venues like The Comedy Cellar in New York City. Here's what he had to say.
On whether or not he could see himself doing "Insomniac" today:
"I know personally, I couldn't do it. To be honest, I'm not a big self-promoter and now the world we live in is all about that kind of stuff. I can only imagine how hard it would be with everyone tweeting and instagramming pictures... It was cool because it was low-key. Now, everybody's kinda doing that show, in a way. That show definitely had its time and the people who were a part of it were really important to me, but I was comic before that and I'm a comic after that. It's kind of like my touchstone show; it was my thing. But, NO, I couldn't do it again [laughs].
On remembering "Insomniac" and taking "Selfies" before they were cool:
"Yep, I'm like the Neil Armstrong of that [laughs]. It wasn't the first reality show like that, though. The whole time I was doing it, I was thinking about "Jackass," how I wish I was one of hose guys. They had their group, they could hang out and do their thing, but they were cool stuntmen. It was that and "The Tom Green Show." I had to make sure I didn't do any stuff that they did. But yeah, for a show that was just walking around and drinking, it was pretty fun."
On whether or not he could see himself working the night shift if not a comedian:
"Oh, absolutely. That was my favorite part of "Isomniac," the late night jobs, the third shifts. I was always, in the back of my heading, thinking, "Hey, if the comedy thing goes down, maybe I could work overnight at like a water treatment plant.' I really did find it fascinating, the road workers, the crazy late night guys that live on a different schedule. I'm definitely that guy. If things didn't go right with comedy, I'd definitely be one of those guys.
WATCH: "Insomniac With Dave Attell"

On deciding to make "Road Work" out of 5 live shows instead of one big, fancy one:
"Well, 'Insomniac' was 10 years ago. Now I'm old. I'm just trying to bang out the comedy an do a ton of shows. We shot the "Road work" special at five clubs but then it took me months and months to edit it down and choose the right material. I think it gives people a good taste of what it's like to go to a real, club show. If you watch most specials, you'll see they're mostly done in theaters. It's kind of like a big event, and I'm not really a 'big event' comic. I'm not very special for a guy doing a special [laughhs]. So this is a good fit for me. It's definitely uncensored, which I appreciate the network letting me do, and it's on late so, this is hardcore."
On working with the audience to shoot parts of the special:
"Yeah, I give cameras to the audience, which is kind of like the reverse of 'Insomniac.' It's sort of a Beastie Boys/Radiohead tip of the hat. It's an all-guerilla shoot. They're my wingman for the show, so [in addition to] my material there's also some crowd work. It's completely different than those big, theater specials."
"We shot at the Stress Factory in New Jersey, Acme Comedy Club in Minneapolis, One Eyed Jack's in New Orleans, Helium in Philadelphia and Hu Ke Lau, a Chinese restaurant in Chicopee, Massachusetts that every comic hits on either the way up or the way down. And there were a million good and bad things about doing it this way. It doesn't look as great as it could. It's out of focus sometimes. The audio might be off. It's like a step above a YouTube video. But at the end of the day, I do think it captures the gritty, realness of a club show. As best as I could do it."
WATCH
: "Road Work"
On hosting the "Comedy Underground" series:
"It wasn't my idea for a show, i'm just hosting it. I'm the old man bringing on the kids and some of the guys who I started with. The network wanted an unfiltered, uncensored show, and I threw in my 2 cents about it being shot in New York at The Village Underground the comics I wanted to bring on. I chose the more 'hardcore' comics to see how far we could push it, and Comedy Central never said 'No' to anything. It's pretty raw stuff. Once again, there were a lot of technical problems, but we used the same audience camera person to capture it that way and show people what I like to think comedy should be -- or really, what comedy was -- more fun, less digital. Less self-promoting. Just doing the shows and having a good time."
On the type of comedians we'll see on the show:
"'Comedy Underground' is a great smattering of new guys and old names, and by 'old names' I put myself at the top of that list [laughs]. There are definitely some fresh new faces, like Pete Davidson, who is already on his way and is a great comic at 19 years old. I've never seen a guy since Dave Chappelle -- who I also saw when he was very young -- that really knows who he is on stage. The other guy would be Junior Stopka. I wandered into him via my comedy icon, which would be Doug Stanhope. He was his opener and I think he still is. He's kind of a throwback. Really funny. I guess you guys would call it "random." He just has a great imagination and jokes but he's also hardcore. It's not silly for silly, it's silly for dirty, for dark. These guys aren't storytellers, and I'm not really into storytelling. I like hard jokes. Nikki Glaser and Jay Oakerson are also like that.
WATCH: "Comedy Underground"
On why some of the best NYC comics work out their material at the Comedy Cellar:
"It's like the Modell's of Comedy [laughs]. I mean, I used to go there because it was the latest show in town. You could drink and create crazy, weird material and there wasn't too much of a crowd. But now that it's successful, I assume the comics come there for the food [laughs]. They've got a great menu!"
On his old friend Louis C.K.'s rise to fame:
"Nobody's worked harder and no one has grown as a comic more than he has, in my eyes, over the last years. He really is an exceptional person and a rare talent, and I say that from seeing him in the clubs, then becoming probably the biggest act in the country right now. It's amazing. I'm really proud of him.
"Now when people come to the cellar, they go down to look for him and are very disappointed when he's not there [laughs]. 'Where's Louie? Oh he's not here tonight.' And then they walk away all sad."
On donating money and doing benefits for National Military Family Association:
"It's a really good cause for children of veterans who are fallen and also deployed. I made a donation, about $25,000 of my own cash, just to get some of that 'comedy coin' back out to the folks. They've always been good to me. I've done a ton of USO tours and have been embedded with these guys, the wounded warriors. Let met tell you, there's no better crowd. I mean, a lot of that has to do with being stuck in the desert for months and months and months, but they really do turn out for the shows and support it. And sometimes they come home and come out to the club shows and say they saw him in Iraq, or they listened to my tapes over there. That makes you feel good."
On getting older and not being a "Morning Person":
"When you get older... Let me tell you something, there's no morning. There's just 'Up' or 'Exhausted.' There's no morning or night. Either you'er up and you have to go to the bathroom... Then you realize you have to open your mail or something... Then there's just exhausted and you fall asleep with a shoe on. So, enjoy your time while you can."
"Road Work" premieres Saturday, April 12 at 11:59 p.m. EST and "Comedy Underground" comes right after at 1:00 a.m. EST on Comedy Central.
BEFORE YOU GO
PHOTO GALLERY
Comedians We Love