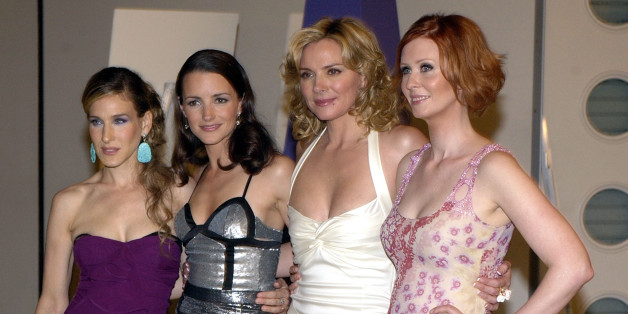 "Sex and the City" was undoubtedly the Carrie, Samantha, Miranda and Charlotte show, with the occasional Big, Aidan and Steve sneaking their way into our hearts. But looking back on the iconic series' six seasons, a whole slew of familiar faces left their mark.
From huge stars playing themselves (Matthew McConaughey, Heidi Klum) to fresh faces not yet exalted by fame (Bradley Cooper, Elizabeth Banks) to "Wait, I know that guy from some other show" moments, here are 29 cameos* you might have missed watching "SATC" the first time around -- in order of appearance:
1. Glenn Fleshler
In "Secret Sex" (Season 1), the "Yellow King," Errol Childress, plays Shmuel, a Hasidic artist with whom Charlotte has a clandestine fling.
2. Justin Theroux
In the episode "The Monogamists" (Season 1), Theroux plays Stanford's pal Jared, one of New York Magazine's "30 coolest people under 30," who flirts with Carrie. In "Shortcomings" (Season 2), he appears as writer Vaughn Wysel, a fiction writer Carrie dates and whose mother she adores.
3. Bradley Cooper
In "They Shoot Single People, Don't They?" (Season 2), Carrie gets tricked into posing on the cover of New York Magazine under the headline "Single & Fabulous?" Distraught, she seeks young company and finds it in the form of hip Jake, played by Cooper.
4. Carrie Preston
In "The Chicken Dance" (Season 2), "The Good Wife" quirky genius Elsbeth Tascioni plays Madeline Dunn, an interior decorator who steals Miranda's love interest, Jeremy, and swiftly marries him.
5. Will Arnett
In "La Douleur Exquise!" (Season 2), Miranda meets Jack, a man who likes having sex in public places.
6. Jon Bon Jovi
In "Games People Play" (Season 2), the rocker plays Seth Robinson, a photographer Carrie meets at the shrink's office who gets sick of women way too quickly.
7. Dean Winters
In "The Fuck Buddy" (Season 2), Winters plays John, a dependable friend-with-benefits of Carrie's. At some point she wonders why she never tried to have more than just sex with him, only to discover conversation is excruciating.
8. Elizabeth Banks
In "Politically Erect" (Season 3), Banks plays Catherine, a politician's fiancee at Carrie's boyfriend's fundraiser.
9. Eddie Cahill
In "Boy, Girl, Boy, Girl..." (Season 3), "Friends" cutie Tag, or Detective Don Flack for you "CSI: NY" fans, Cahill plays Sean, Carrie's bicurious younger guy.
10. Alanis Morissette
The singer plays Sean's sexually experimental friend in "Boy, Girl, Boy, Girl...", who lands a kiss on Carrie during a game of spin the Bottle.
11. Bobby Cannavale
In "Easy Come, Easy Go" (Season 3), Cannavale plays Adam, Samantha's guy of the week with really funky tasting spunk.
12. Sarah Michelle Gellar
In "Escape from New York" (Season 3), Carrie goes to Los Angeles to explore a movie option based on her columns. Gellar plays Debbie, a junior exec with whom she meets to discuss the project.
13. Matthew McConaughey
Also appearing in "Escape from New York," McConaughey plays himself. He's interested in Carrie's movie project and quite possibly, Carrie herself.
14. Vince Vaughn
In "Sex and Another City" (Season 3), the ladies are still in Los Angeles. Vaughn plays Keith Travers, Matt Damon's agent. He and Carrie hit it off and he impresses her with his lavish west coast style, until she discovers the big ol' bed they slept in isn't his -- he's merely house sitting for Carrie Fisher.
15. Hugh Hefner
The Hef plays himself in "Sex and Another City" when the ladies attend a party at the Playboy mansion. Samantha introduces herself to him, her idol.
16. Kat Dennings
In "Hot Child in the City" (Season 3), the "2 Broke Girls" star plays Jenny Brier, a spoiled, precocious 13-year-old who hires Samantha to plan her bat mitzvah.
17. Tony Hale
In "The Real Me" (Season 4), Veep's trusty assistant plays Tiger, a photographer's assistant helping shoot Samantha in the nude.
18. Alan Cumming
Also in "The Real Me," Carrie is recruited for a fashion show and Cumming is Oscar, the designer in charge of fitting her with fabulous Dolce & Gabbana attire.
19. Heidi Klum
Klum plays herself in "The Real Me" as a model in Carrie's runway disaster.
20. Lucy Liu
In "Coulda, Woulda, Shoulda" (Season 4), Liu plays herself, and Samantha wants to represent her. Things go south when Samantha uses Liu's name to bypass the wait list for a pricey Birkin bag.
21. Chandra Wilson
In "Anchors Away" (Season 5), "Grey's Anatomy" Dr. Miranda Bailey has a small cameo as a cop berating Samantha for hanging up flyers of cheating Richard ... until Samantha explains herself, and is allowed to carry on.
22. Heather Graham
In "Critical Condition" (Season 5), Graham plays herself. She's seen with Nina Katz (Nadia Dajani), who dated Aidan after Carrie and gives her "the face" for it.
23. Nathan Lane
In "I Love a Charade" (Season 5), Lane plays Bobby Fine, a piano player/entertainer presumed to be a gay man until he announces his engagement to female socialite Bitsy von Muffling.
24. Jennifer Coolidge
Another "2 Broke Girls" cameo! In "The Perfect Present" (Season 6), Coolidge plays Victoria, a woman who got dumped and decided to start making hideous purses. Her purse party blows up when she catches Samantha doing it with the help (Smith).
25. Rosemarie DeWitt
In "Hop, Skip, and a Week" (Season 6), DeWitt plays Fern, Miranda's co-worker who's concerned about her work-life balance after baby.
26. David Duchovny
In "Boy, Interrupted" (Season 6), Duchovny plays Carrie's high school sweetheart Jeremy. He's back in her life for a magical moment before revealing to her that he's in a mental institution.
27. Geri Halliwell
Also in "Boy, Interrupted," the former Spice Girl plays Phoebe, Samantha's friend who tells her about the popular pool at the Soho House.
28. Andy Cohen
In "Let There Be Light" (Season 6), Cohen plays a shoe salesman helping Carrie at the department store -- a department store she went to with Charlotte to help her be "blind" only to abandon her for shoes.
29. Kristen Johnston
In "Splat!" (Season 6), Johnston plays Lexi Featherston, a socialite who falls out a window -- to her death -- at Enid Frick's (Candice Bergen) apartment while smoking a cigarette.
* This list comprises of characters who appeared once (save for Theroux, who appeared twice as two different characters). That explains why Candice Bergen as well as Molly Shannon and Amy Sedaris, etc., were left out.
Like us on Facebook |

Follow us on Twitter |

Subscribe to our Newsletter
BEFORE YOU GO
PHOTO GALLERY
Carrie Bradshaw's Best Clothes On 'Sex and the CIty'