Nants ingonyama bagithi Baba
Nebraska football coach Bo Pelini may have already created the most viral moment of the 2014 college football season. This must-share bit of Internet alchemy managed to combine a reference to a beloved Disney movie, a major college football team's annual spring game, a dig at a parody Twitter account and ... a cat.
Doing his best Rafiki impression, Pelini brought a cat with him to Nebraska's annual Red/White Spring Game. He carried the adorable but likely terrified feline with him as he led his team from the locker room and toward the field. As he emerged from the tunnel leading to the field, Pelini held aloft the cat for the 61,772 fans at Memorial Stadium to see as his players waited behind him.
Now we're ready for the #Huskers Spring Game. pic.twitter.com/XYUrYvMael

— Nebraska Huskers (@Huskers) April 12, 2014
It's your move @FauxPelini. #huskers pic.twitter.com/K9Y7n3aOMp

— Hail Varsity (@HailVarsity) April 12, 2014
Pelini's unusual entrance was an apparent homage to the "Circle of Life" scene from Disney's "The Lion King" as well as a nod to a parody Twitter account, @FauxPelini, that has gained a following for having some fun with his fiery reputation.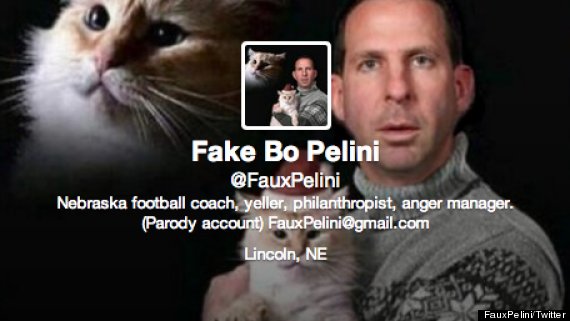 Just days after his Cornhuskers upset No. 22 Georgia on New Year's Day, Pelini first acknowledged @FauxPelini on Twitter. In a move that likely helped raise Bo's follower count, the coach brought up the cat in Faux's profile image.
@FauxPelini ok enough is enough... I want my cat back. You've had her long enough!

— Bo Pelini (@BoPelini) January 7, 2014
After the real Pelini brought a real cat to his team's game, the faux Pelini had no choice but to relent.
.@BoPelini Fine, you can keep her

— Fake Bo Pelini (@FauxPelini) April 12, 2014
The story proved to have multiple lives as it was picked up on the web, the Big Ten Network and ESPN.
Great moments in ESPN history. pic.twitter.com/qEagX5UCky

— Barrett Sallee (@BarrettSallee) April 13, 2014
By Sunday morning, the cat was a breakout star.
@BoPelini We need to get the cat an agent

— Fake Bo Pelini (@FauxPelini) April 13, 2014