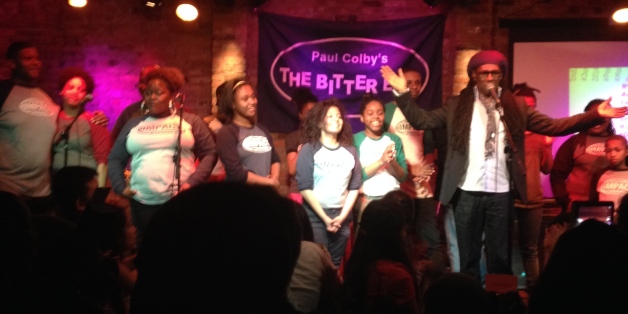 I'm a Nile Rodgers fan. And due to the fact that I am employed by The Huffington Post, I'm able to gain access to events that I wouldn't have access to otherwise. Normally, these facts would have nothing to do with each other. But thanks to a convergence of universal forces, I found myself invited to attend an event on April 10th at Paul Colby's The Bitter End in Manhattan, which bills itself as "New York City's Oldest Rock Club." I received this invitation eagerly, a night of music and entertainment that would include an interview with Nile Rodgers himself.
What transpired was a fascinating 25-minute conversation with a musician whom I deeply admire, followed by a show put on by Nile's We Are Family Foundation. The organization seems to do a lot of great work bringing people together in peace and love, so rather than me botching a description of what they do, I'll show you the press release I received before attending this event:
WE ARE FAMILY FOUNDATION® ANNOUNCES THREE DOT DASH® "JUST PEACE SUMMIT"
IN NEW YORK CITY APRIL 7 - APRIL 13, 2014

New York, NY (March 24, 2014) - We Are Family Foundation® (WAFF), a not-for-profit organization founded by musician/songwriter/producer Nile Rodgers, has announced its 2014 Three Dot Dash® "Just Peace Summit" to take place in New York City April 7th through April 13, 2014.

Opening ceremonies will take place on Monday, April 7th from 6:30pm-9:00pm at Studio 450 (450 West 31st Street, NYC) and will feature an appearance by Emmanuel Jal. Jal was born into the life of a child soldier in the war torn region of Southern Sudan. As a survivor of the war, Jal emerged as an activist, and a recording artist, achieving worldwide acclaim for his music with its message of peace and reconciliation.

Three Dot Dash® is a global initiative of WAFF that supports Global Teen Leaders (GTLs) around the world who are actively working on projects that promote a more peaceful society by addressing one or more basic human needs – food, water, health, shelter, safety, education and the environment. The name Three Dot Dash® is a mash-up of Morse code, used by telegraphs, and the two fingered "V" gesture that has come to be known as the peace sign. In Morse code "V" is …------.

Inspired by the late 13-year-old poet and peacemaker Mattie J.T. Stepanek, Three Dot Dash® is a yearlong leadership and mentoring program that teaches teen leaders how to effectively "tell their stories" during the Just Peace Summit using various forms of media, current technology and distribution methods to gain media attention and public support. Additionally, over the course of the week in New York, each GTL will partner with A Three Dot Dash® mentor, who for the next year will help them strategize and fulfill their action plans to further their projects. The Three Dot Dash® Just Peace Summits have brought together GTLs from 40 countries and have already positively affected more than 15 million people on all 7 continents.
Three notes before I share this interview with you:
1. Many talented people performed in the show, which was filled with a lot of enjoyment and positivity. The focus was on the Global Teen Leaders (GTLs), not Nile himself, although he did perform "We Are Family." Check out the websites for both the We Are Family Foundation and three dot dash for more information on these organizations.
2. Speaking of "We Are Family," it's an excellent piece of music and one of Nile's most recognizable compositions. It's also, as you saw, the namesake of his charitable foundation.
3. Another outstanding song to keep in mind for this interview is "Get Lucky." This, of course, is the Daft Punk/Nile Rodgers/Pharrell Williams collaboration that rocketed to popularity in 2013.
Okay. Now the interview. Rather than give you an abridged version, I've provided the full recording as well as a transcript of the entire discussion.
Enjoy.
Adam: We actually met very briefly when you were on HuffPost Live.
Nile: Oh, cool.
Adam: I came backstage.
Nile: Okay.
Adam: So, um, ah, I don't really wanna guide the conversation, but I just wanna begin by telling you that, ah, the art that you've created is really magical and has had an impact on my life. So, I love your music. I think it's amazing. It's, ah, "Get Lucky" I think is one of the better songs of the past decade.
Nile: Wow. Cool, thank you.
Adam: Yeah, um. And I've listened to it many, many times. And there's stuff I haven't heard. You know, each time. It's really complex music. So I guess I'd just, uh, start it by saying, um, maybe even use that as a kickoff point. Like, what has "Get Lucky" meant to you and how has that, you know, uh, connected to your career as a whole, your life as a whole, the kind of art you create.
Nile: Um, well, "Get Lucky" is one of those really unique records for me because it, uh, almost embodies everything that's happened in my career. Complete convergence where all these forces come together in a unique, magical way. We recorded it in the exact same studio that I recorded my very first hit record in, Electric Lady, just a couple blocks away from here.
Adam: Which song would that be?
Nile: That was a Chic song called "Dance, Dance, Dance (Yowsah, Yowsah, Yowsah)".
Adam: Yeah, love that song, of course.
Nile: So at Electric Lady. Electric Lady was a studio Hendrix built. It's a place that I used to play at. It was a club like this called Generation, before Electric Lady, so it was a place where as a teenager I played, you know, as like a local rock and roll guy trying to make it.
Adam: Yeah.
Nile: Um, but the fact that I met Daft Punk, um, you know, 17 years ago, and it took us all this time before we finally got together to make a record. We tried to get together on two other subsequent occasions and it didn't work out. They were stuck in Paris, I was stuck in San Tropez. Um, then the next time, I was stuck in San Tropez and they were in Paris. So just all this completely wacky stuff.
Adam: Like, complete, like, uh, there's like a balance to it.
Nile: Yeah, it's, and it's so perfect, like uh, like almost, like some sort of, um, design. Like, just a perfect design.
Adam: Yeah.
Nile: And we meet, they talk about how much they love Chic, and blah blah blah and this and that, and how much our record influenced them, as a matter of fact, and samples and all that stuff, and their first album, and then uh…
Adam: Did you, um, what kind of familiarity or affection or whatever did you have for their work?
Nile: Oh, it was huge, I mean they had a record when they first came out called "Da Funk", which was the bomb. And it was like, so that record I knew before I actually knew them. So I met them at their listening party here in New York City, um, I would imagine not quite a year after I heard "Da Funk", but around that time, cause it took a while before the album came out.
Adam: Okay.
Nile: Ah, so I met them at their first album listening party. We got along great, of course, and um, and then we didn't get together again until 16 years later.
Adam: Uh huh.
Nile: So amazing.
Adam: And I've heard you tell that story of, you know, sort of, how the song and the actual trip up to the point where you're in the studio happened.
Nile: Mmm Hmm.
Adam: But what I don't feel like I've heard a lot of and what interests me is what that experience was like to actually put that down and what was going through your guys, you know, what was going through your head, what that felt like, you know?
Nile: I was just, I was just making music. It wasn't, it wasn't like some big heavy thing. I mean, when I go into the studio…
Adam: You're sort of there doing what you do.
Nile: Yeah, just, you know, the thing that was great about it was that it was as casual as I always like making records to be.
Adam: Uh uh.
Nile: Because my philosophy is most records, forget about going number one, but most records never even recoup let alone become hits or go to number one, so I always look at it like, my biggest reward that's a guarantee is to make sure we have fun while we're doing it.
Adam: Right, right.
Nile: So we always try and have a blast. So I was…
Adam: Yeah it seems like you just have been cruising your entire career on just enjoying music.
Nile: Making records. Yeah, just doing it.
Adam: Which, I think, I can't speak for anybody, but it seems like, you know, you can just tell by the nature of the business that there's a lot of people in it because it's an opportunity to, and not that this is anything to judge necessarily, but uh, acquire love in some way, and maybe that's fame or, but not necessarily because there's a profound love of music. And I guess what I'm saying is, it seems like you have that. Um…
Nile: You know, uh…
Adam: And I'm being maybe overly judgmental, but…
Nile: Yeah, I think you may be, because I don't know too many people that can be successful at it…
Adam: Mmm Hmm.
Nile: First of all, getting hit records is really hard, so it's not easy.
Adam: Right.
Nile: So, a person can, you can luck up and get one, you can, you can do something really incredible, you can have a moment of inspiration. You can have all this, all of these great forces that make hit records converge at one time.
Adam: Right.
Nile: You can do that once. Maybe you can even do it twice.
Adam: Uh huh.
Nile: I don't know, I've done it like 25, I don't know how many times. So it's…
Adam: But I think what you're saying is right, is the having fun, which it seems like you consistently do, that, it's one of those things where it just sort of converges, like you say, and you get a number one record when you're really having that pure fun.
Nile: Well, it's like, it's like this, so, let me just show you, here's a perfect example in my life.
Adam: Mmm Hmm.
Nile: So I just, on my way over here…
[KATHY SLEDGE OF SISTER SLEDGE UNEXPECTEDLY ARRIVES, NILE BRIEFLY CHATS WITH HER]
Nile: Kathy Sledge. "We Are Family". Ta-da. So, perfect example. [NILE SHOWS ADAM A LIST OF TEXT MESSAGES ON HIS IPHONE INCLUDING ONE FROM PHARRELL WILLIAMS] So, Pharrell, I just hit him on my way over here. And I said, "Okay, I'm working on a song with Disclosure, are you down?" He says, "What the hell. Send it, I'm in for whatever you need, you're the master."
Adam: That's great.
Nile: It's like, we just, we have fun, so it's like, we may do it or we may not. It's not even a, it's like, that's the kind of thing, people, people, I get along with, you can see it, Kathy Sledge, I mean these are people that I love and they know that my feeling for them is so totally genuine that my first responsibility and duty is to serve the project. And I wanna make it as much fun for them as possible. And, I mean you can ask, you can ask them, Kathy Sledge, she was 16-years-old when we made "We Are Family", 16-years-old…
Adam: Wait, is Kathy in Sister Sledge?
Nile: Yeah, that's Kathy, that's [INAUDIBLE]…Yeah, and ask her what she thought. They never heard, they never heard the song until they walked into the studio, and we, I was still working on the lyrics.
Adam: And you and Bernard [Edwards] wrote it.
Nile: Yeah.
Adam: Uh huh.
Nile: I was still working on the lyrics. And she sits in, I'm working on the lyrics, and she's listening to the track. And they're thinking that they're gonna get demos, and I said, no no no no, in 5 minutes I'm gonna have this done and you're gonna sing.
Adam: Yeah.
Nile: And, she's like singing the song and…
Adam: So it just came out of you guys.
Nile: Yeah yeah. And she asked me, I mean you can ask for her stories…
Adam: And you've said I think before, uh, you, I mean you have obviously a fondness for that song in particular.
Nile: Oh, it was, it was huge because, we knew that…
Adam: I'm sorry I interrupted your story, I ruined your flow.
Nile: No no no. I was just saying that, we, no no no. No no. It's fine. It's all connected.
Adam: Yeah.
Nile: Uh, it's, there's no difference between "Get Lucky" and "We Are Family" and whatever this may be that I might do with Pharrell or Disclosure. My, my job is, I live, it's like the movie "Ben Hur". I live to serve the ship. Row well and live. You know, it's like, so I'm not a slave, but I am. I'm, I'm, I don't have any choice in the matter. I love doing this. I would do it if I were not getting paid. I used to play here. I played here free when I was a kid. I sat right on the stage, played free, freezing one night. Snow was so high, the subways stopped running. We had to walk in the snow and crashed at somebody's house around the corner.
Adam: Mmm Hmm.
Nile: I mean, it's, you do it because you love it. Um, you know, my relationship with a woman like Kathy Sledge, 16-years-old, I treat her with the same respect and dignity that I would treat Sister Sl…I mean, with uh Diana Ross or Duran Duran or David Bowie. And I always let them know that it's their record.
Adam: Uh huh.
Nile: And that I have their best interests at heart. Sometimes even if they don't believe I do.
Adam: Right.
Nile: So in her case, she didn't believe it. But then she saw my level of positivity. And she says, you know, "Nile, do you really think this record is gonna be, do you think this song is gonna get on the radio?" And I think I, and maybe, like I said, ask her, it'd be great. She said, and I don't even remember saying this, but she said that I looked at her and said, "Oh, please. Not even, absolutely, not only is it gonna be on the radio, it's like, it's gonna be number one, it's like gonna be huge, like…"
Adam: They used to play that, it's just, it's interesting to me how, um, I don't wanna lump the music you make in any particular category, I know disco would be what you would call it, but the evolution…
[OFF MIC DISCUSSION ABOUT KATHY DOING REHEARSAL]
Adam: So um, uh, what I was saying I guess is, when I first heard your music and Chic, and "Le Freak", and, instantly, like, it's an instant hook.
Nile: Right. That's cause we put the hook at the beginning of the song.
Adam: Yeah.
Nile: That's what I always do.
Adam: So, um, to me it's just been interesting to watch the evolution. Because when I first heard that stuff, that was when I was, you know, 12, 11-years-old…
Nile: Right, right.
Adam: And hearing it at Bar Mitzvahs, and stuff like that.
Nile: Right.
Adam: And there's a certain kitsch inherent in events like Bar Mitzvahs.
Nile: Right.
Adam: But the music is super cool. And that's why it's been able to come back, and it's still, you know, depending on the observer, it's always gonna be cool. But I'm saying as a culture at whole, and the way that disco was rejected…
Nile: Mmm hmm.
Adam: It goes in waves culturally, and, uh, there's always gonna be the people that appreciate it, but it's just interesting to see how like it's totally shifted, and now it's…
Nile: Isn't it amazing to me that all of the people that were sort of the big anti-disco and the disco sucks people, um, like, it, you know I'm working with a lot of guys who now are primarily I guess would be considered rock or alternative. And I always laugh and I say, is there any really, is there any real rock right now, do we have real rock stars? Like…
Adam: So what does that mean to you? What's a real rock star?
Nile: I mean, like, when I was a kid, there were rock stars. I mean, we had, you know, Robert Plant, and…
[INTERVIEW BREAKS WHILE KATHY SLEDGE DOES A REHEARSAL OF "WE ARE FAMILY"]
Nile: I didn't know she was gonna be here.
Adam: Oh yeah?
Nile: No.
[SONG CONCLUDES]
Adam: Um, well that's funny, just talking about that song and there it is, and, Kathy Sledge. That's the convergence you were talking about.
Nile: Yeah, it's funny…
Adam: So…
Nile: And that's…
Adam: Go ahead.
Nile: No, that's, you just said it, that's exactly how it works. And it's been that way my entire life. Um, you know, the studios that I work at, the people that I work with. Like I said, just coming over here, I hit Pharrell, and I, "Hey I have this idea. I'm working with Disclosure, what do you think?" "Dude, you got it, you're the master."
Adam: I've had, uh, discussions with people about, to bring it back to "Get Lucky", and, uh, what to me that song is about, and why I think it's fascinating, I love that album…
Nile: Mmm Hmm. Great album.
Adam: And, it seems like the thesis of the album is about, uh, an evolutionary shift in recorded music.
Nile: Mmm Hmm.
Adam: Through what, I don't know, since the beginning til now. And there's something analog, about now too, but it was pure analog back then.
Nile: Mmm Hmm.
Adam: And then digital happened, and the 80s to me is very like, it's a full digital era.
Nile: Right.
Adam: A lot of taking advantage of that technology. And then in the 90s there was sort of a pushback, and now it's sort of converging. And that album is about that convergence, and it starts off analog.
Nile: Right.
Adam: You're playing guitar.
Nile: Right.
Adam: There's real drums.
Nile: Right.
Adam: And I don't know his name but I believe, uh, he played on "Rock With You". Am I correct?
Nile: Wait a minute, Omar Hakim. Well, it depends on which song you're talking about.
Adam: "Get Lucky".
Nile: Oh "Get Lucky" was, um, uh, um… Michael Jackson's drummer.
Adam: Right right right right.
Nile: Yeah. J.R.
Adam: J.R., okay.
Nile: J.R. Robinson.
Adam: So, you have that kind of stuff at the beginning of the song, and then the robot voices come in.
Nile: Right.
Adam: And suddenly it's this full digital, uh, like, "Discovery" Daft Punk-esque, Daft Punk song.
Nile: Right.
Adam: Where they're in the middle, and then at the end, it converges and you have both, uh, Pharrell and you…
Nile: Right.
Adam: And the digital percussion. And then the digital percussion falls out and it's drums again.
Nile: Right.
Adam: And it's like the beginning of the song, like taking you back, and it sort of smoothly eases your way out of the song. So it's like the centerpiece of the whole album. It's like the thesis of the whole album.
Nile: Well the whole concept to them was that they wanted to do the music that inspired them when they were younger, so when we were working on "Get Lucky", um, they didn't know that, uh, "Dance, Dance, Dance" was recorded at Electric Lady. So when I got to the studio and I said, "you guys won't believe it, but this is where we cut our very first hit single." And they couldn't, they just, they were overwhelmed and they said, "so how exactly did you make Chic records?" I said, "well you really wanna know? Here we go." And that's what we did. I said, "this is what we do." And I started doing that. And it worked so great. They said, "well, here's another song, do that." And then we did another song. They said, "well here's another song." And I was like, "Guys. I got a job to do." And so we did…
Adam: So you did "Give Life Back To Music". You did, uh, "Lose Yourself To Dance".
Nile: "Lose Yourself To Dance". And "Get Lucky". All in one day. It was one session.
Adam: Wow.
Nile: But that's how we used to do it in the old days.
Adam: Were those songs…how much of that stuff was written beforehand?
Nile: Well they had been working on the record since 2008.
Adam: Okay.
Nile: But when I came in, I think, so once again we talk about convergence, we talk about all of those right elements coming together at the right time. Don't you find it pretty amazing that from the moment I walked into that studio until the time they wound up finishing wound up being like almost instantaneously because what had happened is, from my point of view, and maybe they'll say the same thing, but what it seemed like, once I came in and gave them this other perspective on how record-making is actually really quite easy, and it's relaxed, and it should be, um, they just sort of sped up, and everybody, like the 3 tracks that I did, everybody then re-recorded to me, and they said, "Look, this is what Nile did. Check this out. Do this." Um, and it actually, they flew through the process at that point, and I think that, you know, we all learn from each other, when we're in the studio together, I don't work with people that I don't learn from. There's always something that I take away from every session and I think the exact same thing happened to, you know, Guy and Thomas. That, um, the, the ease at which I recorded and I approached the songs, the fact that we were in the same place like, a house that I'm so familiar with. I mean, remember, this is the studio I cut INXS, um, uh, Hall & Oates, Chic, um, uh…
Adam: What did you do with Hall & Oates?
Nile: I did a song called "Adult Education" in there. And I actually even went up on 8th Street and got girls who were just walking down the street that day and they're the ones that go, "Oh yeah, oh yeah." And they, they had no idea what they were doing. I said, "Hey, come on in here and do this for Hall & Oates." They were like, "We can't sing." I said, "Right. Cause I don't want you to sing. Because you're supposed to be in a classroom. So if you're in a classroom and everybody goes 'Oh yeah, oh yeah', it's not supposed to be good." Um, so uh, but I've done a lot of records there. But I don't think that they had known, they certainly didn't know that I did the first Chic record there. And that's really what inspired them, when they heard that they were like, wow, we're done.
Adam: Did you see, um, I guess I would ask, sort of how you perceived disco, um, sort of pre-Chic. What that was, what you thought of the music, and maybe how that influenced you or the culture.
Nile: I thought, well, I had a super super hot girlfriend at the time. And she was the one who sort of opened my eyes to the whole disco scene.
Adam: Mmm Hmm.
Nile: And I was, uh, a real sort of radical revolutionary. I used to be a sub-section leader in the Lower Manhattan Black Panther Party. Uh, and when I saw her and her girlfriends, and the way that they bonded together, you know, me being an ex-hippie or a real hippie at heart, so my parents were beatniks, I was a hippie. My girlfriend, she was part of the disco generation. They seemed much more revolutionary than we did. And I'll explain why I saw it that way. Our movement, if you will, you could tell the sort of radicals. You could, we could, you know, we tried to talk about how we were such individuals. Believe me, when Black Panthers walked down the street, you knew we were Black Panthers. When I was a hippie, you knew I was a hippie. When people were into disco, you didn't know, it was everybody. I mean, "Saturday Night Fever" points it out very very well. This is a guy who is just a working class dude in a paint store, in a, in just like a hardware shop. My girlfriend at the time was a Playboy bunny. I mean, you know, it was all different people. But when they got into the club, they were one unified force.
Adam: Mmm Hmm.
Nile: And I kept looking at that and I thought to myself, these people have done what we, what we used to talk about. We used to read Mao Zedong's Red Book and talk about the masses and this and that, and I was like, well, they're the masses! They are all different people from all different walks of life and they're all getting together and they're bonding over this music and no one is sitting around going, "Oh man, I'm richer than he is", you know, none of that was going on. And it was incredible. And then I went to neighborhoods that in the old days, I'd get chased out of those neighborhoods. Next thing you know I'm in those neighborhoods playing on stage and people are loving me. And I'm like, this is, this, it was, it felt magical to me. When you talk about, when people use words like transformative, this was truly a transformative movement. It was the only time in the history of pop music that you were really judged by the quality of your music, it was no longer cult of personality. In rock and roll and in other forms of, you know, even Elvis and all, it was not just good music but it was all about the star. When disco came up, you could have a person that was completely unknown one week, and they were knocking The Rolling Stones off the charts, or they were knocking Chic off the charts. It didn't make any difference. You just, whoever had the best record was the person who was at the top of the charts. And, and it, and you can see it. Look, go back and look at the stars. You could have somebody that was gay like Sylvester, you could have somebody that was big and fat like The Weather Girls, and it, I mean you know, it was like, or you could have somebody that was not terribly attractive. You could have someone who was a porno star, you could, you know, Andrea True Connection, "More, More, More", "how do you like it", just everybody, it was, it was thumbs up or thumbs down and it all just had to with the music. Now if somehow you had a cool image too, like The Village People, well, that became another thing, but the truth of the matter is that you could just have a great record. Who knows what Foxy looks like? Not many people know. Who knows what the T-Connection looks like? Not many people. They just, you just know the record, you hear the record and you hit the dance floor. That's just how it was. Uh, every now and then somebody would become a superstar like Donna Summer, so you knew what she looked like. But all of those other records that weren't Donna Summer, that were chomping at her heels, were big serious solid records and you had no idea what those people looked like. And those records would knock off Donna Summer like they would knock off anybody else.
Adam: Right. That's great. Um, well, I appreciate your time.
Nile: No problem.
Adam: I really do. Wonderful conversation. Um, and uh, I'm looking forward to seeing you play tonight. I am.
Nile: Oh, well it's just, what we just did in rehearsal, it's not gonna be a big deal. It's not, like…
Adam: Yeah, but I mean, I've never seen you play guitar.
Nile: It's just, it's just that. It's just "We Are Family". [INAUDIBLE] But I'll probably jam with the beatboxers.
FINAL AUTHOR'S NOTE: I got a chance to meet Kathy Sledge during the event, and that was a pleasure. I later followed her on Twitter. Then she followed me back! (which was exciting). Here's a link to her Twitter account in case you want to follow her too.
BEFORE YOU GO
PHOTO GALLERY
Three Dot Dash "Just Peace Summit" Event