On Sunday, Pope Francis delighted the crowd at St. Peter's Square when he hopped off his popemobile to take a few selfies with those gathered following a packed Palm Sunday service: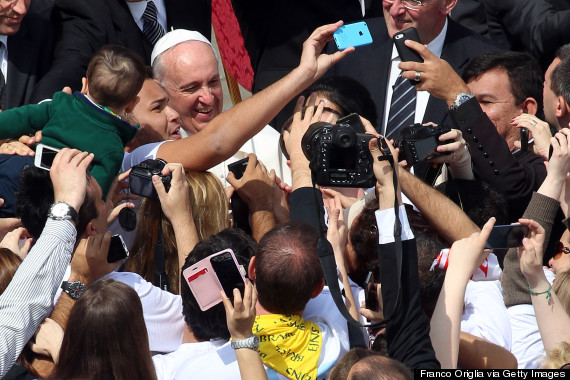 According to the AP, a crowd of some 100,000 people had gathered to attend the Palm Sunday Mass, which marks the beginning of Holy Week. The pope reportedly ignored his prepared homily during the service, instead delivering an "entirely off-the-cuff" sermon. This, the AP says, was a "remarkable departure from practice."
Known for his unconventional ways, Pope Francis is no stranger to the world of selfies.
Last August, for example, the head of the Catholic Church broke the Internet after taking this epic selfie with a group of believers inside St. Peter's Basilica: Then earlier this year, he posed for yet another awesome shot.
@pontifex in new selfie with newlyweds at today's weekly general audience. pic.twitter.com/ZzbI7dxtUi

— Edward Pentin (@edwardpentin) March 19, 2014
#PopeFrancisFTW.