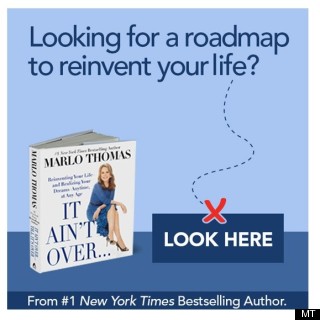 For the first time ever, I'm throwing a nationwide party -- and you're invited!
I'm so excited to announce that, on April 29th, 7 PM EST, I'll be hosting an online, live-streaming event that we're calling the National Day of Reinvention, in honor of my new book, "It Ain't Over Till It's Over" -- which features 60 stories of extraordinary women who have all dared to dream again.
I want every woman who has ever wanted to make a big and exciting change in her life to join this landmark event. I truly believe that's it's never too late to recapture a dream, no matter where you live, and no matter your age. The event is free and open to everyone; and those who want to throw a party and invite their friends to watch the live-stream can earn a free, signed copy of my new book. (Go to itaintoverwithmarlothomas.com for more details.)
It promises to be an exciting event. Not only am I eager to share the behind-the-scenes inspiration for my book -- and answer questions from you -- but you'll also get to meet some of the contributors to "It Ain't Over." And, most important, you'll get to meet each other! It's my hope that by sharing our stories, we can take that next big step to reinventing -- and reclaiming -- our lives!
You can sign up to host your own party with friends and family at itaintoverwithmarlothomas.com. The first 1,000 to sign up (and receive four RSVPs) will get a free signed copy of "It Ain't Over." The host will also receive a link to the live-streaming event.
I know you're going to be inspired by our National Day of Reinvention -- and that it will start you think about seizing the dreams in your own life. As I've always said, "impossible" is just something that hasn't happened yet -- and if you want to predict the future, invent it!
I can't wait to meet you on April 29th!
Add Marlo On Facebook:
Follow Marlo on Twitter:
Sign up to receive my email newsletter each week - It will keep you up-to-date on upcoming articles, Mondays with Marlo guests, videos, and more!