The spirit of the Tribeca Film Festival remains one of inclusiveness and diversity: there's room enough for splashy feature films and 10-minute shorts, first-time filmmakers and seasoned directors, and the underground artists and hackers who just might change the world someday.
Founded in the wake of 9/11, Robert De Niro and Jane Rosenthal brought filmmakers and artists of all kinds together to revitalize the city. Now in its 13th year, the festival brings the best of filmmaking to the heart of Lower Manhattan.
We've partnered with AT&T, the presenting sponsor of the Tribeca Film Festival, to explore how New York has been defined through the lens of its filmmakers.
We asked 10 directors about their relationship with New York: How does their perception of the city figure into how they film it? In which ways are "New York stories" quintessentially so, and in which ways are they universal?
As you can imagine, the answers varied wildly.
The Tribeca Film Festival will be held April 16–27.
Ira Sachs, Love Is Strange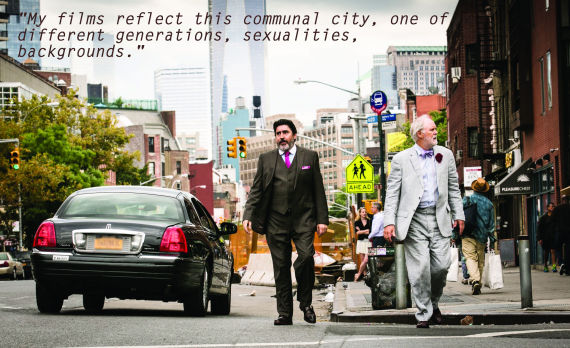 Love Is Strange follows Ben (John Lithgow) and George (Alfred Molina), a couple trying to build a life together in Manhattan. Thanks to new marriage laws, they finally have the chance to get married after 39 years together -- and Ben gets unceremoniously fired from his job as a result. Just days after their wedding, friends and family gather to support the couple in their time of joy and uncertainty.
In explaining his influences, director Ira Sachs described his connection to New York: "I came to New York and found a second family in my friends, on film sets, at film festivals, in ACT UP meetings, in our apartments, at a few bars, in late-night diners. My films reflect this communal city, one of different generations, sexualities and backgrounds."
He ends the film with a visual love letter to his leads and the city itself.
"[They] go for a drink at Julius Bar in the West Village, and then walk down Gay Street –- the same block Cindy Lauper danced down in the opening shots of 'Girls Just Want to Have Fun' –- and end up in a romantic embrace in front of the Waverly Diner on 6th Avenue," he says. "For me, this is my New York, but it's also a nod to the romantic New York we have seen throughout the history of cinema, a New York the whole world can hold onto as theirs."
Victor Levin, 5 to 7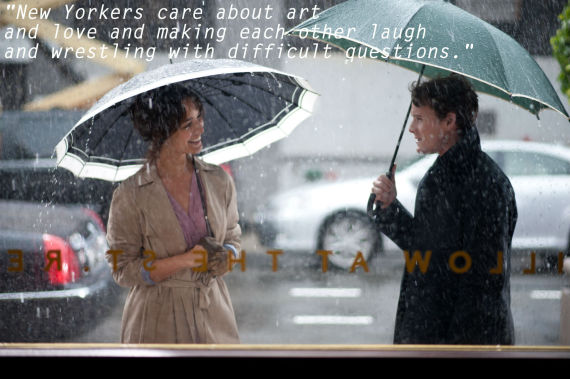 5 to 7 -- or a cinq a sept by any other name -- is the story of Brian, a young writer (Anton Yelchin) who pursues a romance with Arielle, a beautiful, married Frenchwoman (Bérénice Marlohe of Skyfall fame) with more than a few years of experience on him. His traditional parents (Glenn Close, Frank Langella) strenuously object to the arrangement, but the romance continues until its logical reckoning point.
The couple meets in front of the St. Regis Hotel -- and yes, they were able to film on location.
According to director Victor Levin, a Mad Men producer and homegrown New Yorker, there was never a question that this would be a New York story: "There never was a back-up plan," he says. "It was New York or bust."
He continued: "New Yorkers care about art and love and making each other laugh and wrestling with difficult questions. So setting a story there gives it an instant, wonderful context. Characters and their problems feel more substantial. I don't doubt them or their motivations. I know them; I believe in them."
Brian Bolster, One-Year Lease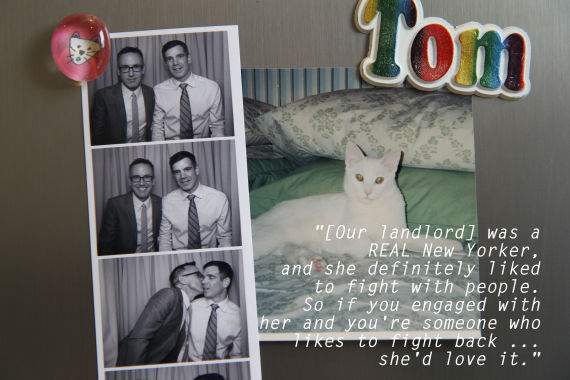 "The apartment seemed OK, it definitely had potential, it definitely needed work ... but we decided to sign a lease."
-- Director Brian Bolster's famous last words.
One-Year Lease is an 11-minute documentary about Bolster and his boyfriend's harrowing year under the thumb of an extremely(!) attentive landlord named Rita. We all know the type: She questions your every footfall, but she doesn't care if you have heat. She lures pigeons to your front door. And she has lived in the building so long that she has established absolute legal and psychological sovereignty over the place.
Bolster ignored all of the initial red flags, but then the phone calls came: almost 100 voicemails from Rita, equating to over an hour of audio.
The film is narrated almost entirely through these voicemails.

"I really hope people will get a kick out of it," says Bolster. "For me, when I watch it, I'll actually get frustrated even though I'm so far removed from that place now."
Linda G. Mills, Of Many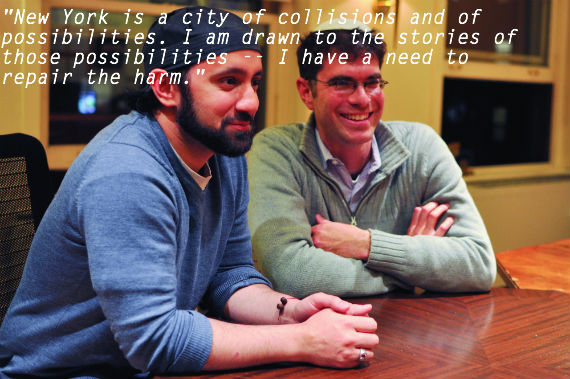 Of Many is a short documentary that focuses on the humanity present even amid the aftermath of 9/11, the Arab-Israeli conflict and the rising tensions between Jewish and Muslim students on college campuses.
"I have to believe that the story of an unorthodox friendship between a rabbi and an imam in New York City could happen anywhere," says director Linda G. Mills. "The point of our telling this story was to open up the possibility of it becoming universal."
In explaining her vested interest, Mills explains:
"I am traumatically bonded to New York City. We moved here from Los Angeles, via London, in the summer of 2001. I was already ambivalent when, on my 5 year old son's third day of kindergarden, three short blocks from the World Trade Center, I witnessed a passenger plane line up and fly into the building. In the pandemonium that followed, and then in the eerie weeks and months after we returned downtown from our exile above 56th Street, I felt that there was a story here, something to be understood, perhaps fixed. New York is a city of collisions and of possibilities. I am drawn to the stories of those possibilities -- I have a need to repair the harm."
Lou Howe, Gabriel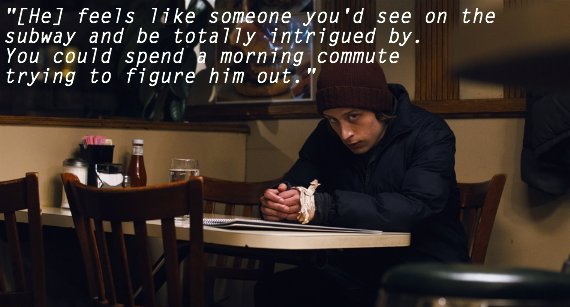 Rory Culkin stars in the title role in Gabriel, a film about a young man searching for stability as he struggles with mental illness. He pursues an ex-girlfriend in an attempt to reclaim his happiness but is hounded by inner demons.
Director Lou Howe describes the effect of setting on his lead character: "He spends time with his family upstate, which is objectively this peaceful, inviting environment, but for him it's something entirely different. He feels trapped and threatened and needs to escape to find his own way. He runs away to the city, but quickly gets overwhelmed in the way that only New York City can assault your senses."
Howe grew up in the city and cites that experience as a significant influence on his work.
"I think people-watching had a profound effect on me as a kid growing up in the city," he says. "I think that really sparked my imagination and embedded a curiosity for people's stories that I think has only increased with age."
Ryan Piers Williams, X/Y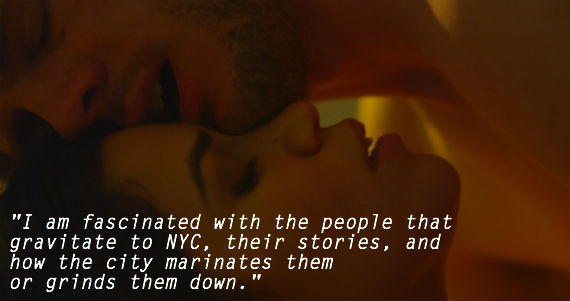 Ryan Piers Williams stars and directs an ensemble cast (America Ferrara, Melonie Diaz, Jon Paul Phillips) in X/Y, a relationship drama about four friends living in New York.
"I am fascinated with the people that gravitate to NYC, their stories, and how the city marinates them or grinds them down," says Williams. "All of the characters in the film are experiencing intense isolation while at the same time yearning for a connection."
He continues: "NYC epitomizes this paradox. By setting X/Y in NYC, it conveys this universal experience in a visceral way."
Noah Buschel, Glass Chin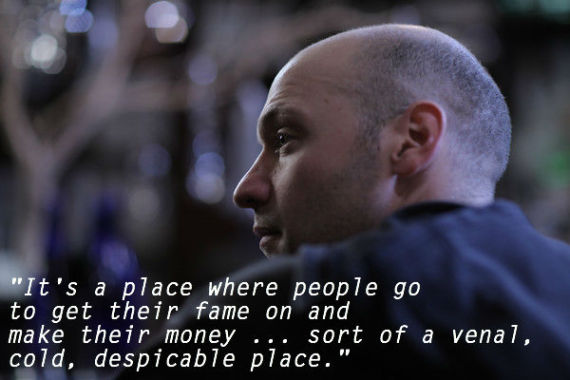 Glass Chin tells the story of Gordon (played by Corey Stoll, who you may recognize as Peter Russo from House of Cards), an ex-boxer who will do anything it takes to claw his way back to his former glory and fame.
Director Noah Buschel says: "I grew up in the Village, so it's somewhat of a reaction to what New York is now to me. [...] It's not a nice place. The nice place in the movie is New Jersey. New York is a place where people go to get their fame on and make their money: sort of a venal, cold despicable place."
In the film, Gordon wants nothing to do with the "old New York" that all New Yorkers like to talk about, the New York that no longer exists.
"He's not interested in art, or bohemian [culture], or Ginsberg and Kerouac," says Buschel. "He's interested in Marc Jacobs. New York is a good place for him to go -- or so he thinks."
Despite being a native New Yorker, Buschel says he doesn't consider himself a "New York filmmaker."
"That's a choice people make," he says, naming Sidney Lumet and Spike Lee. "There are New York filmmakers. [But] inevitably, they're making movies about their state of mind. So I've never been in Scorsese's version of New York, or Spike Lee's version of New York."
As for the film festival, Buschel says: "It's connected to when this city was vibrant. And that old New York that was so great. You can feel it in Tribeca."
Adam Rapp, Loitering With Intent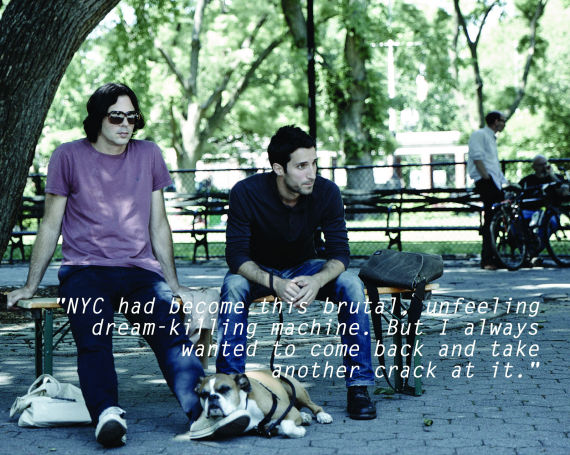 Loitering With Intent traces the story of Raphael (Ivan Martin) and Dominic (Michael Godere), two sort-of-getting-by New York actors who have talked their way into an opportunity to write a screenplay for an actual film producer.
In a way, it's an attempt by director Adam Rapp to explore the fundamental foolishness and hope that comes with creating art in New York.
"As tough as NYC can be, it always brings out a childlike fascination in people," says Rapp. "The city somehow harbors this little gold rush of possibility for the common man. With all of its storied brutality it still attracts actors, painters, dancers, filmmakers, playwrights, novelists, etc. The most expensive city in our country has this undeniable magnetism for artists — go figure."
Rapp has had his own experience with the brutality and infinite promise of New York. In 1981, his family picked up and moved from Joliet, Ill., to New York City, where his brother had landed an understudy role in the musical The Little Prince And The Aviator. The play closed the day it was supposed to open.
"I remember arriving at the theater in my Sunday best, to be greeted by an all-caps closing notice posted on the stage door," he says. "It was not a good experience."
Rapp and his family moved back to Illinois, but his heart stayed in New York.
In the end, Loitering With Intent is a film about dreamers. After all, Rapp says: "Who hasn't fantasized about betting the farm at some point?"
Onur Tukel, Summer Of Blood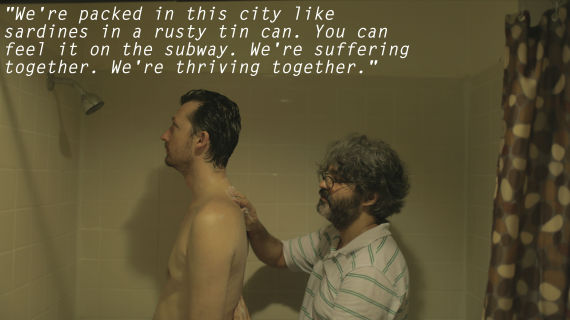 On its face, Summer of Blood is a classic misanthropic New York story: boy meets girls, girls hate boy, boy hates job ... and boy turns into a vampire(?!), because sometimes a relationship comedy has to take a turn down a dark alleyway to discover the weird and macabre (read: VAMPIRES) on the way to personal redemption.
Writer-director-actor Onur Tukel is a relatively new import to New York City, moving from North Carolina on Halloween in 2010.
"I've noticed a few themes that weren't present in my earlier work," he says. "These themes mainly deal with selfishness, an awareness of selfishness, a desire not to be selfish."
But Tukel doesn't consider this a truly "New York" story.
"I feel like this story would have to include every ethnicity, every religion, every sexual orientation," he says. "I'd love to make a movie like that one day but for now, I'm sticking with things like 'fear of commitment and responsibility, fear of growing up, fear of being alone.' I think those things are pretty universal."
And, really, what's more universal than hilarious movies about vampires? We're in.
One9, Time Is Illmatic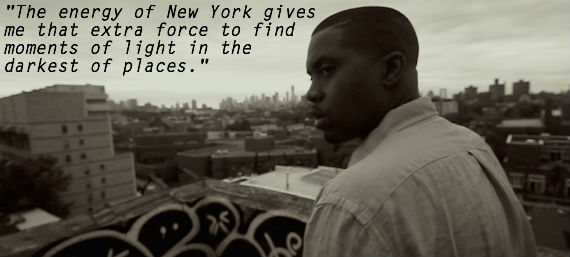 Time Is Illmatic is multimedia artist's One9's documentary about Nas' 1994 debut album Illmatic, one of the most influential and revered albums in hip hop history. Twenty years later, its legacy lives on: it brought stark lyricism and production to East Coast hip hop, and its effect on conscious rappers from Common to Talib Kweli cannot be overstated.
"In Illmatic," says One9, "[Nas describes] the conditions, pain, death and life-force that is needed to survive in the world in the '90s New York City."
With producer Erik Parker, One9 has chronicled the making of the Queensbridge-born Nas as an artist.
"Our goal as filmmakers was to tell that story, the social conditions that created it and the process of how that album came to light told through Nas's lens," says One9. "Time is Illmatic is a true New York story."
The film will open Tribeca Film Festival this year.
As the presenting sponsor of the 2014 Tribeca Film Festival, AT&T invites film lovers to help determine the one iconic film every New Yorker should see by tweeting the title with the hashtag #FilmForAll. One of the top tweeted films will be featured in FREE public screenings in all five boroughs this summer.