The world's contemporary obsession with ruin porn has brought to our attention two themes that seem pervasive in modern art: humanity's collective desire to look back on the past with nostalgia and our tendency to look toward the future with a healthy sense of fear. In his series, "What's Left of Utopia," Julien Mauve subverts both the utopian sheen of yesteryear and the dystopian outlook of tomorrow by transforming the sites of abandoned buildings into the settings of an eerie, alternate universe.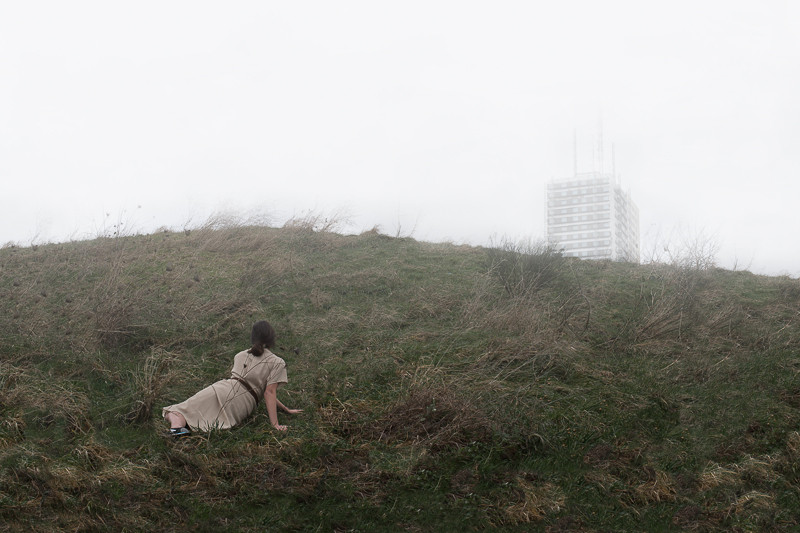 Mauve focuses his lens on gloomy landscapes, populated by seemingly empty industrial complexes and outdated architecture. Only a handful of people can be seen in his frames, accompanied by tragic shots of a lone tire or an upended grocery cart, only further emphasizing the desolation -- near post-apocalyptic detritus -- that makes up his fictional world.
"This project acknowledges an impoverished landscape and loss of space due to the inhumanity of the structures we choose to build," Mauve writes on his website. "In this mixture of grief and hope, the characters appear on the point of disappearing within the fog that engulfs those urban utopias, considered at the time of construction to be symbols of progress. Disembodied witnesses, they become actors in a play of which the ending is uncertain."
In one particular image (pictured above), a woman, perched on the slope of an overwhelmingly foggy hill, peers longingly at a skyscraper in the distance. The arrangement of the figure in the landscape harkens back to Andrew Wyeth's famous 1948 painting, "Christina's World," a cheeky nod to art history's knack for memorializing emptiness and abandon.
Scroll through a preview of Mauve's mystifying photography project here. For more on the artist's visual commentary of the contemporary age, check out his "Lonely Window" series, a morose take on isolation in the digital age.
PHOTO GALLERY
Julien Mauve