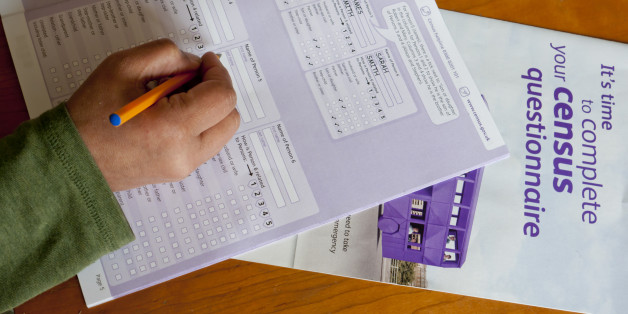 Americans, regardless of partisanship, approve of the government's reaction to the Boston bombings. A change in the Census could make comparing data on health insurance levels since 2012 more difficult. And we may have found the world's most confusing chart. This is HuffPollster for Tuesday, April 15, 2014.
GOVERNMENT GETS HIGH MARKS FOR HANDLING BOSTON BOMBING -Peyton M. Craighill and Scott Clement: "Liberals and conservatives agree, the federal government did something right in its handling of the Boston Marathon bombing. A new Washington Post-ABC News poll finds 67 percent of Americans approve of how the investigation was handled, including more than six in 10 of both liberals and conservatives, and majorities across every major political and demographic group in the poll. Northeastern residents -- living closest to both the 2013 Boston bombing and Sept. 11, 2001, attacks in New York -- give federal investigators the highest praise. Almost three-quarters approve of investigations that followed the attacks, including 48 percent who approve 'strongly.'" [ WashPost]
CENSUS CHANGE COULD OBSCURE ACA EFFECTS - Robert Pear: "The Census Bureau, the authoritative source of health insurance data for more than three decades, is changing its annual survey so thoroughly that it will be difficult to measure the effects of President Obama's health care law in the next report, due this fall, census officials said.The changes are intended to improve the accuracy of the survey, being conducted this month in interviews with tens of thousands of households around the country. But the new questions are so different that the findings will not be comparable, the officials said. An internal Census Bureau document said that the new questionnaire included a 'total revision to health insurance questions' and, in a test last year, produced lower estimates of the uninsured. Thus, officials said, it will be difficult to say how much of any change is attributable to the Affordable Care Act and how much to the use of a new survey instrument." [NYT]
How bad is the timing? - Sarah Kliff: "It might not be time to freak out quite yet: What's being missed here is that the Obama administration will use the new survey questions to collect data for 2013, the year prior to Obamacare's health insurance expansion, a senior administration official says….In other words: The survey will make it difficult to compare the uninsured rate for 2012, the last year for the old questions, and 2013, the first year for the new questions. But making the change now means that 2013 and 2014 – the year before and after Obamacare's big programs started – are using the same question set."
[Vox]
More on the decision - Michael McAuliff: "Census watchers are adamant that the change is not being made for political reasons, but to improve the data. 'These changes are scientifically driven, but sometimes poorly timed,' said Terri Ann Lowenthal, a former overseer of the Census for Congress and co-director of the Census Project. Indeed, this particular change has been in the works for years, and was the subject of detailed, peer-reviewed studies….She also noted that the specific survey that is being altered is a supplement to the Current Population Survey, which produces, among other things, the jobless numbers. That survey is just one of several that collect health insurance data. It's also probably the least accurate." [HuffPost]
AMERICANS CONFLICTED ON EQUAL PAY LAWS - Emily Swanson: "Here's where the push for equal pay laws may hit a snag: Many Americans agree women have fewer opportunities at work, but few think the answer lies in new laws, a new HuffPost/YouGov poll finds….Forty-six percent of respondents said they think men have more opportunities than women in most workplaces, while 40 percent said women and men have the same chances. Seven percent said women have more opportunities.On the other hand, only 32 percent said new legislation is needed to combat that problem." [HuffPost]
THINKING ABOUT THE FUTURE OF ELECTION FORECASTING - The American Political Science Association hosted a symposium on election forecasting, published in the journal Political Science & Politics. Excerpts from the articles included: [PS Magazine]
HuffPollster on poll aggregation - "At its best, poll aggregation can make sense of a deluge of polling data….[A]n average of competing polls illustrates the range of random error and puts the results of a single poll sponsored by a news organization into broader context….If past voter history allows for relatively accurate predictions of the demographics of an electorate relatively early in the campaign—as a new generation of campaign data analysts claims it can—then, in theory, those predictions might also facilitate more accurate polls. At the very least, the convergence of polling and more advanced analytics, which has been most visible in polling 'aggregation,' may help point the way." [PS]
Michael S. Lewis-Beck and Mary Stegmaier on presidential election forecasting - "US presidential election forecasting has firmly established itself as a scientific forecasting enterprise that is capable of sophisticated modeling providing accurate, long-range work. The accuracy level, while high, is not perfect and never can be….However, this error may be reduced by careful attention to the more qualitative elements in the race, elements that go beyond the usual quantitative strictures." [PS]
Drew Linzer on the future of forecasting - "Fundamentals-based election forecasting is running into the limits of what additional theory is going to contribute. The greatest impediment to the development of better election forecasting models is not a lack of theory; it is a lack of data." [PS]
Stuart Rothenberg on forecasting and polls - "We would be in a much better position to understand the reasons for differing poll results in House and Senate races if all pollsters, not just those in academia and the media, would release more information about their samples, survey instruments, and overall methodologies….Better reporting and more information about the polls will allow forecasters to understand why different organizations are getting different survey results and to weigh the results differently." [PS]
John Sides on improving forecasts - "All of this [forecasting] work is valuable enough to do even better. I focus on four ways the exposition and presentation of election forecasts can be improved, thereby helping not only to educate the broader public—and more than a few pundits—but also to make the voices of political science forecasters more visible." [PS]
Michael W. Traugott on trends in polling - "[E]mpirical public opinion used to refer to the aggregated individual opinions of a sample of a population measured with valid and reliable survey questions. Until the 2012 election cycle, this was the purview of academic survey researchers and pollsters. Going forward, will the definition of 'public opinion' take on new meanings with the work of the data aggregators, in particular, given their efforts in predicting election outcomes?" [PS]
Lynn Vavreck on improving forecasts - "The effect of the quality of campaigns is 'baked in' to our forecasting models, but we must try to systematize and appreciate how campaign effort and quality shape outcomes and, therefore, forecasts. With 2016 right around the corner, we have our work cut out for us." [PS]
William G. Mayer, on what we've learned from forecasts - "[W]e have learned a great deal about American politics from presidential election forecasting—certainly enough to justify continued research in this area. Besides, as cocktail party conversationalists, most political scientists need all the help they can get." [PS]
Simon Jackman on the 'uniform swing' - "[A] model in which state-level swings are assumed to be constant across states—so-called uniform swing—is now a better approximation for state-level election outcomes than at any time in the last 70 years….Considerable skill, effort, and data is required to improve the predictions made by translating the output of the better, national-level forecasting models to the state level via uniform swing. " [PS]
Alan I. Abramowitz on the transformation of presidential elections in an age of polarization - "During the past four decades, the American electorate has changed dramatically….The four key features of this new era are a close balance of support between the two major parties, a strongly partisan electorate, a high degree of stability in voter preferences and in the outcomes of elections at the national and state levels, and finally a growing Democratic advantage in both the national popular vote and the Electoral College." [PS]
Joyce E. Berg and Thomas A. Rietz on political prediction markets - "Because prices are forecasts, effective price manipulation may affect the forecasting performance of prediction markets….If successful, manipulation could affect election prediction market forecasting accuracy. However, the motives for manipulation are not clear. Further, market design features can discourage and counter manipulation. Such features are important for prediction markets to remain viable forecasting tools." [PS]
James E. Campbell on election margins, incumbency and model credibility - "In looking toward 2016, the hyper-competitive realigned and polarized partisan context as well as its open-seat status set the stage for another very close election, closer perhaps than some of the forecasts will indicate….Beyond generating a prediction, forecasters should explain why their models work. If the explanation of a forecast seems too convoluted or contrived to be believable, it probably is." [PS]
Charles E. Cook, Jr. and David Wasserman on recalibrating ratings - "One of the most frequent questions we at the Cook Political Report receive from subscribers and others is, 'How exactly do you guys come up with your ratings?' The short answer: it is never exact, and our methods are always—and necessarily—evolving….. Our challenge will be to continue to 'recalibrate' and refine our approach as each campaign cycle adds new electoral and technological twists, while adhering to a basic model that has served our readers well for nearly 30 years." [PS]
Matthew J. Dickinson on the importance of economic fundamentals - "[T]he outcome of the 2012 presidential race turned on the same factors, particularly the economic fundamentals, that political scientists have always cited as the keys to winning the presidency. Candidate strategy, including the media campaign, mattered but primarily as a means for both candidates to frame the economic fundamentals in ways most favorable to them." [PS]
Robert S. Erikson and Christopher Wlezien on forecasting using fundamentals - " Early in presidential campaigns, voters are not incorporating economic evaluations into their electoral preferences; the economy has little impact on presidential polls of the moment. But early-campaign economic perceptions are predictive of the national verdict on Election Day. For this reason, the slight influence of economic perceptions on early trial-heat polls is magnified in its overall forecasting ability." [PS]
Helmut Norpoth on the electoral cycle - "Like sunspots, elections run in cycles. Sooner or later a victorious party will suffer defeat at the polls, prompting maneuvers to regain power in a future election. Evidence of a cycle provides an invaluable tool for forecasting….American presidential elections run in cycles that have turning points after about two to three terms of a party's control of the White House." [PS]
Michael S. Lewis-Beck and Mary Stegmaier on lessons from weather forecasting - "Meteorology leads the forecasting world. Across the twentieth century, it moved from a prescientific enterprise to a highly scientific one. Now, weather forecasting stands as a beacon, guiding other researchers who want to predict their chosen phenomena of study. As election forecasters, we can learn from weather forecasters." [PS]
HUFFPOLLSTER VIA EMAIL! - You can receive this daily update every weekday via email! Just click here, enter your email address, and and click "sign up." That's all there is to it (and you can unsubscribe anytime).
TUESDAY'S 'OUTLIERS' - Links to the best of news at the intersection of polling, politics and political data:
-PPP (D) finds Greg Abbott 14 points ahead of Wendy Davis in the race for Texas governor. [PPP]
-Martha Coakley tops a poll of Democratic gubernatorial candidates in Massachusetts. [UMass Amherst]
-Hillary Clinton leads seven potential GOP presidential rivals. [McClatchy]
-Harry Enten reviews the level of bias in partisan polls. [538]
-A "survey" on New Hampshire health insurance premiums has a sample size of n=1. [Factcheck.org via @LSimonetta]
-Andrew Gelman flags a major error in a Brazilian poll. [WashPost]
-How to make a chart really, needlessly, confusing. [ Business Insider via @kfury]
-"I love a little danger when I head to the polls." - [The Onion]