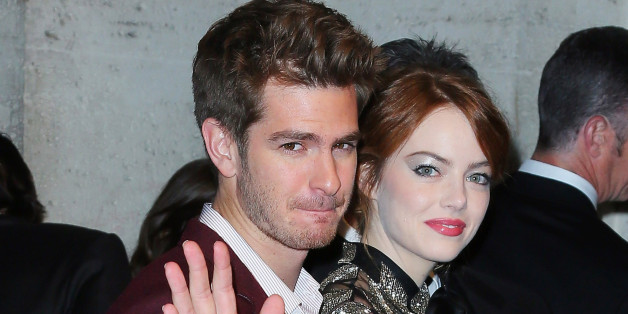 Andrew Garfield really doesn't want to talk about his relationship with Emma Stone.
Just a week after Garfield snapped at a reporter saying "personal life is not public property," during an interview on the red carpet at the London premiere of "Amazing Spider-Man 2," the 30-year-old again emphasized that his three-year relationship with Stone is not for public discussion.
"What can I say? How about: 'F--k off, you f--king …'" Garfield told The Guardian when asked what he adores about Stone, before relaxing and pausing to laugh out loud. "No, I'm able to talk about her, but I want to protect something that I respect in my life."
He continued, "I don't feel the need to speak publicly about my private life. And on a professional level I don't want people watching me onscreen to know about my dirty laundry. It's not that interesting anyway. I'm about to do a film where I play a Portuguese priest and if people are reading about my personal life, they'll be watching the screen going: 'Oh that Portuguese priest is having sex with whoever!'"
Similarly, Garfield became painfully awkward when Ellen Degeneres tried to coax the couple, who met on the set of "The Amazing Spider-Man" and currently live together, to discuss their relationship on-camera.
BEFORE YOU GO
PHOTO GALLERY
Celebrity News & Photos