On Tuesday, April 15, skywatchers around the world were treated to 2014's first total lunar eclipse -- and the resulting "blood moon" was quite a thriller. Why "blood?" During the eclipse, the moon's hue ranges from bright orange to blood red, thanks to sunlight that seeps through the Earth's atmosphere onto the moon's face.
The eclipse, which peaked at 3 a.m. EDT, was visible from most of North and South America. It was the first of four consecutive total lunar eclipses, called a 'tetrad,' between April 2014 and September 2015.
If you missed the sky's show, find a stunning recap below:
Here's a time-lapse of the whole event.
This is the view of the blood moon from University of Arizona's Mt. Lemmon SkyCenter.
A shot of the moon through trees, via Joe Sheller on Flickr.
This photo, taken in Whittier, California, shows a plane crossing the moon's path about an hour before the eclipse began (AP Photo/Nick Ut). The moon coming out of eclipse, via Leonardo Ezequiel Marques on Flickr.
Three stages of the eclipse, via Shane422 on Flickr.
Halfway through the eclipse, a view from Coffs Harbour, Australia via Frank on Flickr.
A close-up of the lunar eclipse, shot at an informal "star party" near the Arvin Gottlieb Planetarium at Science City, in Kansas City, Missouri by John Sleezer/Kansas City Star/MCT via Getty Images.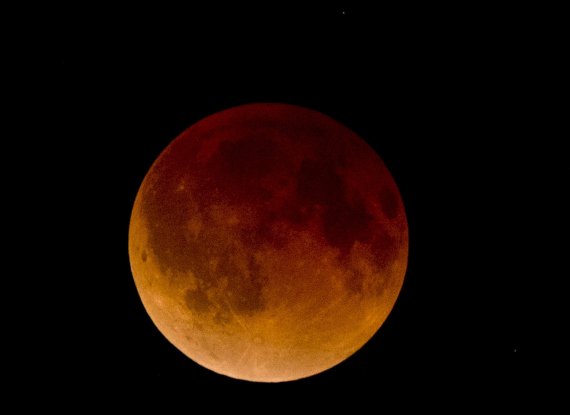 A striking portrait by photographer Enrique Tubio.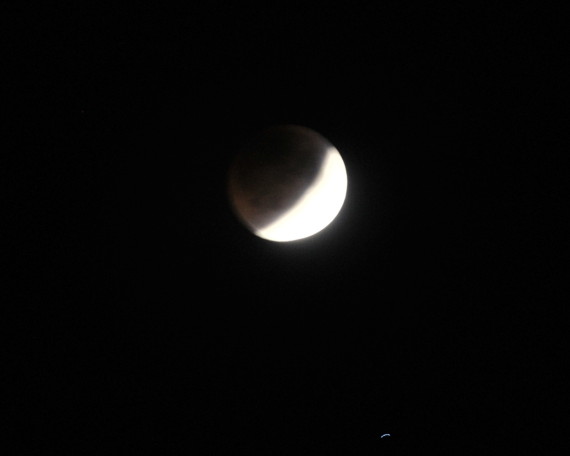 Questlove posted a #TotalEclipseOfTheHeart photo from Las Vegas.
Usher and some of his buddies landed a shot good enough for the mantel.
Chris Colfer threw a Kelvin filter on his Instagram #bloodmoon.
Lucy Hale posted her cityscape spotting.
Los Angeles' Griffith Observatory stayed open late -- and it paid off:
The eclipse caught in Oviedo, Florida.

Moon-sighting in Singapore.

In Wichita Falls, Texas, the eclipse was captured from a distance.

The moon reflected on the harbor in Mumbai.


And here, some other out-of-this world sightings:

BEFORE YOU GO
PHOTO GALLERY
Supermoon 2013