Who says horses should have all the fun?
Inspired by equestrian jumping events, rabbit enthusiasts in the Czech Republic recently organized a bunny hop competition as an early Easter celebration. In a video from the contest, the hares jump miniature fences and hurdles in a steeple chase race.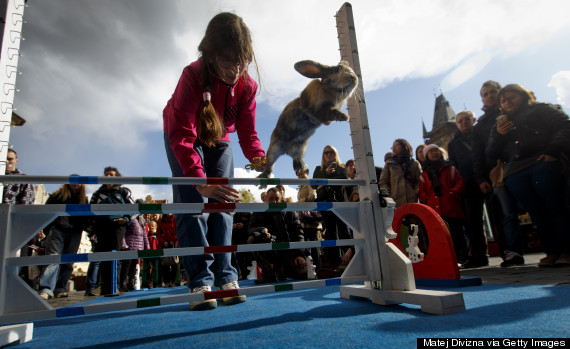 A rabbit, a symbol of Easter, jumps over an obstacle during Rabbit Steeple Chase at the Old Town Square's Easter market on April 14, 2014 in Prague, Czech Republic.
Competition was fluffy fierce at the event, which was held in the city's Old Town Square. Event organizers told photographer Matej Divizna, who captured photos of the bunnies, that the rabbits jumped as far as 3 meters (nearly 9 feet).
While Prague's bunny hop competition was centered around the Easter holiday, there are numerous official rabbit jumping contests in Europe. The unconventional sport actually dates back to the 1970s, when it originated in Sweden, National Geographic notes.
BEFORE YOU GO
PHOTO GALLERY
Animals In The News