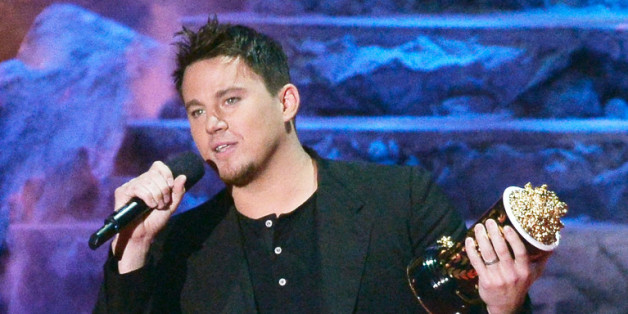 Channing Tatum has proved he's a versatile actor, but does he have what it takes to play everyone's favorite card-throwing Cajun in the upcoming "X-Men: Apocalypse"?
In an interview at the MTV Movie Awards, where the actor received a Trailblazer Award (given to young up-and-comers whose success has inspired others), Tatum revealed that he's met with "X-Men" producer Lauren Shuler Donner about taking on the role of the fan-favorite mutant Gambit in the next film. While nothing is confirmed just yet, Tatum confessed that he'd be totally on board to play the character.
"If the stars align I would play it. I'm already working on the accent," he joked.
Earlier in the interview he revealed that, because of his Southern background, he's always felt a connection with the character Gambit. He also thinks Gambit's moral ambiguity sets him apart from the rest of the X-Men. "He's a thief, he's not even, like, a hero," Tatum said. "He's walking the line of gray."
Back in January, Shuler Donner revealed to film magazine Empire that she'd be totally on board with a standalone Gambit movie featuring Tatum.
"I'm dying to do a Gambit movie with Channing Tatum," she said. "That doesn't have to be a great big movie. It's a thief in New Orleans, it's a whole different story. He's on board, and I have to get the studio on board. How can anyone resist Channing? He's such a sweetheart."
Tatum would be the second actor to take on the role for the big screen. Taylor Kitsch had a small role as Gambit in "X-Men Origins: Wolverine."
SlashFilm notes that newer blood could help replace "X-Men" stars like Hugh Jackman, who is rumored to be retiring as Wolverine sometime in the near future.
Tatum, a male stripper-turned-model-turned-actor, has come a long way since his career began. Collider notes that his involvement in films like "Haywire," "Side-Effects" and "Magic Mike" have helped the actor demonstrate his diverse scope. He's polished his comedic chops with successful roles in "21 Jump Street" and "This Is the End," and has experience with action roles for "G.I. Joe" and "White House Down."
"X-Men: Apocalypse" is slated to hit theaters May 26, 2016.

Do you think Tatum would make a good Gambit? Tell us where you stand on the casting rumor in the comments.
BEFORE YOU GO