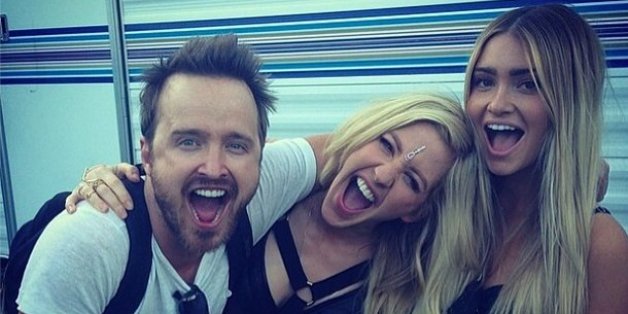 Weekend One of Coachella included surprise on-stage appearances from Beyonce, Jay Z, Nelly and Debbie Harry, but what was going on backstage? Because it's not always easy to push to the front of the crowd, thanks to Instagram, we can sneak a peak behind the scenes of what it's like for our favorite stars to experience the desert festival. Ahead, our favorite photos.
Aaron Paul

I like these ladies a lot. @elliegoulding you are a musical genius and @laurenpaul8 you are a goddess. #coachella
Ellie Goulding

Thank you Coachella
Jared Leto

#LetMeTakeASelfie
Lindsay Lohan

everyone please be #safe at #coachella and #smile @wildfoxcouture sending light and love
Big Boi (Outkast)

#Coachella today is the day ! #Meditation #Outkast20

Bout 3 hours left #outkast20 #coachella #dayinthelife
Lorde

"here put on this freebie coachella crown"

coachella business - photo by @jamesklowe
Blood Orange

@katyperry @miamoretti xx

Yeah ok
Emmy Rossum

#BAMchella #100happydays #4happychicks
Paris Hilton

Chilling at #Coachella with my girls @EmmaRoberts6 & @Whittles99. #CoachellaBlondes
Joe Jonas

No idea what I am doing. @officialspyder #rideaspyder #coachella
Ireland Baldwin

coachella bum in @forloveandlemons
Rosie Huntington Whiteley

Feeling good @calvinharris @coachella
Alessandra Ambrosio

Soaking up the sun #braziliangirls #foreveronvacation #followthesun @coachella #nofilter

Having the best time of my life @coachella @stewheathcote
Justin Bieber

Surprise performance at Coachella with @chancetherapper
Aloe Blacc

#TheAnswerIsLove and I felt a lot of it at #Coachella today. What an amazing time. See you next Friday!
Selena Gomez

Zedd

Literally "hanging" with @martingarrix.

COACHELLA with all you amazing people!!!
Pharrell

Thank you @coachella for such a wonderful experience. #GIRL
The 1975

// C O A C H E L L A // L O V E
Solange

Coachella! See you Saturday 8:25 in the Gobi tent!
BEFORE YOU GO
PHOTO GALLERY
Celebrities At Coachella