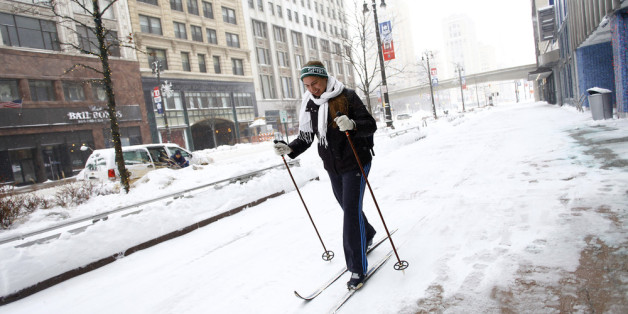 Okay winter, we give up. You win. Can we move on now? Please?!
It might be the middle of April, but any Michigander knows that means absolutely nothing when it comes to weather. So we guess we shouldn't be surprised that it snowed Monday night, or that Detroit has now had the snowiest winter... ever.
Metro Detroit had 3.1 inches of snowfall recorded at Detroit Metropolitan Wayne County Airport in Romulus, Mich. as of Tuesday morning. According to the National Weather Service, that gives the region a total of 94.8 inches for the entire winter, meaning Detroit broke its old record for the most snow in a season.
In fact, it beats the last record -- from the 1880 to 1881 season -- by .6 inches, which means there's been more snow this season than a year when horses were a perfectly acceptable form of transportation.
Detroit broke a few other unappealing records this season, too. January was the snowiest month on record, with 39.1 inches, and the city broke the record for most consecutive days with snow cover one inch or greater with 77 days. The normal seasonal snow fall for Detroit is 42.5 inches, less than half of what the area got this year.
If there is a medal for any of these records, take it back. We don't want it.
Detroiters expressed a mixture of wry humor, confusion, anger, hardened resignation and long-suffering despair on social media.
We did it!! We broke the snow record in Detroit! Take that 1881 - what with your horses and rampant disease! pic.twitter.com/3ZuXdd3WGc

— Sean Gagnier (@SeanGagnier) April 15, 2014
Officially the snowiest winter ever for Metro Detroit with today's snow. 94.8" total for the season. Whoopee. pic.twitter.com/a8yWfcbADX

— Siobhan (@redheadedwitch) April 15, 2014
Why are any of you surprised about the snow? It's Michigan.

— Kyleigh Leist (@KyleighLeist) April 15, 2014
No!!! Are you kidding me?!?! Snow...ugh! #Detroit pic.twitter.com/1JXt22bGYd

— Laura Wilson (@fiveftclub) April 15, 2014
Mostly, it's hard to believe it was 70 degrees just a few days ago:
It was 74 degrees and sunny 2 days ago, and this morning there's snow on the ground. Go home, #Michigan weather, you're drunk

— Ryan Krasnoo (@RyanKras) April 15, 2014
You know you're from Michigan when you're still a little sunburnt from the weekend and walking through an inch of snow on the ground...

— Chris Blaker (@ChrisBlaker2) April 15, 2014
Good morning everyone. Today will be a high of 98 degrees with a low of -24 degrees. 50% chance of snow, rain or sun. #Michigan

— Brandon Elias (@bmelias1) April 15, 2014
From 70° and sunny...to 25° and snow. Oh well...this is #Michigan after all. pic.twitter.com/FJGmEPsRDM

— Eva (@Eva_TeamDetroit) April 15, 2014
For the love of god Michigan, how is it suppose to snow 2 inches and be 61 degrees on the same day pic.twitter.com/MqERnHQPN7

— Alex Moran (@callmemoron) April 13, 2014
And then there's the people who are sick and tired of hearing everyone else be sick and tired about the crazy weather.
What's worse than snow in April? Having to listen to or read about everyone complaining about it. You live in Michigan. Deal with it.

— Adam Joseph Lopez (@AdamJosephLopez) April 15, 2014
So put on a tank top, snow pants, rain boots, gloves and some sunscreen and stop complaining. You know what they say: if you don't like the weather in Michigan, just wait five minutes.
BEFORE YOU GO
PHOTO GALLERY
10 Warm-Weather Destinations