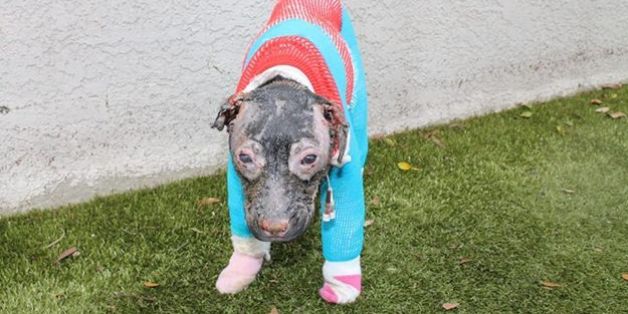 Burns covered more than half of Hope the dog's body when she was first brought to a Tampa veterinary facility in mid-March.
"She won't be normal, ever," veterinarian John Gicking told Fox News at the time. "She'll have significant scarring, she has a long road ahead of her, including numerous surgeries she's going to need down the road, as well as a long term healing for her skin."
Almost a month later, those who have been monitoring Hope's progress on the Hardee Animal Rescue Team's Facebook page and elsewhere are relieved on two counts: her remarkable improvement, and the arrest of Larry Wallace, her owner, who stands accused of pouring kerosene on Hope then setting her on fire.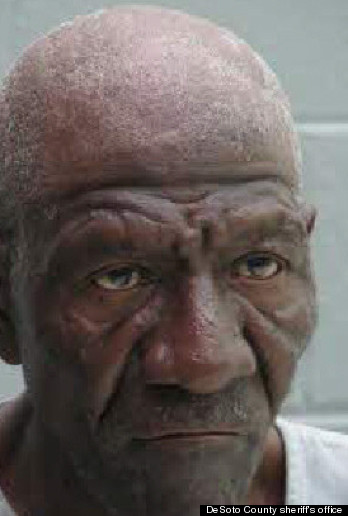 Larry Wallace's mug shot. Photo credit: DeSoto County Sheriff's Office
Wallace initially told investigators that he wasn't the person who set Hope on fire; he demanded that Hope -- he called her "Queenie-Belle" -- be returned to him. More than 15,000 people signed a Change.org petition opposing this demand.
"I don't know what happened to the dog," he told WFLA in late March, a little less than a week after a neighborhood kid discovered Hope chained up and rolling on the ground, trying to stop the fire that was engulfing her.
Wallace was arrested on Monday, and has been charged with two felonies, according to DeSoto County arrest records: arson and animal cruelty.
"We hope this is the final step to justice for Hope," Hardee Animal Rescue Team office manager Leigh Sockalosky told HuffPost on Tuesday morning.
Sockalosky has been visiting Hope at the BluePearl veterinary hospital every day. After extensive, expensive treatment, most of the dog's body is still covered in bandages, and it's not yet clear if she will ever be able to see again.
But "Hope is doing better every day," said Sockalosky. "Her personality is coming out. She is wanting to play."
Sockalosky said that no one knows exactly how much Hope's care will cost until it's complete, though tens of thousands of dollars have been donated so far. Nor is it yet clear if the dog -- who is thought to be about a year old, and since gaining some weight and growing a few wrinkles is showing signs of being part Shar Pei -- will eventually be put up for adoption.
What we do know is that lately, Hope has been seen giving "love and kisses" to folks coming by the veterinary hospital with their own pets. This dog has "a lot of love, a lot of support" and a "strong will to live," Sockalosky said, urging people who are moved by the story of this resilient dog to volunteer at their local animal shelters.
"Hope," she said, "is one of the lucky ones."