It's been a year since now-8-year-old Jane Richard lost her leg in the Boston Marathon bombing.
The young girl, who was watching from the sidelines on Boylston Street at the time the bombs detonated, returned to the site on the anniversary Tuesday morning with her family to honor the member they lost -- 8-year-old Martin Richard.
David Abel of The Boston Globe spent a great deal of time with the Richards and penned a two-part narrative about their return home without Martin, the youngest victim of the bombing. In an interview with Boston's WBZ-TV, the reporter described his time with Jane, who he called an "antidote to all the pain and difficulty they've had."
"Anyone who meets Jane will fall in love with her in a minute," he told the local CBS affiliate. "Often after a difficult interview, Jane would bound down the steps and with her adorable smile and great enthusiasm, would puncture the moment and pop the gravity."
After the explosions, which also left Jane's parents, Denise and Bill, injured, the Richard family spent 10 weeks in the hospital. Jane was finally able to go home in August with a prosthetic leg and crutches. In the aftermath, the 8-year-old had to learn to walk, run and dance again.
(Story continues below)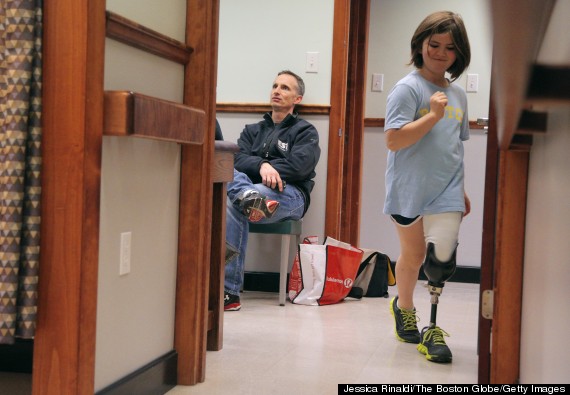 It wasn't until March that Jane was fitted with a prosthetic "Cheetah" leg, which is designed for running. Jane initially refused to take it off and wore it to school several times.
Now, days before the 2014 Boston Marathon, the Richards are preparing to participate in the event alongside dozens of athletes on Team MR8, who will be running in Martin's honor. Jane, who has experienced some recent setbacks with her prosthetic, may also run in the last section of the race, but that's ultimately up to her.
"She will only do it if it feels right," Bill Richard told The Boston Globe.
See photos of Jane's road to recovery in the gallery below:
PHOTO GALLERY
Jane Richard, 8, Learns To Walk Again