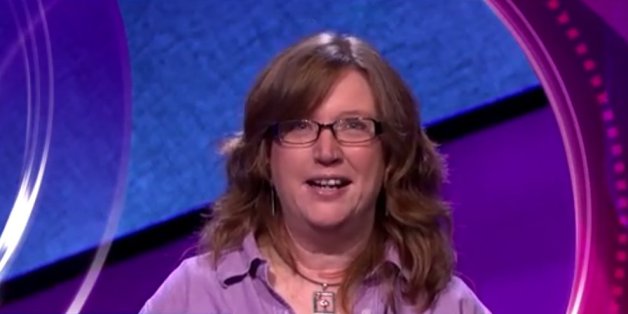 Game show contestants just can't catch a break this week!
After Indiana University honors student Julian Batts earned the title "Worst 'Wheel of Fortune' Contestant Ever" when he mispronounced the final puzzle -- and cheated himself out of a million dollars -- a "Jeopardy!" contestant has now risen from gameshow obscurity to have her bad luck broadcast across the Internet.
Monday night's episode of "Jeopardy!" concluded with a Final Jeopardy! clue in the category of Signs & Symbols that read: "Meant to evoke a person with arms outstretched & pointed downward, it was designed in 1958 by Gerald Holtom." The clue stumped all three contestants, including champion Sandie Baker. Normally, missing a clue on "Jeopardy!" isn't a big deal, especially for Baker who had a comfortable lead among her competitors. So why did last night's flub make the news? Sandie Baker was wearing the correct answer. The peace symbol was the response Alex Trebek was looking for and, if you look closely, you'll notice Baker happened to have two dangling from her ears during the entire show.
But who really gets the dunce cap in this situation? The woman wearing the earrings, or the two people standing beside her, staring at the correct answer for most of the night?
BEFORE YOU GO
PHOTO GALLERY
"Game Of Thrones"