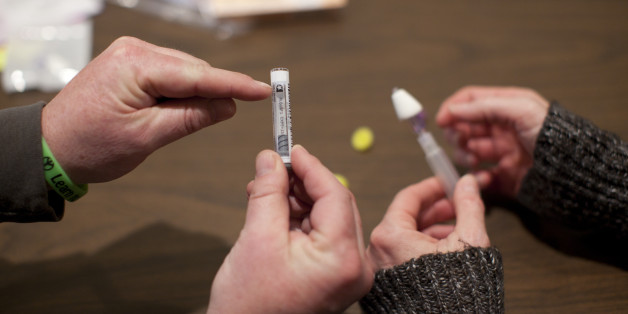 After unanimous approval from state House lawmakers on Monday, Maine's legislature appears poised to pass a lifesaving anti-overdose bill despite a veto threat from Gov. Paul LePage (R).
The Maine House voted 147-0 on Monday to pass the bill, which would expand access to naloxone, a prescription drug that can reverse opiate overdoses, to first responders and family members of addicted persons.
"It's a bare-bones bill that actually has the potential to save, I think, hundreds of lives," said state Rep. Sara Gideon (D), who sponsored the legislation.
The House vote came despite opposition from LePage. Last week, he appeared ready to compromise on the bill. But on Monday, he expressed his intention to veto it, with his office claiming a provision added to the bill that would allow police to carry naloxone was a "poison pill."
"Despite their agreement with me, the Legislature has put up a version of the bill they know full-well will be shot down," LePage said in a statement. "We are trying to provide this life-saving measure to families, but lawmakers are trying to score political points."
LePage said he is concerned that police and firefighters lack the proper training to administer naloxone. But addiction specialists say the drug is relatively easy to deliver and has no effect on people not experiencing an opiate overdose. The bill is supported by the Maine Sheriff's Association.
Police or firefighters are often the first ones on the scene when someone calls 911 to report an overdose. Based on a preliminary screening of suspected drug deaths, 81% of opiate overdoses in the state include a 911 response, according to Maine Attorney General Spokesman Timothy Feeley.
The Maine Office of the Chief Medical Examiner has not finalized 2013 drug death data, but heroin deaths in the state quadrupled from 7 in 2011 to 28 in 2012.
First responders in places like Quincy, Mass., where naloxone has reversed more than 200 overdoses, carry the drug with them to save lives as quickly as possible. The CDC estimates that naloxone administered by non-professionals reversed more than 10,000 opiate overdoses from 1996 to 2010. Expanding naloxone access to first responders is supported by the White House Office of National Drug Control Policy.
Gideon said that far from scoring political points, she and her fellow lawmakers from both parties were trying to save lives by putting naloxone in as many hands as possible. She said the unanimous passage was "pretty amazing" given the governor's veto threat.
She hopes next year to pass a "Good Samaritan" law that would provide legal immunity for persons calling 911 to report a drug overdose. Drug users who do so now could face prosecution for possession, which may discourage some from seeking medical assistance.
Despite LePage's opposition, other Republican governors in places like New Jersey, North Carolina and Wisconsin have all approved expanded naloxone access.
Gideon said she hopes the bill's passage will send a message "not so much that what the governor's doing is wrong -- well, thats part of it -- but that the rest of the people who are involved in making this legislation are actually trying to do the right thing, that cooler heads will work together and prevail."
Gideon's bill now moves to the Maine Senate, where it could be voted on as soon as Tuesday.
BEFORE YOU GO
PHOTO GALLERY
U.S. State Capitol Buildings