The ranks of the uninsured are thinning most quickly in states that have actively embraced Obamacare, a new poll finds.
The uninsured rate has fallen about 2.5 percentage points this year in states that agreed to expand Medicaid and established their own insurance exchanges under the Affordable Care Act, according to a Gallup poll released Wednesday. In states that either rejected Medicaid expansion or refused to set up state-run exchanges, or both, that percentage has only fallen 0.8 percent so far this year.
Here are the full results: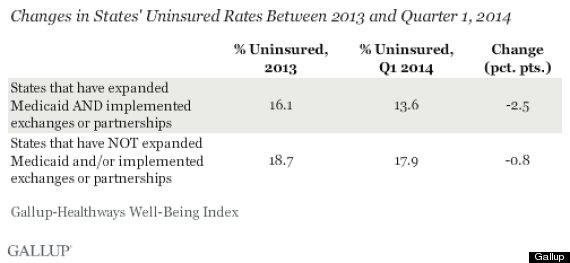 Gallup, which conducted phone interviews with a random sample of adults, acknowledged that the 21 states plus Washington D.C. that are both expanding Medicaid and running their own exchanges already had lower percentages of uninsured people than the rest of the states.
The Supreme Court ruled in 2012 that states had the option to choose whether or not to expand Medicaid. The states that have refused to accept Medicaid expansion will lose billions of dollars of federal funding that would have helped low-income Americans who need health insurance.
Many states that oppose President Obama's health-care reform law also won't administer their own insurance exchanges. Residents of these states had to depend on the federal insurance marketplace, which was plagued with glitches after its rollout in October.
Nationwide, the percentage of adults without health insurance has fallen significantly, to 15.6 percent, the lowest share since 2008, a Gallup poll found earlier this month. That's down from 17.1 percent at the end of 2013.
Here's a look at the poll results for every state: