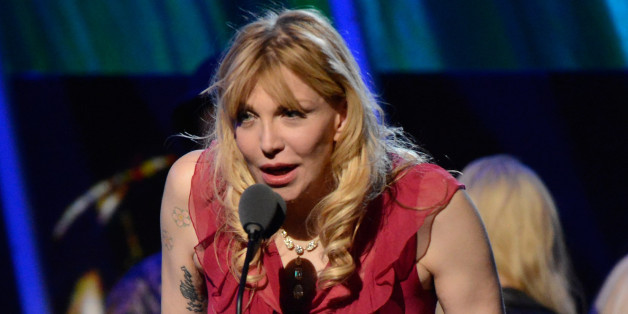 Because a Courtney Love video diary is what we need get us through this sudden blast of winter weather in April, the Hole frontwoman has spent the past couple of months uploading short clips to YouTube in which she dissects semi-timely topics. The latest is Bruce Springsteen, whose E Street Band was inducted into the Rock and Roll Hall of Fame last week, on the same night that Love helped to introduce Nirvana's inclusion.
Love doesn't hate Springsteen ("I really like him; he's a nice guy"), but she doesn't have the kindest things to say about his contributions to rock music. She recounts a brief story in which her "dear friend" Cameron Crowe (the former Rolling Stone journalist who went on to write and direct "Jerry Maguire" and "Almost Famous") took her to a Springsteen show at the Staples Center. "I could only last an hour and a half of a three-and-a-half-hour show with The Boss," she said.
Her beef with the Grammy-winning legend? "Saxophones don't belong in rock 'n' roll. They just don't belong."
Love justifies her Springsteen criticism by assuming the singer doesn't "[sit] around listening to Hole records."
If Love's condemnation of Springsteen's saxophones isn't enough, you can also watch her discuss Joan Rivers, Nancy Grace, the Kardashians and BDSM.
BEFORE YOU GO
PHOTO GALLERY
Courtney Love