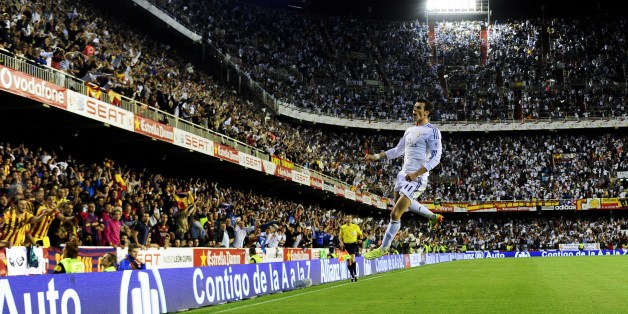 Speed is a scalar quantity that measures how fast an object is moving. Velocity is a vector quantity that measures the rate of change of the position of an object. Gareth Bale is a football quantity known for his jaw-dropping speed and velocity.
Got it? Anyone needing further explanation of Bale's qualities can consult the Barcelona defense.
With teammate Cristiano Ronaldo sidelined by a leg injury, Bale showed why Real Madrid set a transfer record to bring him to Spain early in the 2013-2014 campaign. The 24-year-old used his blazing speed to burn the Barcelona defense during a decisive scoring surge in the Copa Del Rey final on Wednesday evening in Valencia.
After receiving a pass from teammate Fabio Coentrao just beyond midfield, Bale knocked the ball forward. Before he could run onto it, Bale was promptly knocked out of bounds by Barcelona defender Marc Bartra. It didn't matter. Bale somehow won the footrace to the ball despite having to cover so much more ground than Bartra. After completing his blistering but circuitous dash, Bale controlled the ball while hardly lessening his breakneck pace, shielded the defender eventually closing behind him and then calmly slotted a shot past the goalkeeper.
(GIF via @DesaiDevang)
(GIF via @mshamburger1)
The stunning goal broke a 1-1 stalemate in the 86th minute and delivered Real Madrid's 19th Copa Del Rey title.
After the final whistle sounded, Bale was embraced by Ronaldo as well as another Madrid legend, Zinedane Zidane.
BEFORE YOU GO
PHOTO GALLERY
Best 2014 Sports Photos