Jenny McCarthy and Donnie Wahlberg are engaged to be married!
McCarthy announced her engagement Wednesday, April 16, on "The View," and flashed her stunning yellow sapphire engagement ring. Her 11-year-old son, Evan, was apparently a part of the proposal.
"This weekend I was sitting with Donnie ... and he went into the other room and out came Evan with a card that said 'Will.' And then he handed it to me, and I didn't know what was going on yet," she explained. "And then Evan ran away and then came back with a card that said 'You.' And then he ran away and I knew it was happening and I just started crying. And then Evan came back with a card that said 'Marry,' but spelled wrong, it said 'Mary.' And then the last time Donnie came out with Evan and Donnie's shirt said 'Me' with a question mark [and he was] holding the ring."
"He got down on his knee and he said [she starts crying] ... He asked will you marry me and of course I said yes and in that moment Evan yelled, 'I have another dad! I have another dad!'" she continued. "I feel like the luckiest girl in the world, he's so wonderful."
Wahlberg then came out and surprised his bride-to-be with a kiss.
Co-host Barbara Walters offered the two her New York City apartment as a wedding venue, but made it clear: "On the wedding night, you cannot stay in my apartment."
The 41-year-old hinted to her fans that Wednesday's show would be a good one.
Good morning my friends. Have a kick ass Wednesday. Between us... I would watch #theview today. Just Sayn. Xxoo

— Jenny McCarthy (@JennyMcCarthy) April 16, 2014
Turn on #theview It's gonna be a goooood one. : )

— Jenny McCarthy (@JennyMcCarthy) April 16, 2014
The two began dating last year after meeting on the set of Bravo's "Watch What Happens Live." In November, the former Playboy model told Bethenny Frankel that marriage was definitely in the cards.
"You know, I've said on every interview that I was like, 'Never will I ever get married again ever,' and, boy, you never say never," McCarthy said. "I think he would be an amazing husband. So if he does, I would for sure say yes. I wouldn't be surprised if I was the one proposing."
Check out her engagement ring in the photo below.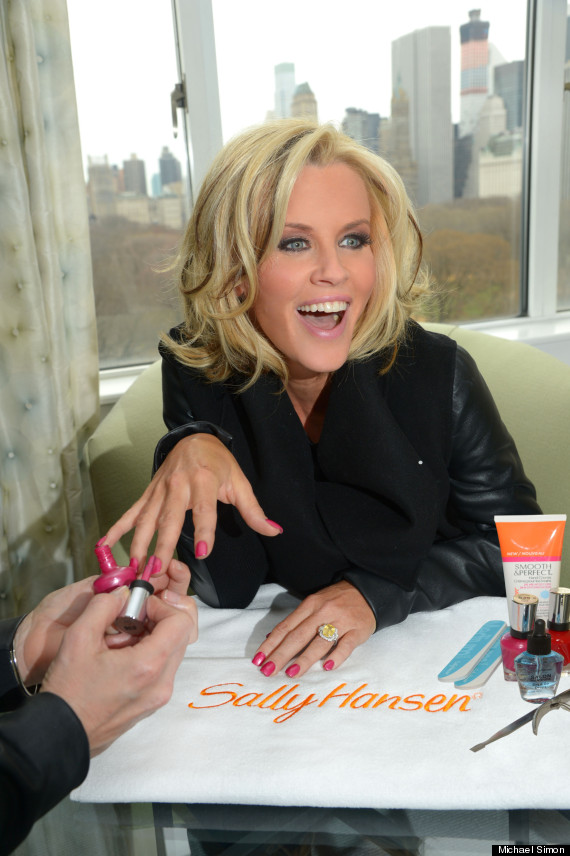 BEFORE YOU GO
PHOTO GALLERY
Engaged Celebrities