Pop culture collided when Lorde met George Brett, the inspiration for her hit song "Royals." Last year, Lorde told VH1 that she wrote the song after seeing a photo of Brett, a player for the Kanas City Royals, signing baseballs in a 1976 issue of National Geographic.
"I'd been kind of thinking about writing that song for a while and been pulling together a couple little lines here and there, and I had this image from the National Geographic of this dude signing baseballs," Lorde said. "He was a baseball player and his shirt said Royals. I was like, I really like that word, because I'm a big word fetishist. I'll pick a word and I'll pin an idea to that."
When Lorde played in Kansas City, the Royals sent her a Brett jersey, but she never got the chance to meet the man who inspired her smash hit until now. On Wednesday, April 16, Major League Baseball tweeted a photo of Lorde and Brett in Las Vegas.
And now you're Royal. @lordemusic meets @Royals icon George Brett. pic.twitter.com/7BPRW6VYJD

— MLB (@MLB) April 16, 2014
Here's the original photo that inspired "Royals."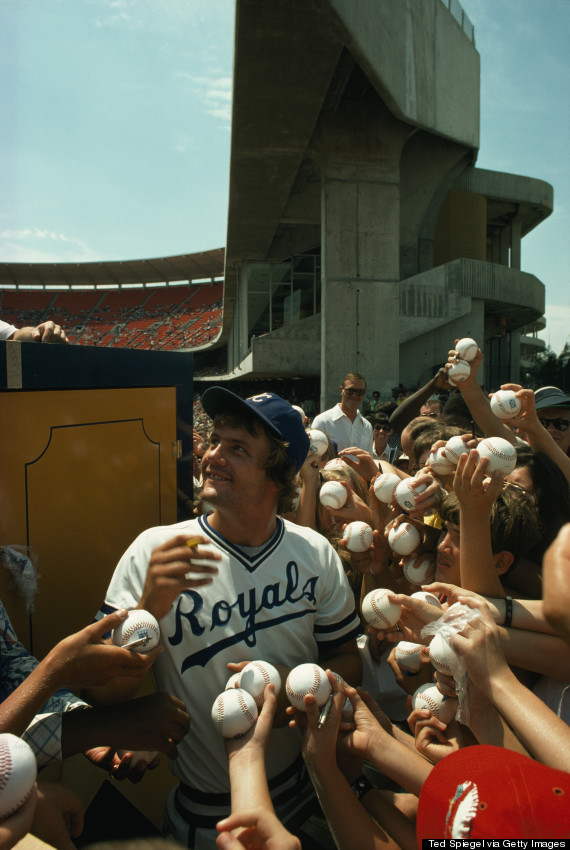 BEFORE YOU GO
PHOTO GALLERY
Celebrity News & Photos