This poor baby squirrel fell a really long way out of her nest and onto a sidewalk, where she got pretty banged up.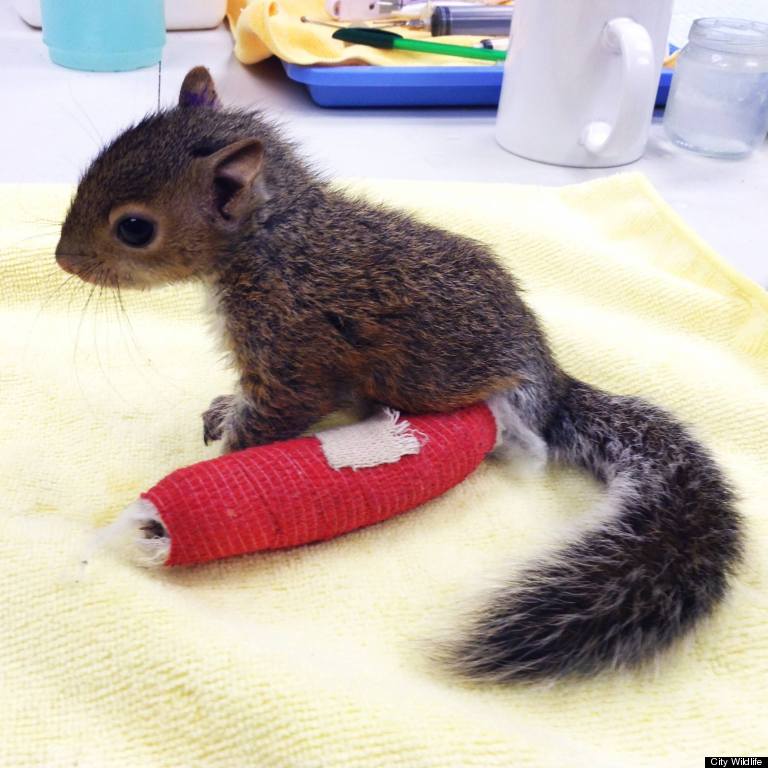 Photo credit: City Wildlife
The precious critter is wearing a red cast, in case you didn't notice, because after her tumble she was brought to City Wildlife, the only wildlife rehabilitation center in Washington, D.C., for treatment -- followed by the most adorable photo session.
The amazing folks at City Wildlife took care of D.C.'s snowy owl when she was hit by a bus over the winter. Snowy is on the mend, you'll be happy to know, having received feather transplants (!) at The Raptor Center at the University of Minnesota.
City Wildlife said Tuesday on Facebook that this little one will soon be improving, too:
This baby squirrel was brought into City Wildlife after she fell 75 feet from her nest on to the concrete sidewalk below. She suffered a bloody nose, a broken tooth, and a broken ankle. Luckily, just like children, this squirrel is young enough that her ankle should heal very quickly. Send her your well wishes on a speedy recovery!
Get well soon, baby squirrel! And please put out more photos, City Wildlife!
BEFORE YOU GO
PHOTO GALLERY
Animals In The News