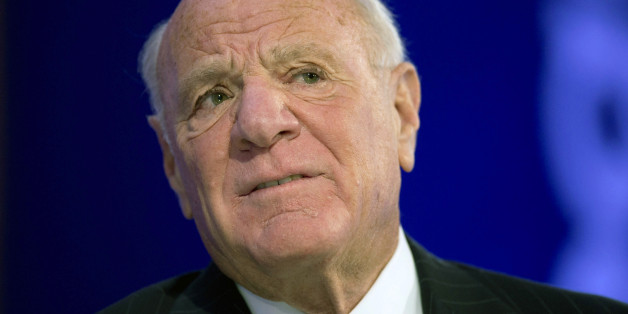 Media mogul Barry Diller blasted the Obama administration for taking the side of the nation's biggest broadcasters against the company he is bankrolling, Aereo.
The startup, which streams live, over-the-air television to subscribers, has been locked in a legal war with broadcasters for two years, culminating in arguments before the U.S. Supreme Court next Tuesday. The networks, including CBS, Comcast's NBCUniversal and the Walt Disney Company's ABC, want Aereo either to shut down or pay them the same fees that cable providers pay to retransmit their shows.
A victory for the networks would be the end of Aereo, Diller has warned. A victory for Aereo could lead to broadcasters cutting off their signals, some have threatened.
On Thursday, IAC/InterActiveCorp chairman Diller published an op-ed in The Wall Street Journal slammed the Obama administration for submitting a "friend of the court" brief on behalf of ABC in March.
"Why, given this administration's oft-stated support for innovation, would it take such a position?" Diller wrote. "In siding with the broadcasters, the administration has signaled that the preservation of legacy business models takes precedence over lawful technological innovation."
Aereo charges up to $8 a month to transmit free TV to subscribers' phones, tablets or computers. Users can also record shows with a built-in DVR function. The company insists it essentially provides set-top bunny ears for the digital age.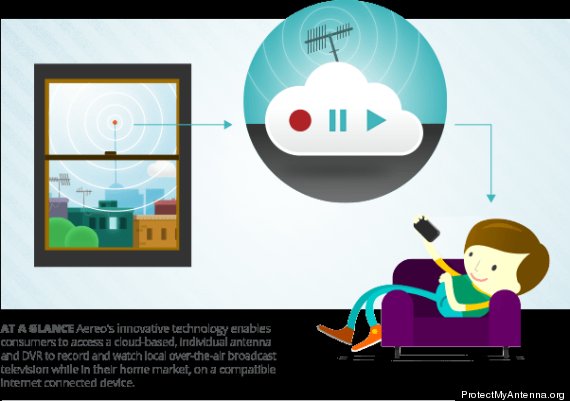 Between 1920 and 1934, a series of laws gave broadcasters free use of the nation's airwaves in exchange for their giving free, advertising-supported programming to anybody who had an antenna to pick up the signal.
As cable and, later, satellite television became popular after the 1950s, broadcasters charged providers retransmission fees to air the content they produced.
ABC, CBS, NBC, 21st Century Fox, Tribune Co. and the PBS have argued repeatedly that Aereo functions like a cable or satellite provider, therefore must pay those same fees.
"Aereo's business model is effectively something for nothing," Neal Katyal, a Washington lawyer speaking on behalf of the broadcasters, told Bloomberg Businessweek. "It's taking content signals that broadcasters have spent billions of dollars to create and produce and market and distribute, and yanking those signals out of the air and rebundling them and selling them to people for profit."
Indeed, Aereo founder and CEO Chet Kanojia said last August that the company would need fewer than 1 million subscribers to turn a profit.
But Diller said the broadcasters are trying to "punish those who wish to receive their television through airwaves."
"Broadcasters make more money when consumers are steered away from over-the-air program delivery and toward cable and satellite systems," he wrote in WSJ. "There's nothing wrong with that. But it seems rich for them to forget the agreement they made to provide television to the consumer in return for the spectrum that enables their business."
On Thursday, Aereo launched an advocacy site linking to its court briefs and inviting users to "protect your antenna." Kanojia has said his company will shut down if it loses in the nation's highest court.
"What is at stake in this case is much bigger than Aereo," Kanojia said in a statement on Thursday. "We believe that consumers are entitled to use a modern, cloud-based, version of an antenna and DVR and that consumers should not be constrained to 1950s era technology to watch free-to-air broadcast television."
On Wednesday Justice Samuel Alito, who previously recused himself, said he will rule in the case, American Broadcasting Companies v. Aereo, according to SCOTUSBlog. Alito has long owned stock in Disney and apologized in 2011 for ruling on a case involving the company. His participation in the Aereo trial may signal that he has sold his stake, worth about $2,000.
For what it's worth, donations by media companies tilted heavily in favor of President Obama during the 2012 election. Disney donated $125,856 to Obama and just $9,950 to Republican challenger Mitt Romney, according to the Center for Responsive Politics. From Comcast, the Obama campaign received $206,056, compared to Romney's $20,500.