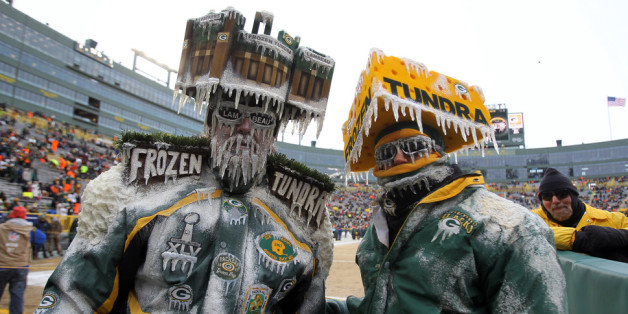 Green Bay Packers fans, there's no excuse for you to be watching games alone.
Not with the advent of "GreenBayPackersLovers.com," a dating website exclusively for Packers fans it has termed "Packers Backers." Those looking to make the most of the off-season can sign up on the website, then seek out partners with similar interests.
Here's the website's mission statement:
Green Bay Packers fans are the most loyal fans around. Just look at Pack's die hard fans that tackle the brutally cold winters to storm outside and cheer on the Pack Attack. At our site you can find other Packers Bakers [sic] cheeseheads looking for love. Whether you're looking for true love, a long term relationship, are marriage minded, just looking for fun or maybe even just looking for friendship, http://greenbaypackerslovers.com is right for you! Check us out today.
As of this writing, male members on the site outnumber females roughly 2 to 1, so lady cheeseheads looking for love have a decided advantage.
"There's a solid rom-com in here somewhere in which a young reporter (and closet die-hard Vikings fan) goes undercover to see what's really going on behind the cheese curtain," NFL.com jokes. "Only now, she's fallen for this guy and the truth threatens to tear their love apart."
BEFORE YOU GO
PHOTO GALLERY
PHOTOS: The Ice Bowl