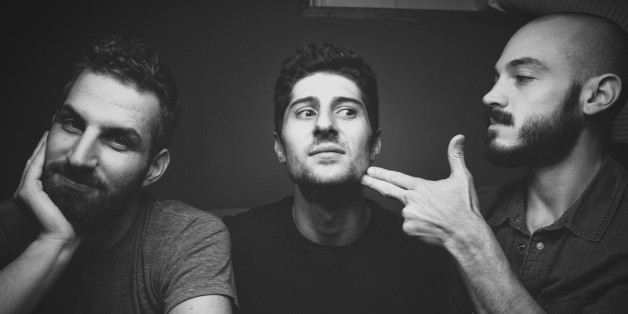 Before The Beat Drops is an artist introduction series dedicated to bringing you the rising acts before they make their break. Our unlimited access to music of all kinds is both amazing and overwhelming. Keeping your playlists fresh, we'll be doing the leg work to help you discover your next favorite artist.

"What happened to rock 'n' roll?"
It's a common lament heard today from those who grew up in the '60s and '70s, now living in a world piloted by pop icons and musical backdrops built entirely on computer software. The answer is simply that it is a different day with different technologies. New environments breed new minds that digest music in a different fashion. However, if one looks hard enough, there are still those who are willing to look back just as much as they look forward. One such band is Heavy English.
Born from the ashes of Long Island's Envy On The Coast, it was because of their most recent single, "Black Dog," that vocalist/guitarist Sal Bossio and drummer Dan Gluszak found themselves making music together again. Bossio sketched the song's skeleton at the end of Envy's recording of their final album, "Lowcountry" -- Gluszak had left the band before this record -- but nothing came of it. Following the breakup, Bossio moved across the country to be with his girlfriend (now wife) and find a fresh start. It was after some time that Bossio decided to lay down a few rough demos of the ideas growing in his mind.
"As soon as I had finished those home recordings I was like, 'Damn, I really miss this!'" Bossio said. "Dan had been touring on drums with another band, and they had a festival date in Arizona, so he called me up and we reconnected and caught up after all that time apart. I showed him some of my samples and he was really into it, and so decided to start writing together again because it was fun."
He continued: "Having our own lives for a while and having completely different experiences helped us a lot. It gave us time to mature and get to know ourselves. We really respected each other's roles this time around. No one's opinion is better than the other one. It's so easy to record and write when your goals are the same."
Bossio moved back to New York -- because trying to write an album over Skype just doesn't work -- and they invited the long-recommended bass prowess of Ari Sadowitz to come jam, and he jammed his way right into their hearts. Thus, Heavy English was born.
Compared to the band's first, poppier single, "21 Flights," "Black Dog" exists on a different spectrum. Roaring vocals stomp atop Bossio and Sadowitz's heavy distortion, producing a riff nothing short of disgusting.
"The song comes from a very bitter … kind of maddening place," Bossio said. "It's a time I don't care to relive, although I am going to have to sing about it every night. It's about the personality conflict between me and another member of Envy on the Coast. It was such a long time ago, and I don't want to go on about this ancient tale. I'm not really a bitter writer. Now that this album is written, I've realized that I'm not always right. [laughs] I'm constantly playing devil's advocate with myself. There's less to be angry about when you can really understand someone else's feelings."
While the album's sound stretches in influence from more of today's contemporary pop to The Black Keys and all things bluesy to rock classics like Led Zeppelin, if there's one the thing the band's first two singles have proven, it's that the group knows how to write catchy tunes, no matter the genre.
The band plans to release their debut LP this summer, aiming for some time in June. You can purchase "Black Dog" on iTunes.

BEFORE YOU GO
PHOTO GALLERY
See Your Favorite Artists Turned Into LEGO