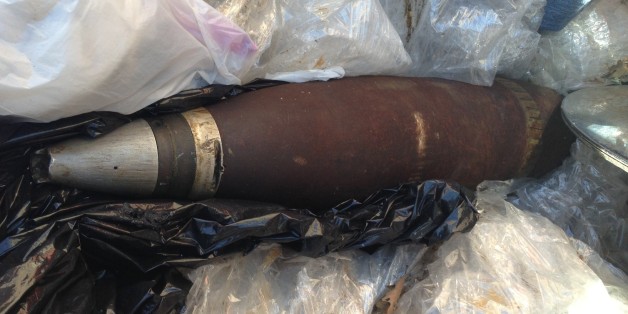 Hundreds of people were evacuated in Solvang, Calif., on Wednesday evening after an explosive device was found in the downtown area.
The Santa Barbara County Sheriff's Office said via Twitter and Facebook that between 500 and 700 homes and business were evacuated after the discovery of what it described as "potentially explosive military ordnance."
Reports on Twitter said the device had been placed in the trash, and a photo released by law enforcement show it lying on top of what appears to be garbage bags.
The department says the device was rendered safe by its bomb squad and the explosive ordnance disposal team from nearby Vandenberg Air Force Base. The evacuation order was lifted just after midnight Thursday, or more than four hours after it was first put into place.
The incident remains under investigation by the sheriff's office.
Earlier, local journalists photographed the closed area and posted their images to Twitter:
Four block radius closed due to a unknown device found in downtown Solvang pic.twitter.com/46cTIAgabG

— Herbert S. Tuyay (@HerbertSTuyay) April 17, 2014
Potential bomb threat in #Solvang. 400+ people evacuated from their homes as well as a hotel and dozens of businesses pic.twitter.com/xONbEiwsF6

— KEYTNC3Kelsey (@KEYTNC3Kelsey) April 17, 2014
The county used a reverse 911 call to order a mandatory evacuation of homes and businesses within a 1,500-foot radius of the device. In addition, a search and rescue team went door-to-door in the area.
Reports on Twitter say at least one downtown hotel, The World Mark, was also evacuated.
Evacuees were sent to a local veterans hall, where the Red Cross set up a shelter.
Solvang is about 35 miles north of Santa Barbara and about 130 miles north of Los Angeles.
MORE FROM THE ASSOCIATED PRESS:
SOLVANG, Calif. (AP) — Evacuees from hundreds of homes and businesses in Solvang in Central California are being allowed to return after experts early Thursday removed a military ordnance found in the town's business district and rendered it safe.

The Santa Barbara County Sheriff's office says the evacuation call was issued Wednesday afternoon for between 500 and 700 homes and businesses after the potentially explosive ordnance was found on Copenhagen Drive near houses.

Spokeswoman Kelly Hoover says the Sheriff's Department bomb squad and a bomb disposal team from Vandenberg Air Force Base cleared the ordnance shortly after midnight.

Officials released a photo of the ordnance and didn't provide any details, but it appeared to be some sort of artillery shell. There was no word on how it got where it was found.