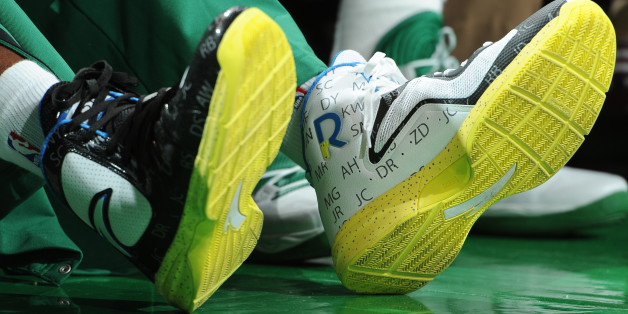 A day after the one-year anniversary of the Boston Marathon bombings, Celtics point guard Rajon Rondo wore a special pair of shoes during the final regular-season game to honor the victims.
The tongue of the sneakers recreated a marathon bib with the words "Boston Strong" and "41513,″ the date of the bombings, written on it. The initials of the victims were also written all over the shoes.
— Rajon Rondo (@RajonRondo) April 17, 2014
Rajon Rondo wearing shoes to honor victims of the Boston Marathon bombing. Will donate to the One Fund afterwards. pic.twitter.com/AbBAXkihu8

— Abby Chin (@tvabby) April 16, 2014
"Pretty much everywhere you go, you learn that, to Bostonians, sports means a lot to this city. Our four sports are big here. It's not just one team, one fan. It's a collective group of guys," Rondo said after the game when asked about having survivors of the tragedy in attendance, via ESPNBoston.com. "The Red Sox, the Bruins, the Patriots, and ourselves. We've taken pride in playing for this city. This was a special week for us, every athlete in the city along with all Bostonians as well. It means a lot."