A Sprint customer says a service representative sent him an email addressing him as "gay" and "sissyboy."
Kelvin Mathews, of Chicago, called Sprint on Sunday, April 13, due to active messaging on an account he thought he had closed, NBC Chicago affiliate WMAQ reports. When a customer service rep told him to check the online status of the account, Mathews said he didn't remember the login information. So the representative sent him an email with instructions, and that email, Mathews says, was addressed "Sissyboy Kelvin Gay Matthews."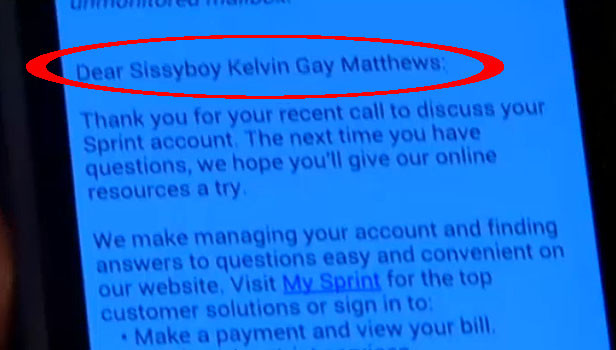 A screenshot of the email Mathews showed NBC.
"I expressed my concerns to them and how serious this is to me and my wife," Mathews told WMAQ. "I don't live a homosexual life, I never gave Sprint anything to go on and think that, and even if I did I don't think it would be fair to say this on my account."
"To have this email is a form of degrading someone and I think people need to know about it," he added. "They're not treating customers like they should."
Sprint spokesman John Taylor told The Huffington Post that automated emails can be manually altered by employees. The company looked into the incident and apologized to Mathews.
"We have apologized to Mr. Mathews and deeply regret what happened over the weekend," Taylor said. "Mr. Mathews should never have received this email from our representative. We have dealt with that employee appropriately."
Service industry incidents have offended customers before. In February, for example, a Virginia grandmother received a vulgar receipt from Burger King referring to her and her daughter-in-law as "b---h a-- h--s." The note left the grandmother in tears.
BEFORE YOU GO
PHOTO GALLERY
LBGT Service Cases