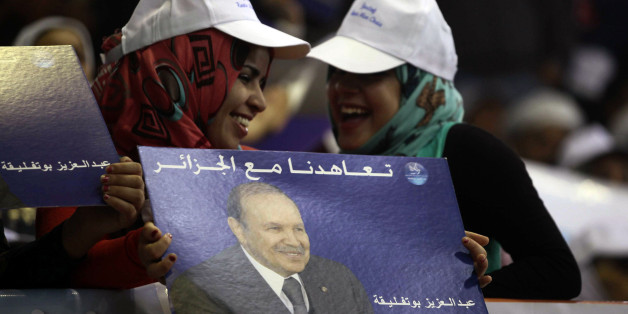 Thursday's presidential election in Algeria did not play out in the usual way. The Internet's sudden boom has changed the situation in the country and has brought about changes in communication, especially for presidential candidate Abdelaziz Bouteflika. From the instantaneity provided by the 3G network to the interactivity of Twitter, the Internet has influenced the country's outdated approaches.

An Attentive 3G Network

3G was launched in Algeria four months before the presidential election on April 17, and it upset the 2014 campaign by giving it an unexpected echo. The manifestations of the Barakat movement, which opposes a fourth term for current president Abdelaziz Bouteflika, have been widely followed on the Internet through photos and videos posted in real time. The aggressive arrests of demonstrators during the first rallies in early March were relayed at breakneck speed through instant tweets:
Sit-in déjà dispersé à #Audin. C'était plus impressionnant que samedi, la police a interpellé bcp plus de monde :) pic.twitter.com/WXmGwPOcuY

— AbuCalypse (@copi35) March 6, 2014
Sit-in already dispersed in #Audin. It was more impressive than Saturday, police arrested many more people :)
Les policiers procèdent à l'interpellation de chaque personne qui prend la parole devant une caméra ou scande un slogan. #Audin

— AbuCalypse (@copi35) March 6, 2014
Police are arresting anyone who speaks in front of a camera or chants a slogan. #Audin
Des journalistes ont été embarqués vers des commissariats. La police savait qu'ils étaient journalistes. #Audin #Barakat

— AbuCalypse (@copi35) March 6, 2014
Journalists were sent to police stations. The police knew they were journalists. #Audin #Barakat

"The social unrest that has shaken Algeria since the announcement of Bouteflika's candidacy has been found to be linked with this 'third generation' technology," the newspaper El Watan pointed out in an article entitled "Live from the demonstrations thanks to 3G."

Internet users are aware of this new power struggle and regularly point out 3G's "advantages," though sometimes ironically.
#Alger Aujourd'hui, grâce à la 3G, le monde a pu voir en direct la police arrêter des manifestants qui leur distribuaient des fleurs

— Mélanie Matarese (@melalger) March 1, 2014
#Algiers Today, thanks to 3G, everyone saw live the police arresting protesters who were handing them flowers
Debates on Twitter
From presidential candidate Abdelaziz Bouteflika's television appearances to the unsuccessful candidacy of Rachid Nekkaz or the shocking comments of candidates on the campaign trail and their presence on TV shows -- all of these episodes have been blithely discussed on social networks.

Twitter, in particular, has become the primary forum for debates due to its immediate interactivity, as proven by the appearance of several hashtags centered around the presidential news: #QstcandidatDZ (#DZCandidateQuestion, DZ being the country code for Algeria), #SelonAmaraBenyounes (#AccordingtoAmaraBenyounes, Amara Benyounes is Abdelaziz Bouteflika's spokesperson), #BenflisFacts (Ali Benflis, former prime minister, was Bouteflika's main challenger in the bid for the presidency), #PoseUneQuestionCommeHabibaEcherrira (#AskAQuestionLikeHabibaEcherrira, a reference to the Ennahar TV journalist Habiba Mahmoudi, who has been criticized for her aggressive style when interviewing candidates), #BoutefSong (a reference to the pro-Abdelaziz Bouteflika video "Our Oath to Algeria," which reunited about 60 artists).

Although the use of the microblogging site remains limited in Algeria -- with 45,000 users out of 38 million people, according to a survey by the Dubai School of Government from March 2013 -- the dynamism and activism of a few hundred Algerian Twitter users have transformed the chirps of the blue bird into a real uproar.

Videos to Condemn

Internet users surfed on the shockwave created by the announcement of Abdelaziz Bouteflika's fourth term. They quickly posted countless parody videos of politicians, elections, and the president. "Où es-tu Boutef? Dis-nous où es-tu Boutef? Sans même pouvoir parler tu veux encore être chef" ("Where are you, Boutef? Tell us where you are, Boutef? Even when you can't speak, you still want to be the chief") goes the song "Boutefoutai," inspired by famous Belgian singer Stromae's hit song "Papaoutai," whose success on the Internet hasn't faded.

"Lately, our best hits, that is to say, the videos that have tens of thousands of views, are those about the presidential election," said Karim Amellal, founder of the Algerian participatory video site Chouf-Chouf, in an interview with Maghreb Emergent, mentioning in particular the highly criticized videos about Bouteflika's fourth term from rappers Lotfi Double Kanon and Mister AB.
This piece was translated from French and was originally published on HuffPost Maghreb.