A few weeks ago, Huff Post Travel was invited to an exclusive premier of Disneynature's latest feature film, "Bears." Set amidst a spectacular Alaskan backdrop, the audience meets Sky, a first time mother attempting to raise her cubs, Scout and Amber, while fighting off all the harsh realities the Alaskan wilderness has to offer. The film is a delightful thrill for all ages, with never-before-seen wildlife footage and John C. Reilly as a truly entertaining narrator.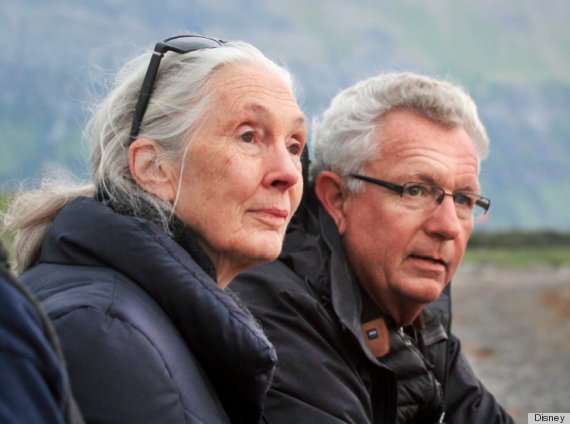 HuffPostTravel: We heard you reached out to Disney about being an ambassador for this last film, is that how it went?
Dr. Jane: Well, they actually reached out to me for the Chimpanzee film, which was last years film, and, you know, we have this huge network of youths through our Roots & Shoots program, so we were able to tell all of our young people to come in the first week to raise money to help the chimps. So when they were doing "Bears" -- I honestly don't remember who suggested it -- but maybe we could help the bears in that way. And so a percentage on the first week goes to the National Parks Foundation.
HPT: How long were you in Alaska, and what was it like there?
JG: Two days, but it was fantastic. You know I got to meet Sky, the star of the film, and the cubs. And a couple of the big bears. Magnus, I got to meet Magnus. You know, I had them walk past really close.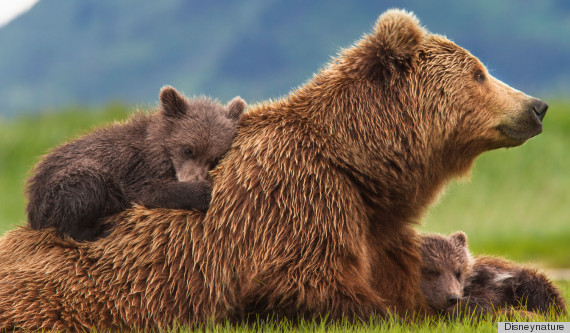 HPT: Were you ever fearful in a situation like that?
JG: No I wasn't, because the people there, they're so calm. The bears have never been hunted, they've never been hurt, they've never raided the camp because no food is ever allowed to be left around, not even a crumb! If you eat a sandwich, you have to have a plastic bag underneath! They'll go round and look for crumbs, these people. So, you know, there's no reason for the bears to -- they don't hunt humans, because that's not normal.
HPT: When you got to see the cubs, which would you say you identified more with -- Scout or Amber?

JG: Oh, the little guy, the little boy!
HPT: Hah, that's what we thought!
JG: Oh he was so fun. When he gets that clam on his toe [referring to a scene in the 'Bears' film], I mean, I don't suppose that's ever happened before. I doubt it'll ever happen again. I mean, you know -- you bring a clam up and it's not very likely it's going to just catch your claw.
HPT: That was comedy gold.
JG: And then they happened to be there! Wow! Pure good luck! And of course you wouldn't get that sort of thing unless you have the patience. But they have it. They sit for hour after hour after hour after hour after hour.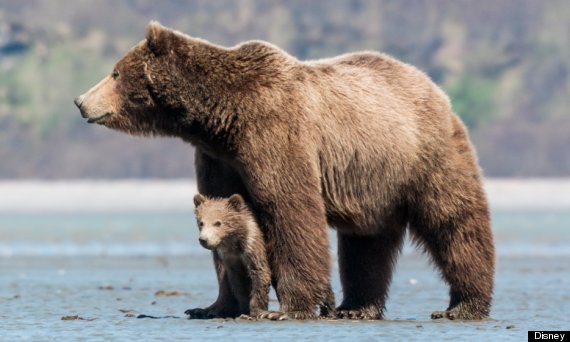 HPT: Well, the film was beautiful. And we've seen firsthand some of the glaciers melting, and it really hits home that global warming is very real, and seeing it in person was difficult. We wanted to know how you expect global warming to impact some of the places that have been such a dear part of your life.
JG: Well, you know, it's impacted so many places. The main impact at Gombe is the fact there are no proper seasons anymore. There used to be -- there used to be big, heavy rains, which were sort of January to May. Long rains -- almost every day, and then there were short rains, just before Christmas. And you could predict them, not anymore. Now you get rain any old time. So, you know, this is bound to have an effect on vegetation, but it's too soon to predict exactly.
HPT: Your Roots & Shoots program is getting young people involved to help carry out your message and your work, right?
JG: Yes, well we have approximately 1600 active groups. A group can be a whole school, so in China it's often a whole school. That's a lot of young people, of all ages.
HPT: Right, well that gives everyone hope!
JG: That's what keeps me going. Everywhere I go there are young people with shining eyes wanting to tell me, "Dr. Jane, we're going to make the world a better place." They roll up their sleeves and get out and do it. So, you know, I tell them, find out what you're passionate about because they get to choose what to do. So, someone help people, and someone help animals. HPT: We are lovers of all things travel here at HuffPost Travel and you spend close to 300 days on the road -- which is astounding -- we just wanted to know how you make travel enjoyable.
JG: I don't! (Laughs) I don't like it! Because a) it's all work b) flying is horrendous now. Now, if I could get on a boat and have a long boat trip I would love it. But how often can I do that? Train -- I do enjoy a train -- I always love it. But flying? The security... it's awful.
HPT: How do you survive those long flights, a good book?

JG: Well, I'd actually rather have a long flight than a short one. On a long flight I can just switch things off, I get a lot of work done on long flights. Or, if it's necessary, even if I don't sleep I can close my eyes, I'm in my own space. Whereas a short one, it's all the time getting to the airport, going through security, waiting to get your bags, getting the suitcases off, going to a hotel, giving a lecture, back to another airport... I mean, it's really awful.
HPT: When and where are you most happy? Is it at that home, or is it back in the wild?

JG: Well, it's -- there isn't a place that I could say, but you know, when I am out in nature... Either alone or with somebody I really care about, that's when I'm happiest. But, I can be happy in the middle of a city with really good friends having a reunion. I can be certainly happy at home where there's dogs and all of my old things. So there's a lot of places to find my "best" happiness. And although I don't have holidays per se, I can take half a day and be in some bit of nature and it's very short. But when I look back on it, it might've been three days because it doesn't make much difference to your memory if you've had a good time.
HPT: What do you look for in a travel companion? What does someone have to have to travel with you?
JG: They have to be quiet! They have to be not noisy and not hyper and able to be quiet.
HPT: You did just say you never take vacations, per se, but is there a certain "escape" you like?
JG: Well, I escape at home. And when I get to Gombe twice a year, briefly, I make a point of having a day out in the forest. That's very important.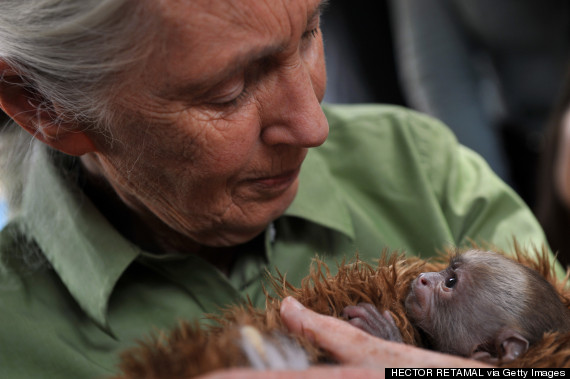 HPT: You said recently, "I'm not always happy, there are too many problems to solve." What problems are pressing right now?

JG: Money! Money to keep our programs going. We just had a very, very successful 80th birthday/fundraising party in San Francisco. That was more money than I've ever raised before, but, you know, that's just for one project. We have so many projects in Africa.
HPT: And if someone wants to donate money to your projects?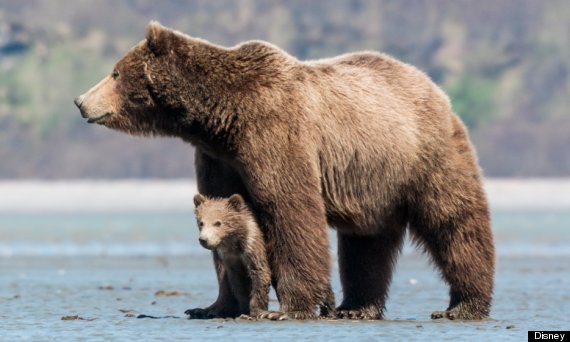 Disney's "Bears" opens nationwide, April 18th. If you'd like to know more about Dr. Goodall's programs, visit the Jane Goodall Institute website and learn more about how to get involved and donate here.
This interview has been edited and condensed.
BEFORE YOU GO
PHOTO GALLERY
Why Bears Are Awesome